News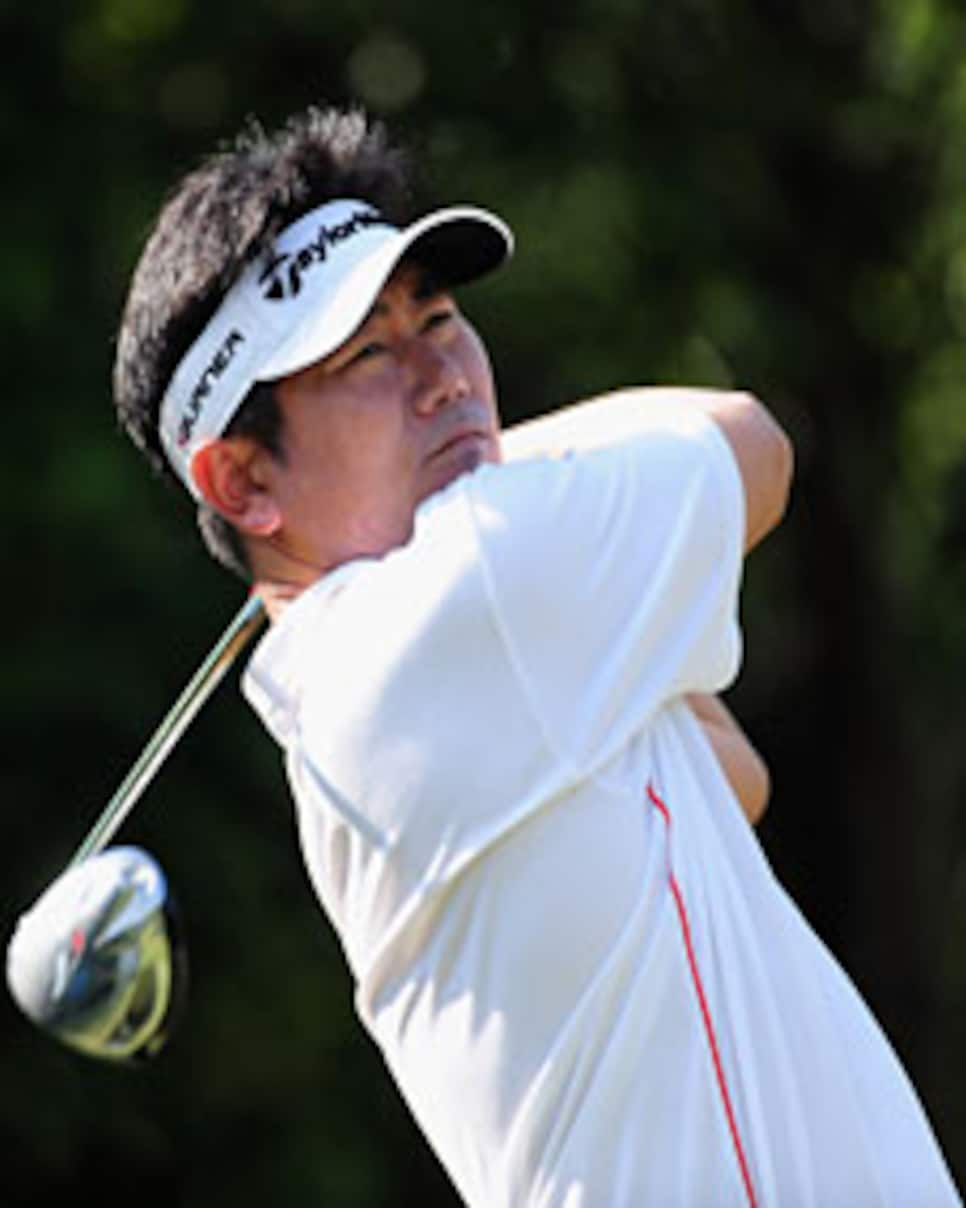 Yang is looking to add to his victories this year at the Honda Classic and the PGA Championship.
THOUSAND OAKS, Calif. (AP) -- Graeme McDowell was surprised as anyone to hear the news last week about Tiger Woods in a car accident, having no idea where it would lead -- for either of them.
Woods was caught up in allegations of extramarital affairs that brought made headlines around the world. McDowell was summoned to replace him in the Chevron World Challenge, which could turn into quite the bounty.
McDowell played a six-hole stretch at Sherwood in 6-under par Saturday on his way to a 6-under 66, giving him a share of the lead with Y.E. Yang (71) going into the final round of the $5.75 tournament.
They were at 10-under 206, two shots ahead of Padraig Harrington and European tour money winner Lee Westwood, with Ian Poulter and Jim Furyk another shot behind.
"Obviously, a huge blow for the tournament not to have Tiger here," McDowell said. "I feel very fortunate to receive the invite. It was a great opportunity for me."
Timing is everything for McDowell, a 30-year-old from Northern Ireland who is No. 55 in the world. Because this is the first year Woods' tournament offers world ranking points, a victory or even top finish likely makes him eligible for the Masters.
McDowell was at the World Cup in China last week, presumably his last tournament of the year. He planned to go home to Florida instead of chasing world ranking points in Australia, believing he could crack the top 50 next year to get an Augusta National invite.
That's when he got the call that Woods might not play.
He was to fly through Los Angeles on his way home, and when he arrived Sunday night, he was asked to stick around for one day until Woods knew for sure what he was doing.
McDowell ran off three straight birdies on his back nine, then ripped a 3-wood into 15 feet on the par-5 13th for an eagle, finishing his stretch with a long birdie on the 15th. His only flaw came from a soft lie in the bunker on the par-5 16th, where a fat shot went into the hazard and he took double bogey.
Yang also was in China for the World Cup and knew he was playing Sherwood all along. He wasn't planning on a fever that has dogged him throughout the week, although it's hard to tell from the score.
The PGA champion opened with a birdie with hopes of a big day, then stalled until making two birdies on the back nine.
"As the day went by and my body wore down a bit more, I bogeyed a few holes," he said.
Oddly enough, few players felt worse than Harrington, who had a 70 and is very much in contention to win for the first time this year. Why the sad face? Harrington isn't quite sure.
The Irishman felt no coordination over any of his shots, one of those days when he walked off the first green and couldn't wait to get back to the clubhouse.
"I must have got out of be don the wrong side or something," Harrington said. "Something wasn't right today. I played great yesterday, played good the first day, played horrible today. Who know what will happen tomorrow?"
He was expecting just about anything -- from him and everyone else.
Eight players were separated by three shots on a course that features five par 5s, where birdies and bogeys await at every turn. Also in the hunt were Sean O'Hair and Kenny Perry, both at 7-under 209.
Harrington year has been under great scrutiny, a three-time major champion to spent six months searching for a swing key and didn't get very good results -- much less a victory. What would it mean to finally get a win in the last tournament of his season?
"I just can't get too much into that," he said. "That's not going to help me win tomorrow. I'll wait for the results and we can decide how important it is for my year."