News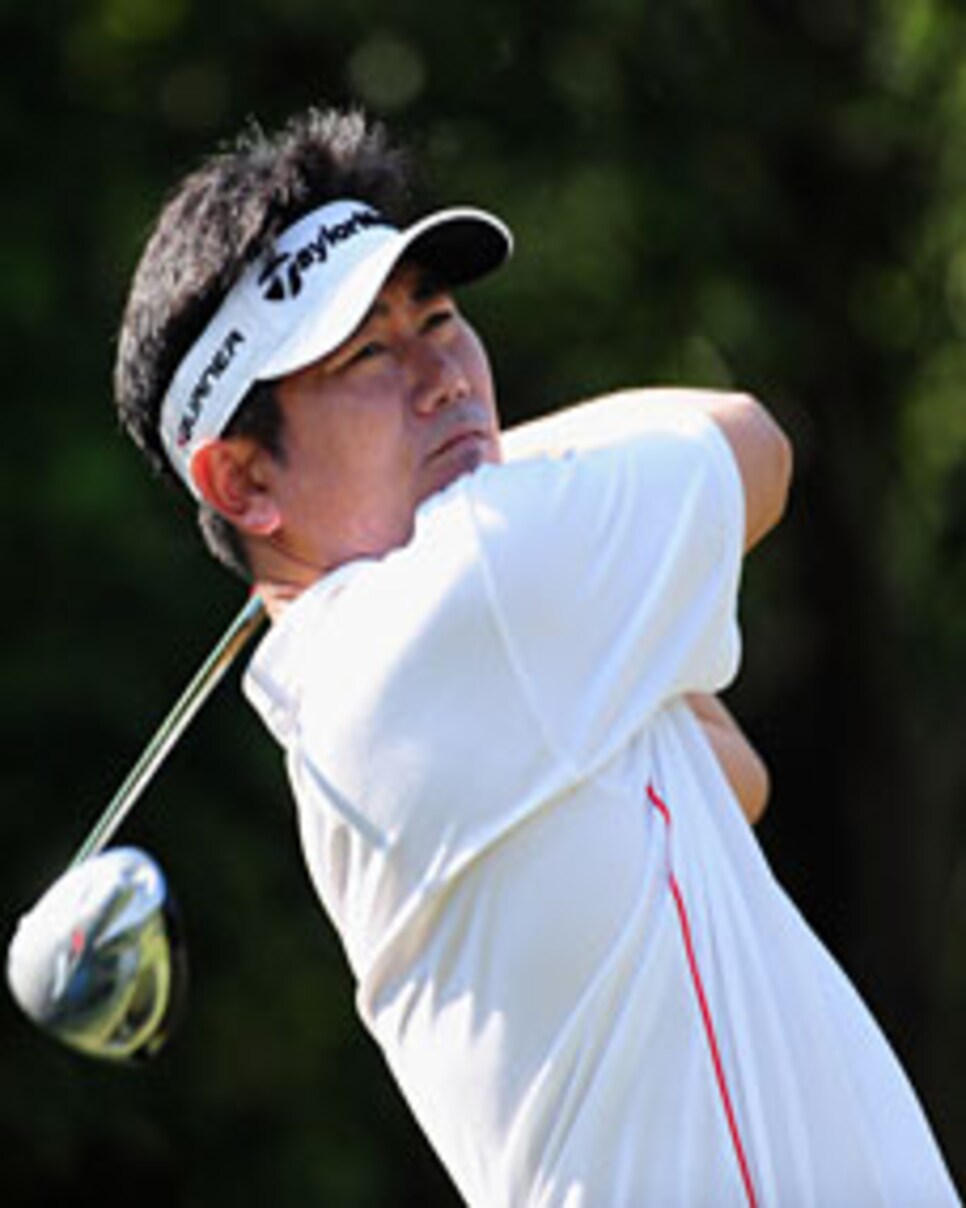 Yang is looking to add to his victories this year at the Honda Classic and the PGA Championship.
THOUSAND OAKS, Calif. (AP) -- Y.E. Yang managed to play good golf while coping with a big headache Friday, and his 7-under 65 gave him a two-shot lead going into the weekend at the Chevron World Challenge.
Strangely enough, the PGA champion recalls having a headache at a tournament about the same time last year.
His location speaks to what kind of year it has been.
A year ago, Yang was grinding in the California desert during the final stage of Q-school, a six-round tournament that determined whether he would have a PGA Tour card. Since then, he won his first U.S. title at the Honda Classic, then made history as the first Asian to win a men's major, and the first player to win a major when Tiger Woods had the lead going into the final round.
Yang, who was at 9-under 135, is chasing the $1.35 million winner's check while trying to hold off a group that includes Padraig Harrington (68), Ian Poulter (69) and Kenny Perry (65), who were two shots behind.
Q-school is at the halfway point in Florida, where the winner gets $50,000 and two dozen or so others get jobs.
"I haven't really thought about Q-school," Yang said. "Come to think of it, a year ago I had a huge headache because I was under a lot of mental stress. I still have a headache, but it's more because of illness, not because of any pressure or stress. So it's a different situation, yes."
Then he smiled as he continued to speak in Korean.
"Unfortunately," he said through his agent, "I don't have the opportunity to compete at Q-school for about five years now."
He earned a five-year exemption for winning the PGA Championship at Hazeltine. Perhaps it was only fitting that the man who became even more famous for taking down Woods is leading a tournament where Woods is the host, even if Woods is absent this week because of the car accident that set off a week or sordid allegations involving the world's No. 1 player.
"Last time I saw him it was on the golf course, and I only remember him as fun and really focused and competitive, but also a great guy on the golf course and in the clubhouse and locker room," Yang said. "So I miss him, and I hope to see him on the course and the locker room again quite soon."
Poulter is completing a six-week run around the world, while Harrington is a past champion at Sherwood. The surprise might be Perry, the 49-year-old wonder coming off a memorable year of two victories, a forgettable year off the course with the death of his mother.
Perry isn't quite ready to slow down, especially with what he hopes is the solution to eye problems. After two laser surgeries, he has a deal with a lens company and has prescription sunglasses, which is making everything clear.
He could even see the hole from some 40 feet away, the distance of the long putt he made on the 14th.
Zach Johnson (70), Lee Westwood (67) and Sean O'Hair (67) were in the group at 6-under 138, meaning seven players were separated by three shots going into the weekend.
Yang said he developed a fever and the headache flying over from China. He has been all over the place since the season ended, and still has a trip planned to Korea for a celebration of his PGA Championship title, before going home to Dallas. Before he knows it, Yang heads to Kapalua for the 2010 opener.
But he's not at Q-school, and that's a good thing.
"I hope that everybody who's competing there has a good time," he said. "But for me, I've been there and done that, so I'm moving on. Personally, it was just a horrendous experience."