News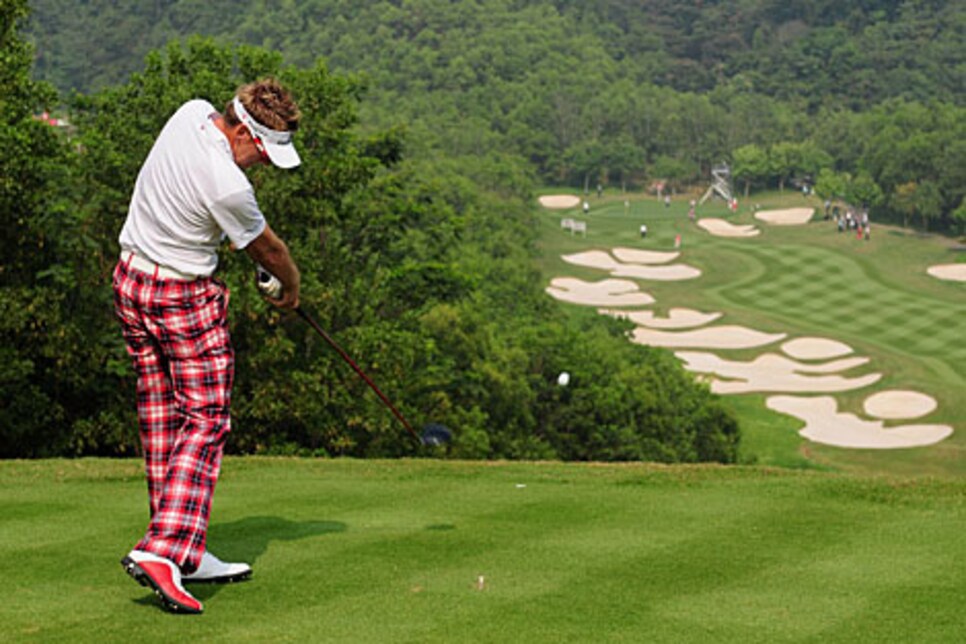 Ian Poulter had a commanding lead on Thursday before struggling late in his round.
THOUSAND OAKS, Calif. (AP) -- Ian Poulter and Zach Johnson wound up tied for the lead Thursday at 4-under 68.
Only one of them was happy about it.
Playing for the sixth straight week after flying all over Asia, Poulter had a great round turn into a good one on the 18th hole at Sherwood Country Club when he drove into the trees, clipped a branch and three-putted from 35 feet for a double bogey.
"It's 4-under par and I'm disappointed," Poulter said. "I'm leading, but I should way clear."
Not only did he have that double bogey at the end, Poulter twice three-putted on par 5s, and had a vicious lip-out on the seventh. He figures he wasted a round that could have been in the neighborhood of 64, although the Englishman has been around long enough to realize golf doesn't work that way.
Johnson also dropped a couple of shots, although he made up ground on the par 5s. He remains famous for his Masters victory in 2007 when he chose to lay up on the par 5s at Augusta National. Puffing out his chest with a sarcastic grin, Johnson told of making two birdies on the par 5s by reaching the green in two.
He was pleased with his 68, for no other reason than he barely touched a club in the two weeks before he arrived.
"I feel like my game is in a position good enough to win," said Johnson, who has won twice on the PGA Tour this year.
Padraig Harrington, winless in official events since capturing his second straight major at the PGA Championship last year, was steady in his round of 69. No one else managed to break 70 on a crisp, sunny day in the Conejo Valley foothills.
The 18-man field is missing its host - Tiger Woods - who pulled out of the tournament Monday citing unspecified injuries from his car crash last week that has dominated talk at Sherwood. In the days since he withdrew, there was a magazine report alleging an affair and an apology from Woods for his "personal failings."
Players have spoken about the scandal in the days leading up to the tournament, all of them offering support to Woods. Once the tournament began, their attention shifted to golf. This is the first time the tournament is awarding official world ranking points.
"We haven't talked about it," Johnson said. "It hasn't even been a thought."
Jim Furyk and PGA champion Y.E. Yang were at 70. Graeme McDowell, who replaced Woods in the field, was among those at 71.
Poulter and Johnson could not be any more different, from their dress to their style of play to their approach this week.
Johnson already has an eye toward 2010, bringing along his trainer and spending more time in the gym than on the practice range. He is trying to win, as he does every tournament, although he referred to this as an offseason workout week.
"I'm not trying to treat it any different," he said. "Once I get off the golf course, it's a little difference. The workouts stink. I'm hurting right now."
Poulter began his journey with a victory in the Singapore Open. From there he played the HSBC Champions in Shanghai, then the Hong Kong Open, followed by the Dubai World Championship and the World Cup in China.
Next week? The Shark Shootout in Florida.
He already has worked out that a strong finish this week could move him into the top 10 in the world. He is still competing the way he did at the start of the year.
"My calendar says '09," he said. "It doesn't finish until I have my Christmas dinner."