News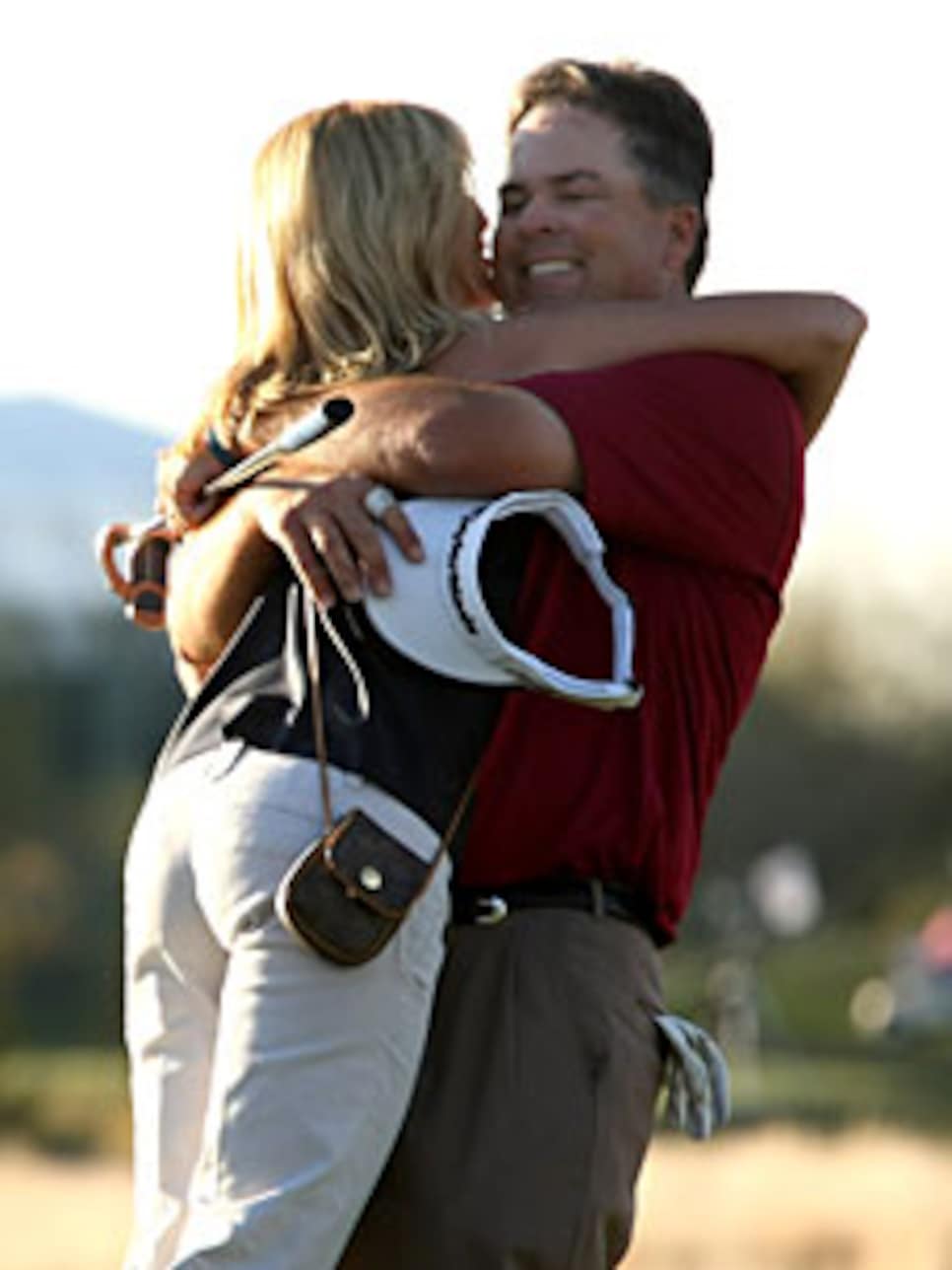 More than three months after the fact, Kenny Perry's win at the FBR Open has been tainted by new questions.
Some people could watch the video clip 20 times and see no wrongdoing. Others would only need to see it once before declaring Kenny Perry guilty, although it's ludicrous to think a 23-year PGA Tour veteran with 13 career victories would willfully attempt to improve his lie in the rough during a sudden-death playoff on national television. We're talking about a guy who has hit hundreds of shots while in contention, every one of those swings watched by millions of people, and in this case, a CBS camera crew couldn't have been more than a few yards away.
Perry's behavior over the ball, however abnormal, can't be categorized as anything more than suspicious, and that would require a nihilistic interpretation of Rule 13-2 or an agenda. The fact that the incident occurred 3 1/2 months ago renders all verdicts irrelevant, but it does revive suspicions about golf's so-called honor system and the notion that a player is his own policeman.

It is one of the game's phoniest fallacies, especially at the professional level. If 99 percent of all PGA Tour events are decided without a scent of impropriety, it is partially because unreported, undetected and inadvertent violations will always remain the great unknown. When things get more serious on the weekend and tournaments are shown on the major networks, rules vigilantes have been known to call in perceived infractions off what they saw on the telecast.
When Sports Illustrated's Michael Bamberger witnessed Michelle Wie taking a questionable drop at an LPGA event in 2005, his version of what happened ultimately led to Wie's disqualification two days later. Other ramifications have arisen from mistakes by on-site rules officials, several of which influenced the outcome of major championships. The most notable of those occurred at the 1994 U.S. Open, when Ernie Els went on to win after he was given a bad drop by Trey Holland, who was only the chairman of the USGA's Rules of Golf committee.
The Perry situation didn't receive an ounce of attention when it happened at the FBR Open back in early February. For it to resurface now would be laughable if it didn't involve a good man's reputation being called into question due to insufficient reasoning. There have been two similar incidents in recent years -- both involving a prominent tour pro who won the tournament that led to unsavory allegations, and what the moral minority did or didn't see on TV.
Mark O'Meara''s victory at the 1997 Trophee Lancome, formerly a European Tour event, took on an afterlife six months later when a replay showed him replacing his ball slightly closer to the hole on the 15th green in the final round. Swedish oddball Jarmo Sandelin went so far as to demand that O'Meara forfeit the title, which led to a confrontation between the two men in May, 1998.
The flap died a quick death, perhaps because it happened shortly after O'Meara made the '98 Masters his first major triumph, or maybe because there wasn't a whole lot of incriminating evidence. Although he would later admit the replay made it appear his four-foot par putt had shrunk by about a half-inch, O'Meara denied any ill intent, and what some considered an open-and-shut case was slammed shut for good.
There was no long-term damage to O'Meara's image, nor was there any fallout when Stewart Cink was accused of improving his lie in a waste bunker en route to a victory at Harbour Town in 2004. Although it's hard to imagine a day when viewers no longer pick up the phone to report a rules violation, when bloggers don't feel compelled to try weak cases or when tour pros stop whispering, the potential consequences create a worst-case scenario that is difficult to rationalize.
Mark McCumber and Jane Blaylock were vilified despite circumstantial proof, their professional lives never the same after spending time in the throes of scandal. Things have changed to the point where golf's court of public opinion isn't nearly as judgmental, but that doesn't mean a miscarriage of justice can'' happen again. Kenny Perry did nothing wrong, but the process that forces him to stand trial clearly isn't right.