News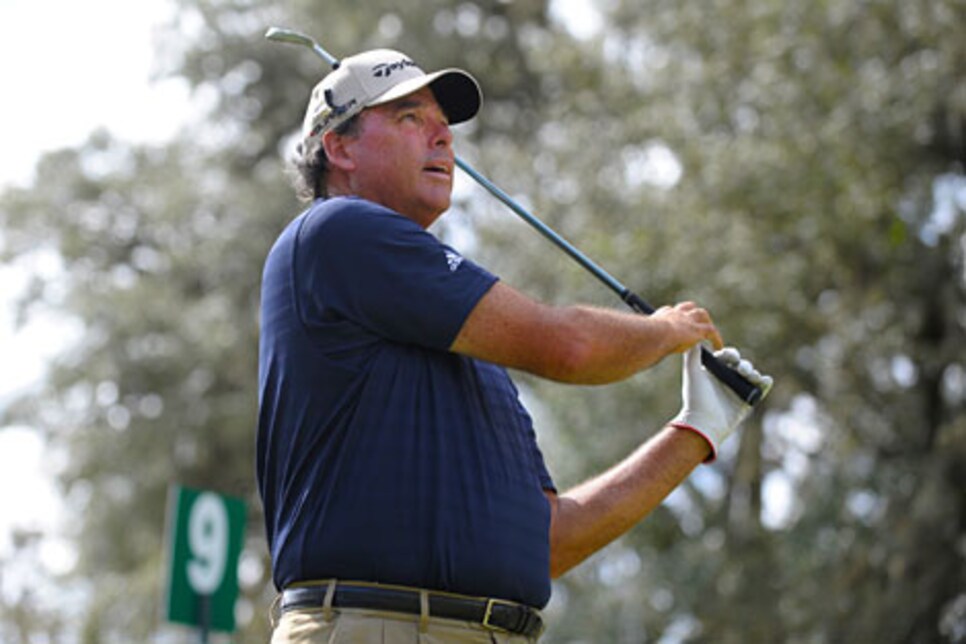 Blackmar birdied five of his first six holes during the final round.
SAN ANTONIO (AP) -- Phil Blackmar won his first Champions Tour title Sunday, birdieing five of his first six holes en route to a 7-under 64 and a one-stroke victory over Jay Haas, Tom Kite and Andy Bean in the AT&T Championship.
Blackmar, a three-time winner on the PGA Tour who joined the Champions Tour late in 2007, had a 10-under 203 total on the Oak Hills course. The 6-foot-7 former University of Texas player earned $255,000 in the final full-field event of the year.
He jumped 27 spots in the Charles Schwab Cup standings to 30th to take the last spot in the season-ending Schwab Cup in Sonoma, Calif. He admitted he's been thinking about getting out of golf if he had to go through qualifying school and was unsuccessful getting his card.
"I got very nervous, but I was able to hang in there," said Blackmar, who lives about 150 miles away in Corpus Christi. "This year hasn't been very much fun, so I was comfortable with getting back into broadcasting, or something else."
Haas (69) had a chance to win or force a playoff, but bogeyed the 202-yard, par-3 18th. He left his tee shot short, dumped a chip into the front bunker, then watched his third shot roll over the lip and stay out of the cup by less than an inch.
"You see this ball sitting there and there's no way it's not in," Haas said. "You see very few balls like that that don't fall in."
Kite (68) missed an 8-foot birdie putt on 18, and Bean (70) failed to chip in from past the green. Kite, who grew up and lives in Austin, has never won a professional tournament in his home state.
John Cook, the two-time defending champion and winner last week near Houston, closed with a 66 finish two shots behind Blackmar. Hale Irwin (68) was fifth at 7 under, and Keith Fergus (67), Bernhard Langer (69) and Scott Simpson (70) tied for sixth at 6 under.
Blackmar, who listened to Ted Nugent and Deep Purple in his headphones on the practice tee before the round, knocked the ball within 10 feet on each of the five birdie holes to start his round.
"Listening to that music, I could feel my demeanor change," he said. "I was ready to fight someone."
But at the turn, Blackmar admitted to a bad case of nerves. Still, he tied for the lead when he had a tap-in birdie after blasting out of a greenside bunker on the 527-yard 15th.
He was in the lead when he birdied from 15 feet at No. 16 before Haas birdied the 15th. He had a four-foot par putt on 18 after he blasted out of a greenside bunker.
"I was so nervous I couldn't feel my hands," Blackmar said.