News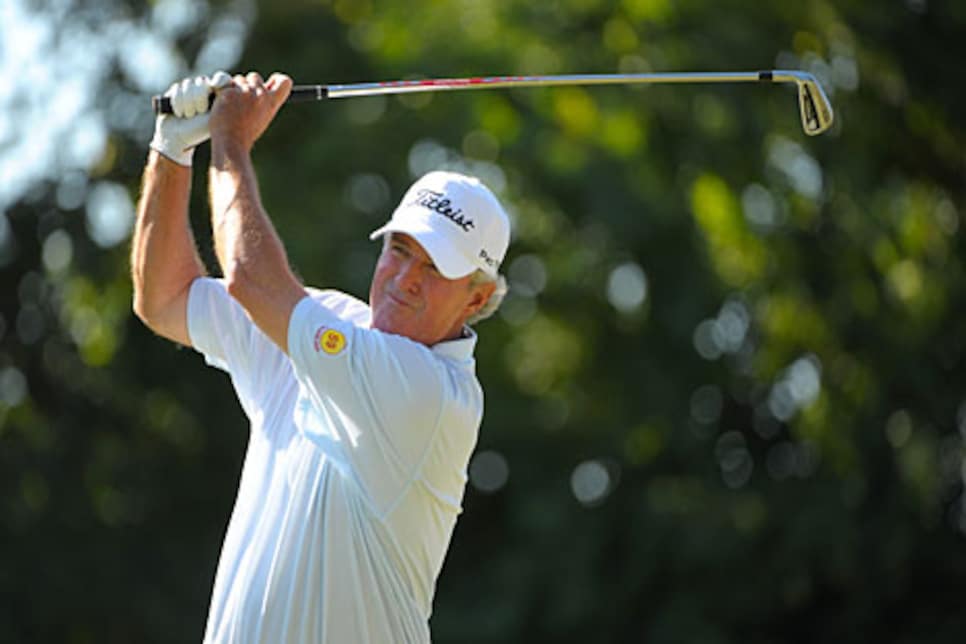 Cochran is looking for his first win on the Champions Tour.
SAN ANTONIO (AP) -- Russ Cochran birdied three straight holes before a bogey on the 18th dropped him into a tie for the lead with Andy Bean at 8-under 134 after the second round at the AT&T Championship on Saturday.
Cochran, a first-round co-leader, shot a 3-under 68 at Oak Hills Country Club. Bean birdied the 15th and 16th holes before he parred out for 67.
Jay Haas was at 7 under after a bogey-free 4-under 67. Jeff Sluman (67) and Tom Kite (69) were another shot back.
Bean and Cochran tied for second at the Greater Hickory Classic in North Carolina last month when Haas won after a final-round 65.
"I thought I had a chance to win, but Jay looked like Usain Bolt running past me," Cochran said.
Cochran, who's trying to become the first left-hander to win on the Champions Tour since Bob Charles in 1996, let some adrenaline from the three-straight birdies and new shafts get to him on the tee at the 203-yard 18th.
"I just had the shafts put in on Thursday night, and if I hit them just right the ball will really take off," Cochran said. "But I thought I would really have to work hard to get a 7-iron there, and I went from working really hard to get it there to being 50 feet past the pin. I hammered it."
And he three-putted, despite making "a bomb" from 35 feet for the birdie at No. 16.
Bean, a three-time runner-up this year, bogeyed at No. 6. It was his last one of the day, finishing up with four birdies through the final 11 holes.
Haas has won two of the past three tournaments he's played on the Champions Tour and finished in a tie for second in the other last week. He won this tournament at Oak Hills four years ago and won here twice when it was the site of the Texas Open on the PGA Tour (1982, '93).
He's surprised he's got another shot after Saturday.
"I wasn't very sharp from tee to green," Haas said, "but I managed to put it in some spots I could play out from. I made some nice saves to keep my par streak alive."
That included a putt to set up par on the 18th that he had to aim about 20 feet to the right of the hole because of the severe break. He almost made it and tapped in what was left.
"It was diabolical," Haas said. "That was a nice way to end."
John Cook, looking for his third consecutive victory at Oak Hills and a winner last week at Administaff Small Business Classic near Houston, double-bogeyed No. 8 to drop to 4 under and went from a one-stroke lead to one behind. He lost another stroke with a bogey at 9 and ended five shots back of the lead.
Keith Clearwater, the first-round co-leader with Cochran, shot a 3-over 74 and was six shots behind the leaders.