News
Clearwater and Cochran share lead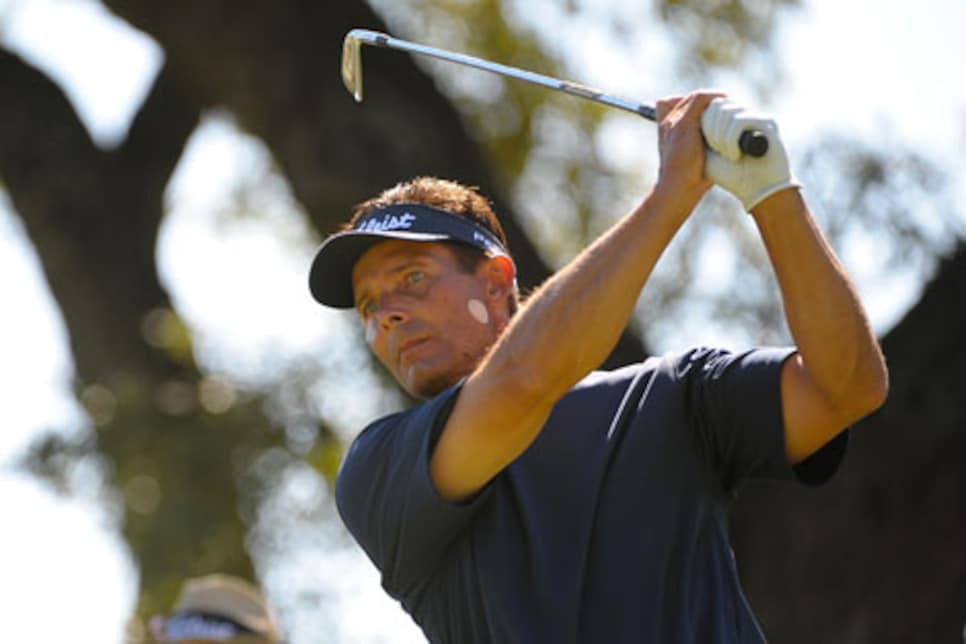 Keith Clearwater makes a tee shot on the ninth hole during the first round of the PGA Champions Tour AT&T Championship.
SAN ANTONIO (AP) -- Champions Tour rookies Keith Clearwater and Russ Cochran shot 5-under 66s on Friday to share the first-round lead in the AT&T Championship, the final full-field event of the season.
Tom Kite, looking for his first home-state win as a professional, was a stroke back along with fellow Texan Ben Crenshaw, Mark O'Meara and Andy Bean.
Clearwater, who won his two PGA Tour titles in 1987, is making his fifth Champions Tour start after turning 50 in August. He eagled the par-15th hole and had five birdies and two bogeys on the Oak Hills Country Club course.
"I feel like my game is great, but I need a few more times to play," Clearwater said. "My putting is non-competitive right now, but it's just a matter of playing and getting my instincts back. ... I still think I'm better than most people think. I still think I'm as good as anybody and I working hard to prove it."
Cochran, the left-hander who won the 1991 Western Open for his lone PGA Tour title, had six birdies and a bogey. He was third in the U.S. Senior Open and has three top-five finishes in 14 events this season.
Kite, from Austin, birdied Nos. 14-17 to move up the leaderboard.
"You always want to play well near your friends," he said.
Two-time defending champion John Cook opened with a 68.
"I've been comfortable here," Cook said. "It's just a course that fits my eye."
Jay Haas, Bob Tway, David Eger, Mike Goodes, Scott Simpson, Craig Stadler, Mike Reid and Tim Simpson also shot 68s. Haas won the 2005 event and took the PGA Tour's Texas Open in 1982 and 1993 at A.W. Tillinghast-designed Oak Hills.
The top 30 on the money list after the event will advance to the season-ending Charles Schwab Cup Championship next week in Sonoma, Calif.