News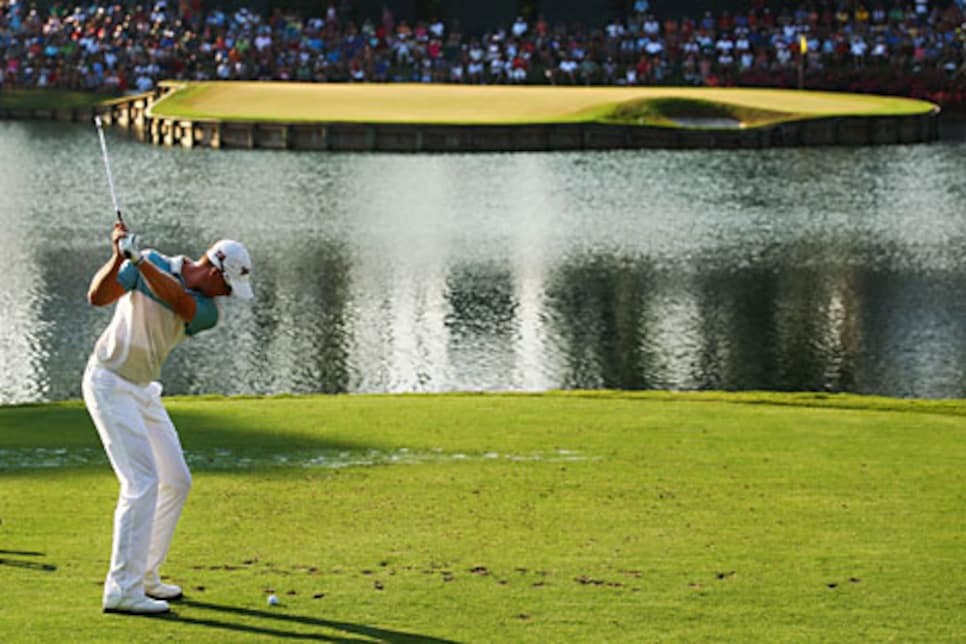 Henrik Stenson at the Players is the most prominent recent example of a tour player using cavity-back irons en route to victory.
Last week I was playing at my home course and noticed one of the guys using a set of muscleback blade irons. Lovely as the clubs were to look at, he is a 12-handicapper who has no business swinging such sticks. When I asked why he didn't opt for more forgiving club, he said, "They feel great. Besides, I like using what the big boys use."
Sorry, but I have to throw the B.S. flag on both of those statements.
First, I bet those irons feel real good when striking a shot on the toe and watching it flutter like a knuckleball. As for it being what the tour players use, fact is more than 70 percent of players on the PGA Tour use some form of a cavity-back iron.
That's right, 70 percent.
I'm not about to question what Tiger Woods (Nike Victory Red TW Blades), Phil Mickelson (a Callaway prototype blade) or Geoff Ogilvy (a Cobra muscleback) choose to play, but for every one of them, there's three others such as Kenny Perry, Sean O'Hair and Nick Watney swinging cavity-backs.
Look no further than last week's Players championship for evidence. After playing Srixon's I-701 blade all season, Henrik Stenson returned to the company's cavity-back I-506 model (the same irons he used to win the 2007 WGC-Accenture Match Play) and took the title. That made it 12 wins for cavity-backs in the 20 PGA Tour events played so far this year. Musclebacks, meanwhile, have seven wins while Paul Casey used a split set in winning at Houston.
Part of the reason for the surge in cavity-back usage among the game's best is that manufacturers are able to make cavity-backs that look, feel and play like traditional forged blades while adding a hint of forgiveness and placing the center of gravity a bit lower to help today's lower-spinning golf balls get up in the air. Gone are the days when cavity-backs were considered clubs "for choppers only."
"We're doing things in forged irons now that simply wouldn't have been possible even five years ago," said Roger Cleveland, who designed Callaway's first forged iron, the X-Tour, that was used in major wins by Phil Mickelson and Michael Campbell. "We can give players what they're used to in terms of shape and feel, while adding playability benefits."
Cleveland's mentioning of forged is key. Manufacturing advancements have made intricacies such as different-shaped cavities and undercut channels -- previously only attainable through casting -- now possible in a forging.
"There's no drop off in feel but there's a noticeable benefit on mishits with a cavity-back," said Trevor Immelman, who plays Nike's forged, cavity-back Victory Red Split-Cavity irons. "But when you look down at it, it looks like you're playing a blade. It's really the best of both worlds."
That's a past Masters champion talking. Still, there are everyday players who insist on shopping for muscleback blades. You are also the type of person I'd like to up the Nassau wager on when we go to the first tee. Instead of playing 5-5-10 maybe we should go car-car-house?
In short, ask yourself this: If the best players in the world are eschewing muscleback blades, why am I even considering them?
For some of the game's best, musclebacks can be effective. But unless you're driving a courtesy car at a tour event, they fall into the category of "don't try this at home." That goes for my buddy back at the club, too. After all, when you're buying a set of irons, a pure swing is not included.