News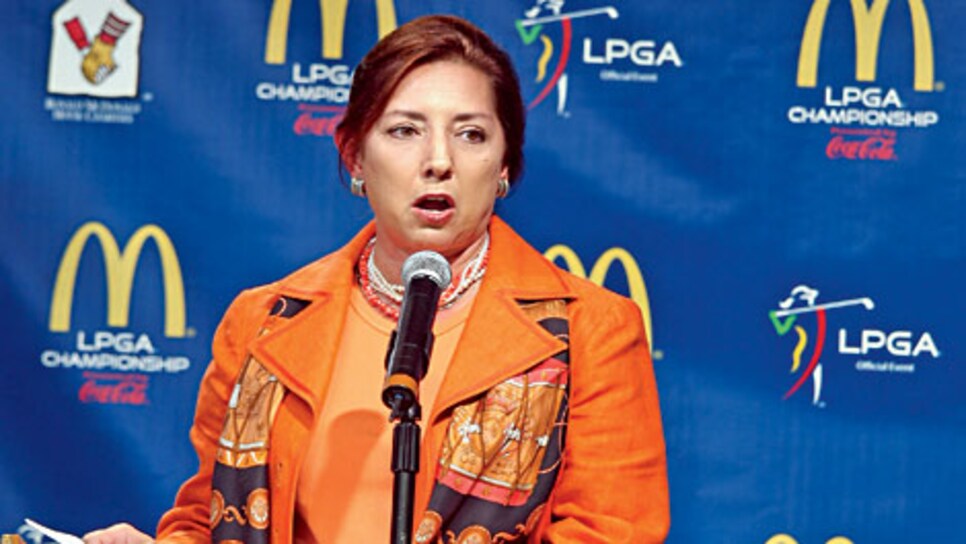 END OF A SHORT REIGN: Bivens worked hard to upgrade the tour, but the loss of several tournaments caused top players to grow dissatisfied.
The resignation of Carolyn Bivens as LPGA commissioner set off a series of moves, including bringing on Annika Sorenstam as an advisor to the Board of Directors, that could be the beginning of sweeping changes for the tour. Bivens' four-year tenure ended after a revolt by some top players, many of whom feel that not only is a new commissioner needed but a new business model as well. Biven's departure, reported by GolfDigest.com July 9, was made official July 13 by Dawn Hudson, chair of the LPGA board, who said board member Rear Admiral Marsha J. Evans would be acting commissioner.
Evans, who retired after nearly 30 years in the Navy, joined the board earlier this year. In 2005 she stepped down as CEO of the American Red Cross after a battle with the board of governors over what it called her "command-and-control" management style, according to the Washington Post. A search committee comprised of board members Leslie Gries, Juli Inkster, Helen Alfredsson and Bill Morton will work with the search firm Spencer Stuart to find a full-time replacement.
"We respect Carolyn's decision to resign since she has led this organization professionally and passionately the past four years," said LPGA board president Michelle Ellis. "We appreciate the unwavering commitment that she provided the LPGA, and during her four years Carolyn accomplished a great deal for the LPGA and its player members."
Hudson also said Zayra Calderon, the tour's senior vice president of worldwide sales and CEO of the Duramed Futures Tour, will take on the task of retaining existing sponsors and securing new ones. Bill Susetka, who recently retired as LPGA chief marketing officer, was nominated to fill Evans' position on the Board.
"It is an honor to have been selected to serve in the role of acting commissioner," Evans said. "We look forward to making progress on completing negotiations for the 2010 schedule and build on the impressive work of commissioner Bivens to execute the association's long-range strategic plan."
Among those who insiders say are worthy candidates for commissioner are Cindy Davis, president of Nike Golf; Donna Orender, president of the WNBA and a former PGA Tour executive; and Rob Neal, a former LPGA official who now works with Tournament Golf Foundation, which owns two LPGA events.
"I love the LPGA and have been proud to serve as its commissioner for the last four years," Bivens said. "I am also proud of what the LPGA has accomplished during my tenure. My job was to be a change agent, to help move the LPGA into the strongest possible position to ensure its future."
Bivens' goals touched a sympathetic nerve with players. She wanted a better pension, health coverage and higher purses. But that meant added overhead for tournaments, including $50,000 in scoreboard costs, a $100,000 increase in sanctioning fees and $250,000 in TV production costs. Hudson indicated it was unlikely there would be a rollback of the sanctioning fees. "It shouldn't be just about sanction fees," she said. "It should be about what can be done to maximize value for both the players and the tournaments."
Since 2008 seven U.S.-based tournaments have folded, another scheduled for this year was pushed into 2010 and the China event in October still has neither a course nor a sponsor. Four others, including the LPGA Championship and the Tour Championship, have no sponsor for 2010. And core events such as Rochester, Toledo, Phoenix and Williamsburg have yet to renew their contracts.
"Carolyn has done a lot of great things for our tour, and I think she worked her butt off," Inkster said. "But some of the things that she tried just didn't work. Whether it's her fault or not, it just wasn't working."
It was the folding of the Kapalua Classic, scheduled for October, that prompted a meeting in Toledo during the Jamie Farr Owens Corning Classic and brought the Bivens situation to a boiling point. About a dozen players, including Lorena Ochoa, Paula Creamer, Cristie Kerr, Morgan Pressel, Suzann Pettersen and Natalie Gulbis, attended. Not present but signing the letter to the board calling for Bivens' resignation was Se Ri Pak, who leads the contingent of 47 Koreans on tour.
The letter, which was seen by Golf World, said players were writing with "great reluctance" but were "extremely dissatisfied with the leadership of commissioner Carolyn Bivens" and called for her "immediate resignation." The players said they represented the "vast majority" of LPGA members. Some players considered boycotting the Solheim Cup if a change was not made.
Among the ideas being kicked around by some players is taking on a business partner with deep pockets to manage the LPGA, such as the PGA Tour. The two tours could coordinate schedules and have LPGA events end at 3 p.m. on Sunday, for example, before the PGA Tour television coverage begins. Or the LPGA could end on Saturday -- marketing it as Championship Saturday.
"It's a no-brainer," one agent said. "The two tours can even do co-ed events. Golf needs to think outside the box on things like this, find new ways to market itself."
Asked if the PGA Tour has considered managing the LPGA, co-chief operating officer Ed Moorhouse told Golf World: "We have responded to this question a number of times over the years but have never formally reviewed the feasibility of managing the LPGA." That's an answer with a lot of wiggle room. Have informal discussions occurred? One obstacle is the vast disparity between the pension plans for the tours.
"There are a lot of ideas out there," Evans said when asked about working with the PGA Tour. "I think we need to take a holistic look at the pros and cons and evaluate the options. Going forward we have to be open to a range of points of view with the goal to take the tour where we want it to go -- the best players competing in the best events for top prize money."
Some of the economic issues -- the increased sanction fee, for one -- may not go away simply because a new commissioner takes over. One LPGA source says the tour needs the money.
"This is a difficult economy, and a lot of creativity on both sides is going to be needed to find a tournament business model that works," said a source in event management. The change at the top could very well be the beginning of a broader remaking of the LPGA business plan.