News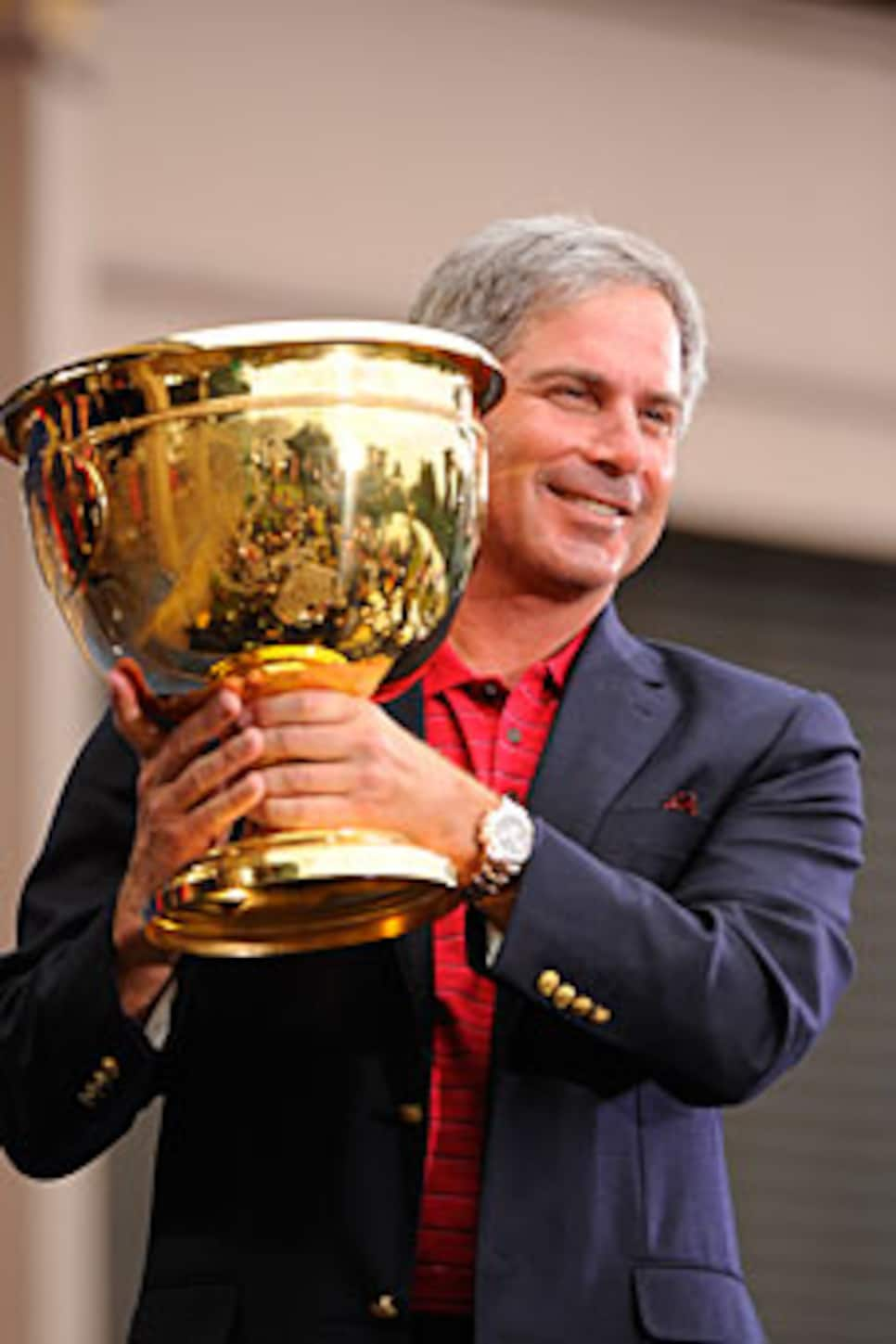 Couples appeared to be the anti-captain, but his low-key style connected well with his players, who gave their unassuming leader a convincing win.
Amid the bustle on Harding Park's first tee before last Sunday's Presidents Cup singles matches, Fred Couples bounced on his toes, simultaneously seeking warmth and releasing nervous energy. He kibitzed with nearly everyone in his vicinity, from International team counterpart Greg Norman, to television producers to fans wishing him a belated happy 50th birthday. But for all the chitchat, his communication with U.S. leadoff man Hunter Mahan could not have been more terse. Along with the quick nod, Couples simply said, "H," and resumed another conversation.
It was entirely in keeping with a week in which Couples never turned on a walkie-talkie, put on a pair of headphones, made a team-room speech or labored over a pairing. To casual appearances he was the anti-captain, in the process confirming every easy label earned from more than a quarter-century of languid body and convoluted verbiage on golf's big stage. Often when pressed, he tried hard to imply that assistant captains Jay Haas and Michael Jordan had more to do with running the show. Yet his players felt the opposite of abandoned. Without saying much, they left no doubt they wanted to win for Couples for the powerful reason any coach, manager or captain hopes for—they love the guy. Indeed, if the Presidents Cup of San Francisco could be described in one word, it was "bromance."
So, "Fred Couples: Leader of Men" became the latest chapter of the Couples Mystique. Its components include plenty of emotional intelligence and humility, but also a heavy dose of self-belief in his own intuitive powers.
No one has ever really been able to capture the Tao of Fred in words, least of all Couples. His sentences would require a Rube Goldberg configuration to diagram. A mild example—complete with the lowball deference to star power, an extra effort to be nice to the competition, and of course the always entertaining odd word choices and non- sequiturs—was his account of how he felt as first-round matches he had anticipated for months finally began Thursday morning.
"Nerve-racking, because President Bush was there, Barry Bonds was there, Jerry West was there," Couples said. "So I'm like, 'OK, they hit, I'm going to take another picture with Greg.' It's a nail-biting thing because we have 12 favorites, you know, and I have guys on their team—I really like Adam Scott. I was certainly happy with the way he played today. I certainly wish my guys would have beaten Adam."
Couples never quite made up his mind whether the experience was easy or difficult. He kept calling the pairings a no-brainer, but then reported that he was exhausted from the mental stress. Indeed, when he learned just before the matches that Phil Mickelson ("Ol' Silly Philly" as Couples called him) was experiencing back problems, Couples said, "I laid into him, 'This is the biggest week of my life, you've got to tell me what's going on.' "
But whatever the obstacles, when it came time to reaching his players, Couples was effortlessly in his element. Indeed, of all of golf's recent team captains, most of whom err toward rah-rah, Couples most resembles Jordan's favorite, the Zen Master himself, Phil Jackson. "The best thing is, I feel good with them," he said. "I think I know players." While Couples did not consult with any past captains, some pithy advice from Joe Torre stuck. "He told me, 'Look them in the eye. Make them feel good.' I still have that text."
It was how he handled the relatively callow Mahan, who hit the first drive for the U.S. on Sunday. "You don't put a guy like that out first," said Couples. "But he just … they look at you and they tell you what they want to do, and it all worked out good. It's one of those things where you can feel them out."
Couples trusted his feel in choosing Jordan. He was well aware that Tom Kite was criticized for having the sports icon inside the ropes at the 1997 Ryder Cup in Spain. But Couples, who caddied for Jordan in June at the Golf Digest U.S. Open Challenge, never had a doubt.
"If Michael was here and it made it fun for everyone, and we didn't win, then they would go away and still say they had a great time," reasoned Couples. "It was my choice, and like I've said 10 times, if I'm leading the British Open after three rounds, I would rather have dinner with Michael Jordan than Jack Nicklaus. Is that a slap at Jack Nicklaus? No. But that's my personality."
Couples was also comfortable leaning on a Gang of Four—Tiger Woods, Phil Mickelson, Steve Stricker and Jim Furyk. "I went to them a lot," he said. "They've been on a hundred teams. I told those guys, if they told me something, I was going to do it."
Couples won Woods over the first time they played a practice round at the 1995 Masters, and Woods shares Couples' preference for operating under the radar. "On one of the holes, Greg asked me, 'What's Tiger like in the team room?' said Couples. "I told him, 'You know what, you wouldn't know if he's the best player in the world or the 12th player on the team.' " At the same time Couples was certain Jordan would inspire Woods. "I felt like it was going to make Tiger show off, to be quite honest with you," he said. In 11 Ryder and President Cups, Harding Park marked the first time Woods has gone 5-0.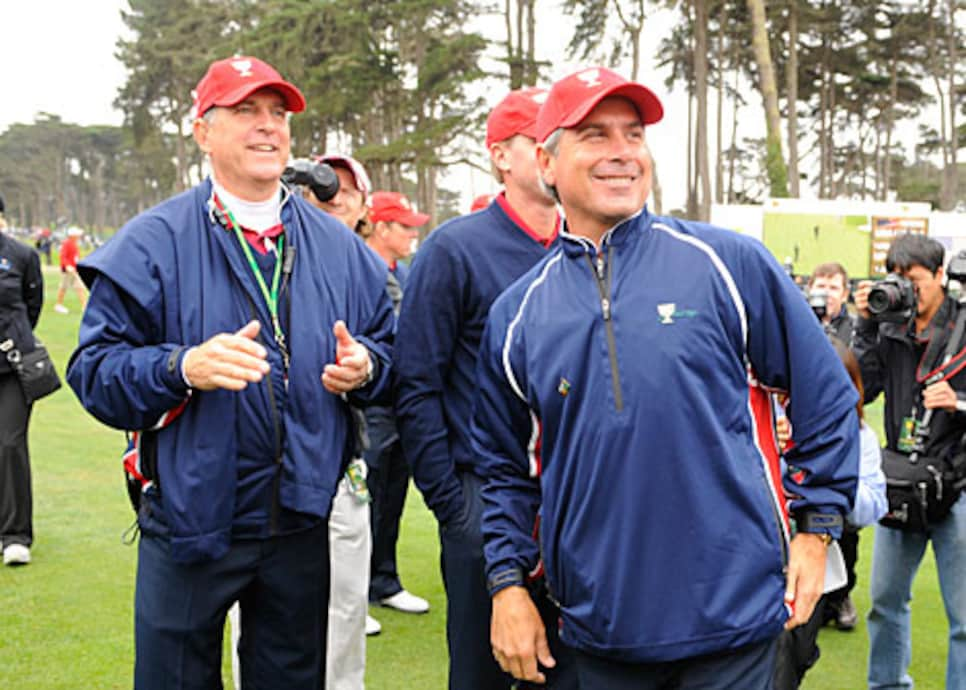 Jordan said observing Woods at Harding Park was "like looking in a mirror in certain respects. We have to find a way to blend in with [our teammates] as opposed to them blending in with us. I saw he was able to do that in his own way, which is very similar to what I had to do. When the team hangs out and does things, you don't want to go because you'll create more havoc. You want to enjoy your teammates, but you don't want the publicity for them, so they're not able to enjoy it. But he was able to have a good time. He has a quiet way of leadership."
Couples was eager to steer Jordan toward his young players, particularly rookie Sean O'Hair. "Michael latched on to him and played with him and teased him and had fun with him. And then we beat him up. And then Sean came back and beat Michael up. I will say this, I had a feeling about Sean O'Hair. About six weeks ago I took him aside and I told him, 'I know a lot about golf,' and I'm tapping him on the chest. I said, 'I may not be the best player in the world, but I know talent and you have more talent than 99 percent of the people out here. Just because you can't putt and you can't do this or that doesn't stop you from playing really good golf.' I said, 'Get off this kick and start playing.' And then he started playing really well. Sometimes people look at you like you're some old guy and you don't know. But I was young when Raymond Floyd and Tom Watson did that. I sucked it up. And when they don't, then you just let them go and pick someone else."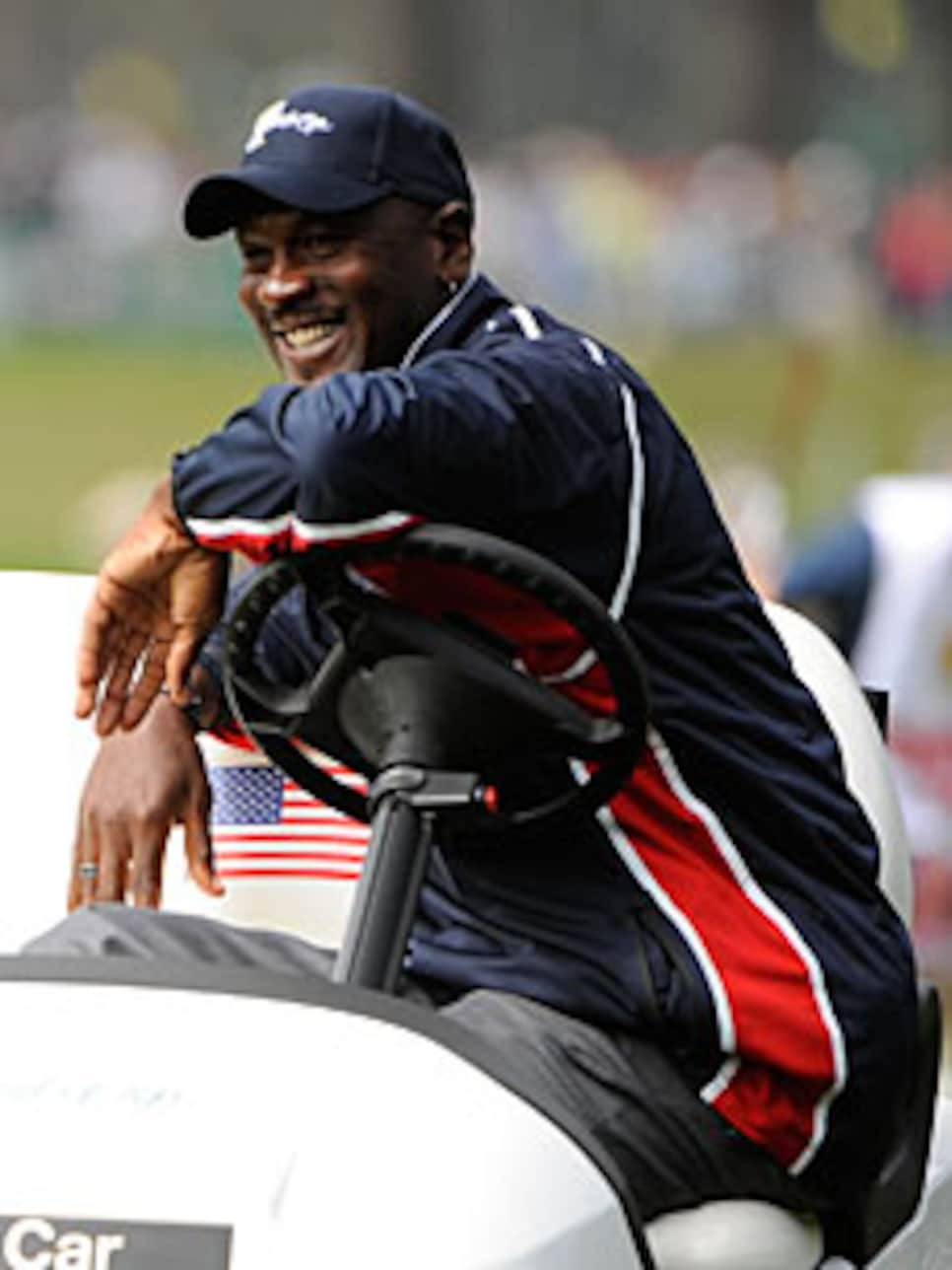 Couples didn't let Anthony Kim go, though he might have been tempted. Kim presented the week's only potential source of inner turmoil when he didn't join his cohorts in the team room. Couples admitted he got tough with the 24-year-old.
"We did, we did," he said. "But everyone as a team did. One night, someone went up to the room and got him, and he came down and had a blast. He's so much younger than everybody. And he certainly doesn't want to hang around Kenny Perry and me. But I just told him, 'It's just a team room. Come on and eat, and go home.' It took a day, that's all it took. We picked on him a little bit. Michael said, 'Just let him go, he'll come back to you.' And there were several things [Kim] said that by the end of the week were probably said by all the other 11 guys. He had a ball, and he actually loved the camaraderie. Which is a nice feeling."
To acknowledge the personal growth, Couples on Sunday morning presented Kim with a vintage Chicago Bulls jersey with the number 23 (only 1,251—the number of NBA games Jordan played—were made). "I just thought that might give him a boost," he said. "I don't know whether it did or didn't. We only handed out four of them for the whole week. Saturday night, after Tiger and Stricker had that great turnaround win, I only took one into the team room and gave it to Stricker, and Tiger was actually [wondering] where his was. He was going, 'Where's mine?' Then this morning we gave one to Phil's wife, Amy, who surprised us by flying in."
Few words accompanied the gestures. After Couples convinced a reticent Jordan to address the team Sunday morning, he didn't follow.
"I told Michael, 'It's about time you talked to the team. You've been sitting around for six days. When are you going to say something?' " said Couples. "He gave a great speech. And I'm sure Greg gave his team one, too. I didn't say a word. It's just not my kind of style."
Yes, Fred, we know. But as Mahan put it so well, "The best thing about Fred as captain? Just that he was himself."