News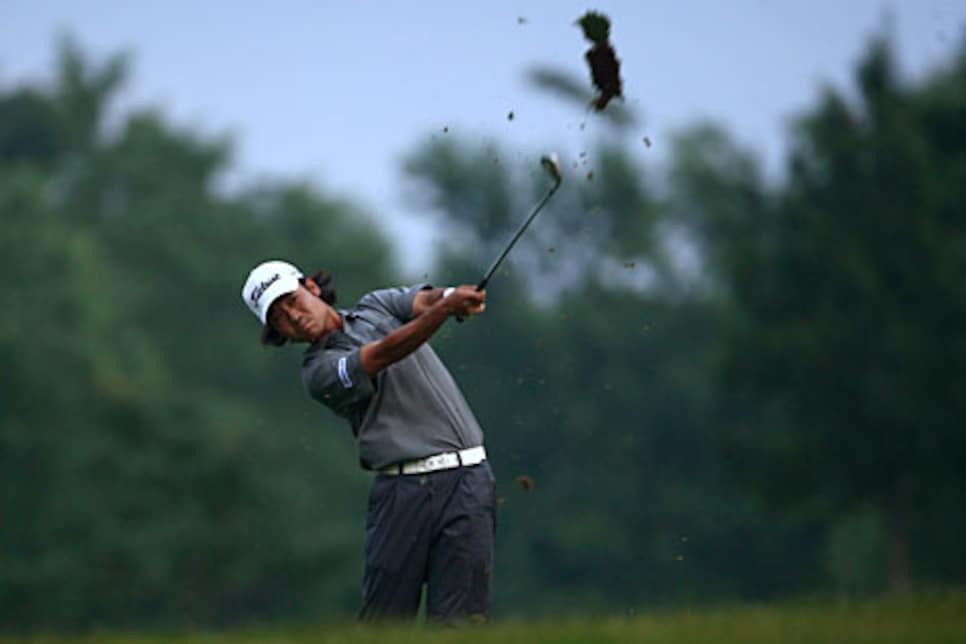 Kevin Na is looking for his first PGA Tour win.
OAKVILLE, Ontario (AP) -- Kevin Na hustled to finish his rain-delayed round in the Canadian Open. He ended up running the tables at Glen Abbey.
Na birdied the final five holes and nine of his last 12 for a 9-under 63 and a two-stroke lead over Retief Goosen, Scott Verplank and Joe Durant on Thursday during the suspended first round of the 100th Canadian Open.
By finishing in fading light, he avoided an early trip back to the course Friday.
"That's all I was hoping for," said Na, winless in six seasons on the PGA Tour. "I was just trying to get to the tee real quick and hit. Ended up being we had 10, 15 minutes to spare, but you never know when they're going to call it."
After playing one hole in the morning, Na waited out a 7½-hour rain delay in the tournament plagued by wet conditions for the second straight year. Ninety-eight players were unable to finish the round, and 39 of them didn't even begin play.
"I had my manager go to the hotel and grab my computer," Na said. "For a couple hours I watched TV shows that I downloaded, and just ate a couple times and went to the car and took a nap. I swear, I mean, I got to the 11th hole where I was starting and I looked at the guy and I said, 'Man, it feels like Friday.' It was a long day."
Na moved to the United States at age 8 and took up golf a year later. At 17, he skipped his senior year of high school to turn professional. Now 25, he has seven top-11 finishes in 18 events this year, including a seventh-place tie Sunday in Milwaukee.
"Once in a while we get it," he said.
Jimmy Walker was 6 under with four holes to play when play was suspended for the day because of darkness.
Mike Weir, trying to become the first Canadian to win the national championship since Pat Fletcher in 1954, opened with a 70.
"It was not what we wanted for this event," Weir said. "It's kind of playing soft - a dart show. It's too bad because the course is really good. It's in really good condition, but super soft."
Na closed his first nine, the back nine at Glen Abbey, with birdies on the par-5 16th and 18th, added birdies on Nos. 1 and 2 and birdied the final five for a front-nine 28, matching the tournament record set by Vijay Singh on the same nine in the second round of his 2004 victory.
"The greens are holding, so you can get aggressive with the irons," Na said. "But off the tee you must put yourself in the fairway. The rough is very thick."
Durant had a hole-in-one on the seventh hole.
"It was like 147 to the hole, which for me was kind of an in-between shot," Durant said. "I hit a nice little smooth 8-iron. It hit about 4 feet past and drew back in."
He also was relieved to finish the round.
"We were running the last couple holes to try to get done," Durant said. "It'll be nice to sleep in."
Goosen played the four par 5s in 5 under, making eagle at the 13th after the long rain delay and birdieing Nos. 16, 18 and 2.
"Been a long round. Thirteen hours from tee-off to finish," said Goosen, coming off a fifth-place tie Sunday in the British Open. "I've been up since 4:30."
After the round began on time at 7 a.m., heavy rain forced the suspension of play at 8:38. The rain stopped just before noon and course workers needed more than 4 hours to drain the flooded bunkers and get the clay-based layout in shape to play.
"If you play out here long enough, you're going to have some days like this," said Verplank, the 2001 winner at Royal Montreal. "So, you kind of figure out what to do, and just go with it. That's the way it is."
Because of the wet conditions after about 1½ inches of rain hit the course overnight and in the morning, players were allowed to use preferred lies in the fairways - just as they did in all four rounds last year.