News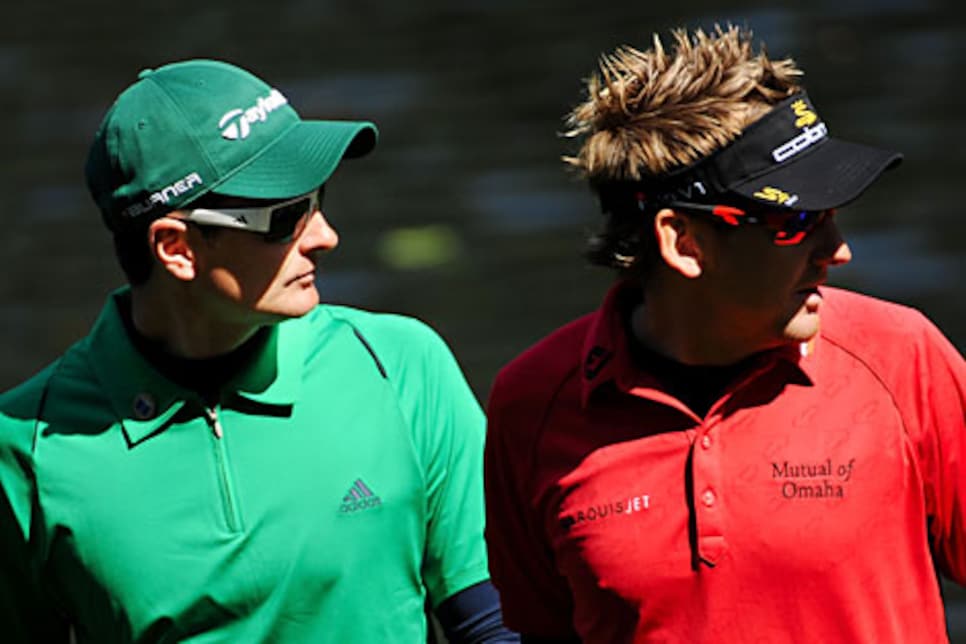 Ian Poulter and Justin Rose are two highly-touted English players who have done little in major championships.
You know you're in trouble when but one British/Irish golfer finishes ahead of a long-past-his-sell-by-date Sandy Lyle at the Masters. But that was the pitiful scenario that played out, far down the leader board, last week at Augusta National. While the 51-year old Scot, winner as long ago as 1988, suddenly began playing like a man two decades younger, the rest of the British Isles contingent gathered in Georgia performed with a distinct lack of, well, distinction.
Only Graeme McDowell finished better than Lyle's tie for 20th place. The Northern Irishman's 72-hole aggregate of 284 was "good" enough to see him attain the giddy heights of 17th alongside Aaron Baddeley of Australia.
Is it just me, or is this current group from GB& I -- with the exceptional exception of three-time major champion Padraig Harrington -- not starting to appear more than a little overrated? Spoiled by their unprecedented level of access into the three American majors and the riches to be made finishing 10th in run-of-the-mill PGA Tour events, the likes of Luke Donald and Justin Rose look "fat and happy" and more than content with their lucrative lots.
Perhaps the saddest aspect of this generation of pampered plodders is that, not so long ago, players every bit as good -- if not better -- were denied even the chance to strut their stuff on the very highest stages. As recently as 1980, when Seve Ballesteros won the first of his two Masters titles, the dashing Spaniard was one of only four Europeans invited to take part --and one of them was an amateur. That same year not one Euro played four rounds in either the US Open at Baltusrol or the PGA Championship at Oak Hill. Not because they played badly -- it was just that the vast majority of them didn't play at all.
Particularly hard done by the period through the 1980s to the mid-1990s was the quartet of Mark James, Sam Torrance, Ken Brown and Howard Clark, players every bit as good as their modern day counterparts. Not that you would ever know it from their major championship records, such as they are.
The numbers are startling. Between them, Torrance, Brown, James and Clark made as many as 26 Ryder Cup appearances, yet they could scrape together only six more starts in the three US majors. More to the point, in a period when the likes of Jeff Sluman, Bob Tway and Larry Mize -- hardly world-class talents -- popped up to win Grand Slam titles, clearly superior foreigners were struggling to gain even occasional entry to the Masters, US Open and PGA.
For the record, Clark played in four majors in America; James made it into nine; Brown into six and Torrance competed in 13. How sad that the recent history of golf's four elite events has been so perverted by what was nothing more than a combination of ignorance and insularity.
"If we'd had the opportunity at least one of us would have won a major," claims Clark with some justification. "I had the game for it, one that would have been even better had I been able to play in them more regularly. But our lack of exposure gave us very little chance."
Now, given that chance by the coming of the world rankings, the best of British are coming up short -- way short. While the leader of this underperforming bunch -- Paul Casey -- appears to have a game good enough to succeed where he has so far failed, the same cannot be said for too many of his compatriots.
Luke Donald? Too short off the tee to be more than an occasional inhabitant of the lower half of the top-10 in any major.
Ian Poulter? Commendably gritty, but lacks the talent to beat the best of the best head-to-head.
Justin Rose? Nice guy. Nice swing. But destined to be "very good" rather than "great."
Of course, all of this is nothing new. Eight long years passed between Paul Lawrie's unlikely victory in the 1999 Open Championship at Carnoustie and Harrington's win at the same venue. It was a period when Colin Montgomerie, Europe's best and most consistent golfer in the decade leading up to his stunning collapse in the 2006 US Open at Winged Foot, became best known for just that: coming up just short in major championships.
Not that he -- as per usual -- was short of an explanation for the repeated failure of himself and others.
"Well, if you take the view that Tiger (Woods) is going to win two every year, that leaves only two majors for the rest of us," said Monty, who has three times been second and once third in golf's four most important events.
Maybe they would all be better employed listening to one who knows a thing or six about winning rather than losing majors.
"It's all about experience and getting into position to see what it feels like," according to Nick Faldo, who won three Opens and three Masters between 1987 and 1996. "But one bad shot at the wrong time can scare you. They are all young and they have to come back better prepared. Majors test every nerve ending in your body.
"They have to get rid of that voice of doubt in their minds. For me, the self-belief was key. You have to have that inside. You need the self-confidence and the bottle. And you have to hit the millions of balls you have to hit to think you deserve success. Whether this group actually has 'it' or not remains to be seen. They certainly have talent. And they are getting into position. Now it is down to their determination to succeed."
In the 12 months that have passed since Faldo uttered those words, not much has changed, other than the emergence of Harrington as a man capable of winning more than once at the very highest level. As for the rest, even once would make a nice change from what has become a decidedly mediocre norm.