News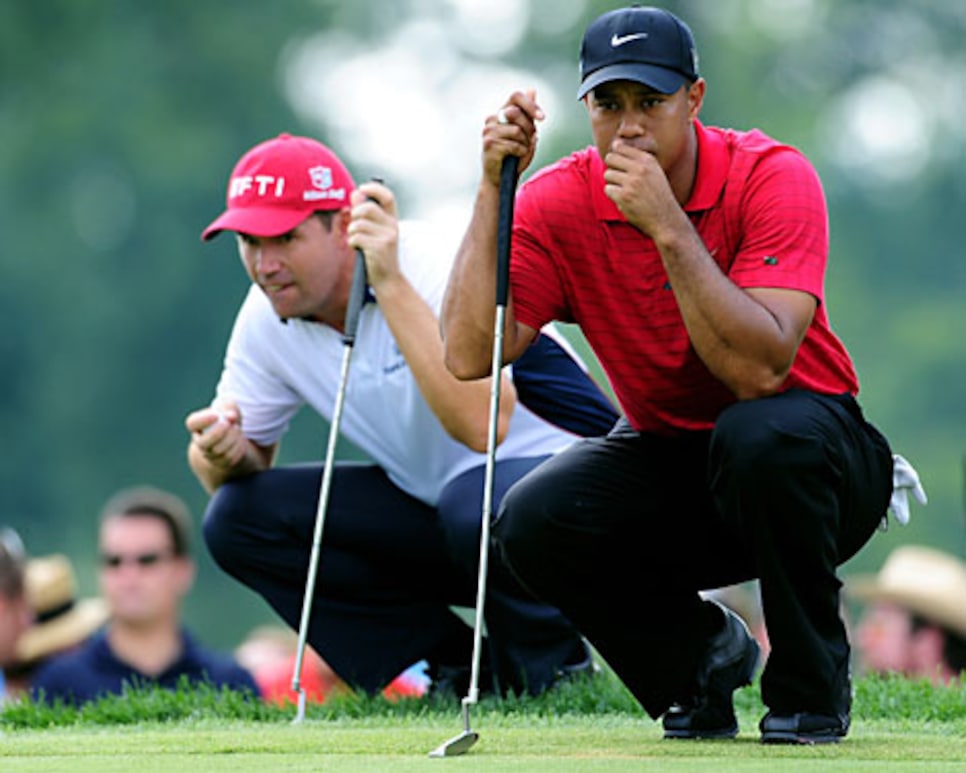 Padraig Harrington seemed on his way to fending off Tiger Woods on Sunday before his gaffe on the 16th hole.
AKRON, Ohio -- When you're following a script on how to beat Tiger Woods, it's best not to improvise with the curtain call imminent. So what was that slapstick routine that Padraig Harrington introduced into the drama unfolding at Firestone Country Club on Sunday afternoon?
Woods needs no help in finding the winner's circle, but Harrington provided it anyway, contributing the lion's share of a four-shot swing on the 16th hole of the final round of the WGC Bridgestone Invitational.
So the WGC Bridgestone Invitational ended predictably, Woods winning at Firestone for the seventh time and hinting at an impending winning streak, the kind that golf routinely repels when mere mortals are involved.
Woods is not among them. He once won six in a row at the end of 1999 and the beginning of 2000. He won three in a row in 2001, six in a row in 2006 and three in a row in 2008.
His four-stroke victory over Harrington and Robert Allenby was Woods' second straight win, and there seems no reason not to expect him to make it three in a row in the PGA Championship next week at Hazeltine National Golf Club. Even in a season in which Woods has won all three of his final starts before a major and then stumbled when it counted most, he hasn't had the momentum he carries into this week. Consecutive 65s on the weekend here on a difficult course that bears more than a passing resemblance to Hazeltine strongly suggests that his 15th major championship is only a formality.
Should someone toss in an assist the way that Harrington did on Sunday, what chance is there for anyone else?
Harrington had his chance, until his benevolence took him off script and undermined his bid. After opening a three-stroke lead over Woods on Saturday night, Harrington said, "It isn't a question of me going out there tomorrow and thinking I'm going to get away with shooting 70. Tiger obviously loves this golf course and I've got to expect that he's going to perform tomorrow."
Even with a breeze elevating Firestone's difficulty quotient, Woods held up his end, playing the first five holes in four-under par to overtake Harrington, even opening a two-stroke lead on him at one point.
"I think the wind condition was exactly what Paddy was probably looking for to protect the lead on this golf course," Woods said, "and I just knew that I had to get off to a quick start and was able to do that. But Paddy hung in there."
Harrington, in fact, regained the lead and led by one when they came to the 16th hole, 667 yards of bad intentions, a greenside pond among them.
At this point, Harrington seemingly only had to run out the clock, but the clock failed to acquiesce. A rules official told the two that they were out of position, and in Harrington's effort to pick up the pace, "I got myself out of the zone."
He pushed his tee shot, then misplayed his second, and hit his third over the green, leaving a daunting flop shot from a downhill lie with a pond on the other side of the green. He made another poor effort, the ball bounding into the water, leading to a triple-bogey 8.
"I don't think Paddy would have hit the pitch shot that way if he was able to take his time, look at it, analyze it, but he was on the clock and had to get up there quickly and hit it," Woods said.
Woods, meanwhile, had his own travails at 16, but managed to negate them with the kind of Sunday-afternoon brilliance that has helped to define his career. From 170 yards, he hit a towering 8-iron to a green that was repelling lob wedge shots all afternoon, the ball spinning back to tap-in range. The birdie was the final flourish in the four-shot swing that gave him a three-stroke lead and ultimately the victory.
The win was his fifth in a year that won't rate a success by the standards he has set unless he adds the PGA Championship. He already rated a skill advantage going into Hazeltine. Now he has momentum working for him as well.
At Hazeltine, a victory has been scripted there, too.