News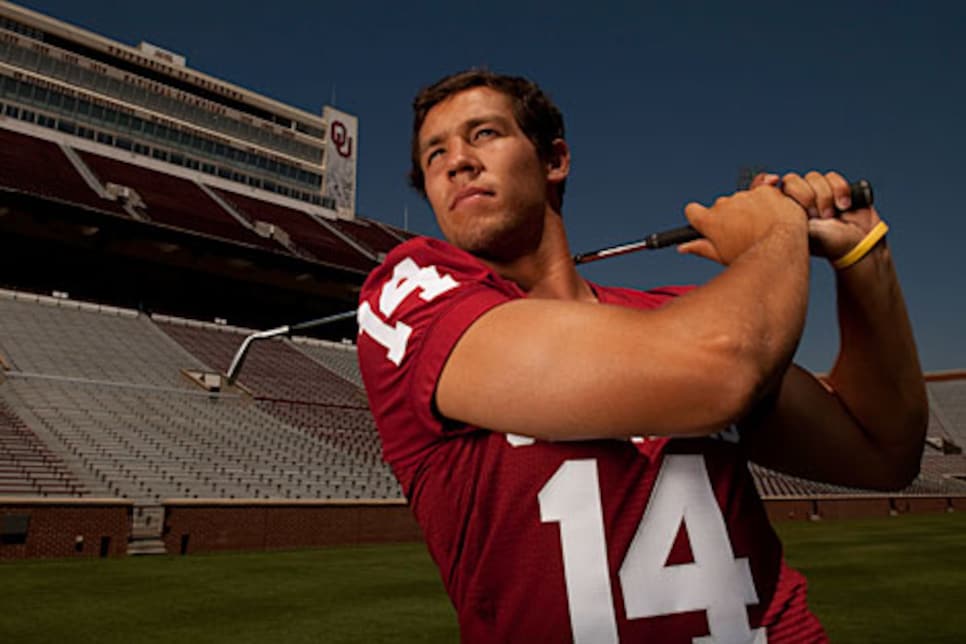 Oklahoma quarterback Sam Bradford has been the star of many a photo session since he won the Heisman Trophy as the most outstanding player in college football—but none like this one. Golf World was taking pictures near the 50-yard line in cavernous Memorial Stadium to illustrate an article about the sure-armed junior who is as interested in golf as football, and might be as good at it if he devoted himself.
"If I could play any sport at OU, it would be golf," says Bradford. "I love playing golf. I'm definitely jealous of Anthony Kim." He doesn't know PGA Tour pro Kim, who left OU a year early, but he'd heard Kim might come back for a football game after the Ryder Cup and they would play. Kim didn't make it, but it remains on their to-do lists.
Bradford may enjoy rock-star status in football-obsessed Soonerland, but an associate athletics director escorting him this bright summer day nevertheless cautioned him not to take divots out of the hallowed turf. Don't worry, said a confident Bradford, he would pick his shots clean with a wedge. And he did.
"You know," he mused at one point, "I've always said that before I'm done here I'm going to blast a golf ball out of this stadium. I'd love to do it in front of 80,000 screaming fans."
Bradford often breaks par on strong courses, and his shotmaking prowess is said to rival his passing prowess (50 touchdowns and a 180.8 efficiency rating last season, both best in the nation). On the golf course he is long, plays short shots with finesse and "seems to be the real deal," according to acclaimed teacher Jim Hardy.
Kelsey Cline, a long-time friend of Bradford, is a former touring pro who coaches the Oklahoma Christian University team that ranked first in the final Golf World/Nike NAIA coaches' poll in May and won the NAIA national championship. He played about half of Bradford's 20 rounds with him over the summer and says, "If he had a formal handicap, it would be zero. I'll sum up Sam's game by telling you that for somebody who doesn't practice, he can hit an 8-iron 150 yards or 185 yards depending on the situation. He has a couple extra gears. Oh yeah, and he likes to wear a visor.
"Certain people get in their own way," the coach sums up, "and certain people don't. Sam doesn't, on the golf course or the football field."
The tousle-haired Bradford, his 223 pounds well spread over a 6-foot-4 frame, sees close parallels between golf and football.
"Both sports require the ability to read a situation and then use the right touch," he says. "Mentally, both require you to have a short memory and always focus on the next shot or play. You have to stay within yourself and within a game plan and not try to do too much."
''ve always said that before I'm done here I'm going to blast a golf ball out of this stadium. I'd love to do it in front of 80,000 screaming fans.'
Citing Kevin Wilson, coordinator of OU's record-setting firewagon offense (and a fellow golf buff), Bradford says, "Coach Wilson always uses golf analogies with me during football games. It's amazing how the two sports translate for each other."
Wilson says: "He'll miss a couple passes, and I'll say 'Let's double down,' as if there's a golf bet at stake. Or he'll complete one and say, 'It was just like lobbin' a sand wedge.' He manages our offense the way a good golfer manages his game. Sam dares to live on the edge but doesn't get greedy.
"We talk about the value of an incomplete pass being like a good bogey, versus negatives like getting sacked. He maximizes the odds the way a golfer doesn't short-side himself. He's as grounded and smart as any athlete I've been around."
Bradford carries a near-perfect 3.95 grade-point average, and is well-spoken if not given to talking about his exploits. He was recruited out of high school in Oklahoma City for basketball as well as football, and could have been recruited for golf had he not committed early to the football program he had grown up admiring as the son of a former OU player.
Jim Ragan, the Sooner golf coach, says, "I think all of us were smart enough to realize we couldn't out-recruit Coach Stoops [OU head football coach Bob Stoops]. Sam obviously made the right choice, but he continues to play golf occasionally at a very high level. I expect he'll play the rest of his life."
Bradford passed up the 2009 NFL draft to stay in school, though he was projected as high as the first pick. By turning pro he would have been financially secure for life in any economy, which he well realizes as a finance major. He stands for the all in all-American.
Bradford's collegiate career has been strikingly similar to that of Blake Griffin, star of OU's basketball team last season, also as a sophomore. Griffin was the college player of the year—but unlike Bradford went No. 1 in the NBA draft and turned pro. (Bradford's receivers could have used Griffin's rebounding aggressiveness and sticky hands to hang on to a key pass or two in OU's BCS championship game loss to Tim Tebow and Florida.)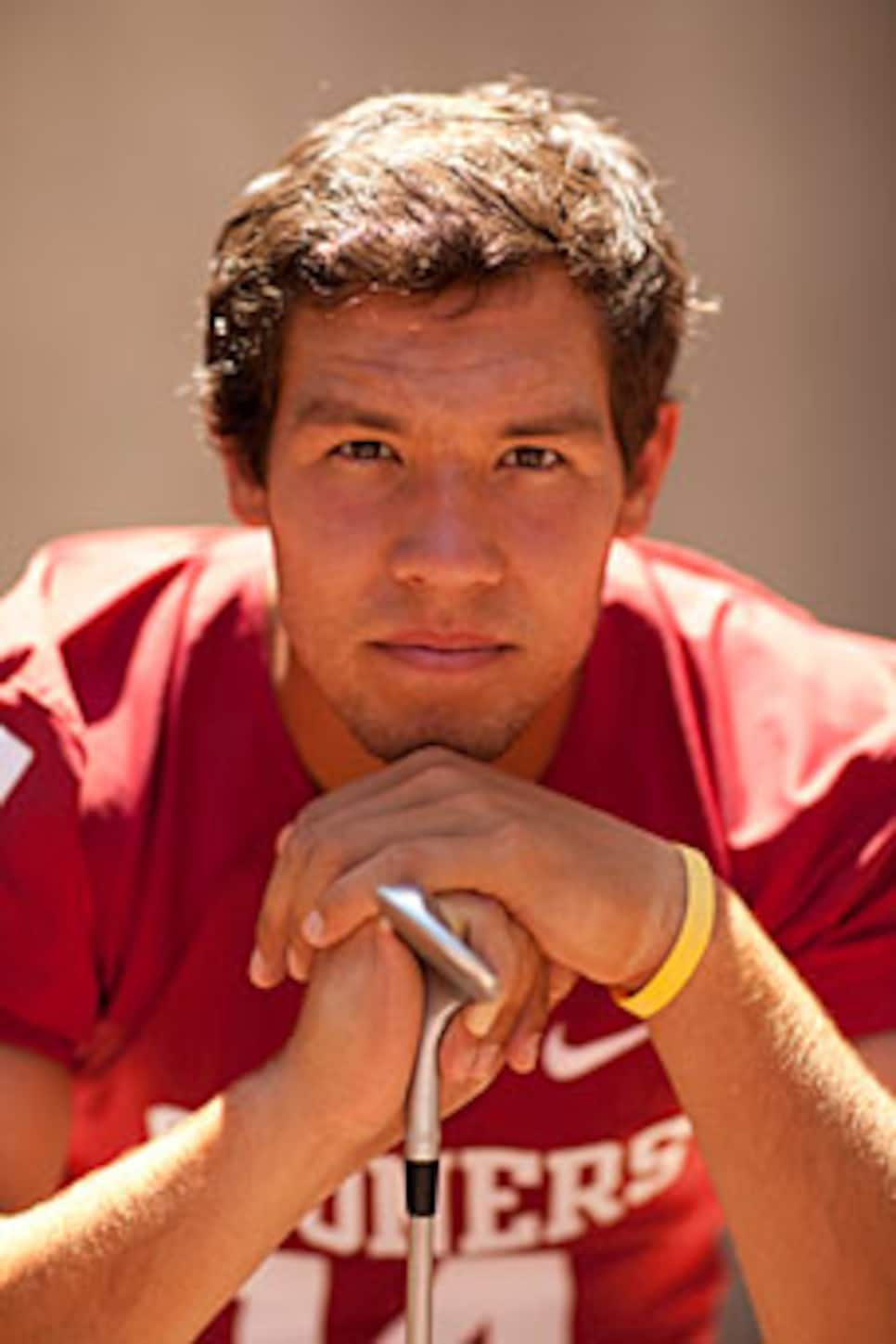 If Griffin is an outgoing jokester and impressionist (he is), Bradford is the strong, modest type with a low-key sense of humor. His friends are lavish in praising his athletic versatility—even likening him to legendary Oklahoman Jim Thorpe. Bradford is part Cherokee and proud of his Native American heritage.
Ben Bench has been his buddy since they were kids, when Bradford introduced him to golf, having been started himself by his grandfather and been immediately smitten "at a very early age" (both his parents also play). Bench, a member of the Oklahoma City University golf team, played golf with Bradford when they were juniors, then as teammates in high school and lately as students at neighboring colleges (OU's Norman campus is a short drive by interstate from Oklahoma City).
They play when Bradford is finished with spring football, and played during Bradford's bye week last football season. Bench has seen his friend shoot 63 on a par-71 course. "I've played with tour pros, and Sam has the most natural swing I've ever seen," Bench says. "If he wasn't dedicated to football, he could have a future in golf. He could play on the OU golf team right now." Bradford split two friendly matches against the No. 2 man on the Sooner squad last summer.
Bench marvels that Bradford can play so well with limited practice. "It takes him four or five holes to warm up, then he'll shoot under par on the back," says Bench.
As teens they made area newspapers by playing 112 holes in a day until darkness closed them out. Two years ago they won the prestigious Oklahoma City Four-ball.
Bradford remembers his formative times in the game with fondness. "When I was a kid, my mom would drop us off at the local muny course in the morning, and we'd play all day. I have great memories of being young with my friends on the golf course. That's still when I enjoy the game the most.
"The thing I like best about golf is that it requires so many different skills, both mental and physical. There are times when you have to hit the ball as far as you can, then there are other times when a soft touch is required. Factor in all the elements like wind and slope, and it's really challenging."
For the next few months Bradford will focus mainly on that other challenging sport, the one where opponents are trying to separate him from the ball and his senses. At least until his off week. How about having him try to whale a golf ball out of OU's stadium as a highlight of a halftime show on national TV?