News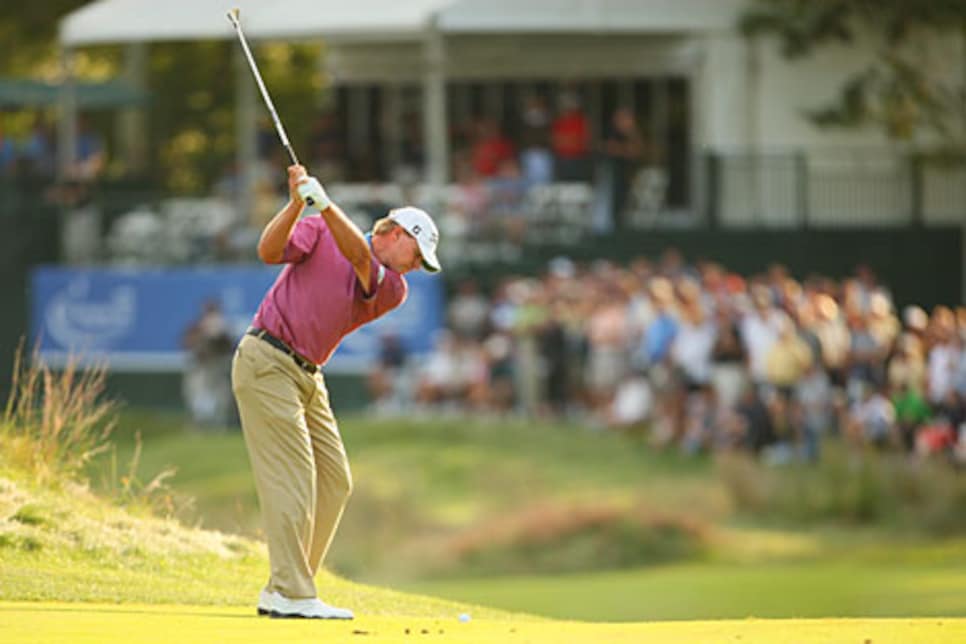 Labor day: During a final round in which eight players held a share of the lead, Stricker shot a hard-working 67 to take a 909-point lead in the FedEx Cup standings.
Four days of perfect weather never hurt any golf tournament, but in the solar plexus of New England, where autumn arrives early and leaves too soon, 76 is far more likable as a game-time temperature than an 18-hole score at the Deutsche Bank Championship. Last week's visit to Massachusetts yielded more of what has made this tournament such a success in its seven years.
Big crowds, a great atmosphere, a ton of low scores and, dare it be said, serious FedEx Cup playoff implications, if FedEx Cup playoff implications are to be taken seriously. About the only thing missing from the previous DBCs was a mad scramble to the finish line, which takes us to Steve Stricker, the most dependable horse in the bunch.
"Instead of waiting to see what's going to happen, he's making it happen, and that can mean everything out here," said veteran caddie Jimmy Johnson, who has witnessed a dramatic competitive makeover since picking up Stricker's bag in the summer of 2008. After throwing away the Bob Hope Classic at the start of this season, Stricker bogeyed the 72nd hole four weeks later at Riviera, allowing Phil Mickelson to win the Northern Trust Open by a stroke.
Those losses occurred three victories ago, and in those 6½ months a man regarded as one of the game's best putters and wedge players has discovered the hardened emotional mindset required of all who aspire to big things on the PGA Tour. At this point it's fair to say Stricker's year is getting bigger by the week.
His one-stroke triumph Monday evening at TPC Boston vaulted him to the top of the FedEx Cup standings, where he leads Tiger Woods by 909 points. If that margin sounds like a lot, it really isn't, especially when you consider the identity of the man in second place. "We all know who the guy is out here," Stricker said. "I'm just happy to be in the position to do something special for myself. Tiger has done a lot of other special things. Maybe he'll let somebody else do something special."
If somebody else came up with a line like that, every fellow tour pro would whip out a can of industrial-strength phony repellant and sanitize the room. Stricker, however, is a true gentleman—almost a caricature of the humble, soft-spoken kid from the Midwest whose first instinct is to back away from attention, his second instinct to deflect it.
That disposition might make him popular among his colleagues, but it didn't make it any easier for Stricker to transform himself into a cold-blooded executioner on Sunday—or Monday—afternoons. Finding a balance between who he is and how he needs to be has always been one of his toughest hurdles. "When I didn't win at the Hope, then again in L.A., I was starting to … you get doubts," he said. "I was doubting whether I had the ability to win again."
He broke through at the Crowne Plaza Invitational with a little bit of luck—a series of bad breaks felled Tim Clark, who lost on the second playoff hole. When Stricker got in the hunt again two months later at the John Deere Classic, Johnson discovered a guy unwilling to settle for anything less than another victory. "You could see the difference in his mentality," Johnson recalled. "He took a confidence into that final day, and he hasn't lost it since."
Stricker put it to good use down the stretch Monday. No less than five others had a good chance to win this tournament—all five missed eagle or birdie putts from between 15 and 30 feet at the par-5 18th. Jason Dufner and Scott Verplank were in the house at 16 under, leaving Stricker, who trailed by one on the 17th tee, with a very clear understanding of what he needed to do.
He hit two perfect shots at the 17th, then holed a 14-footer for birdie. After a solid drive to the left half of the fairway, Stricker had 238 yards into the 18th. His 3-wood trickled through the center of the green, where he faced a relatively basic chip from light rough, which he parked two feet from the hole. Ballgame.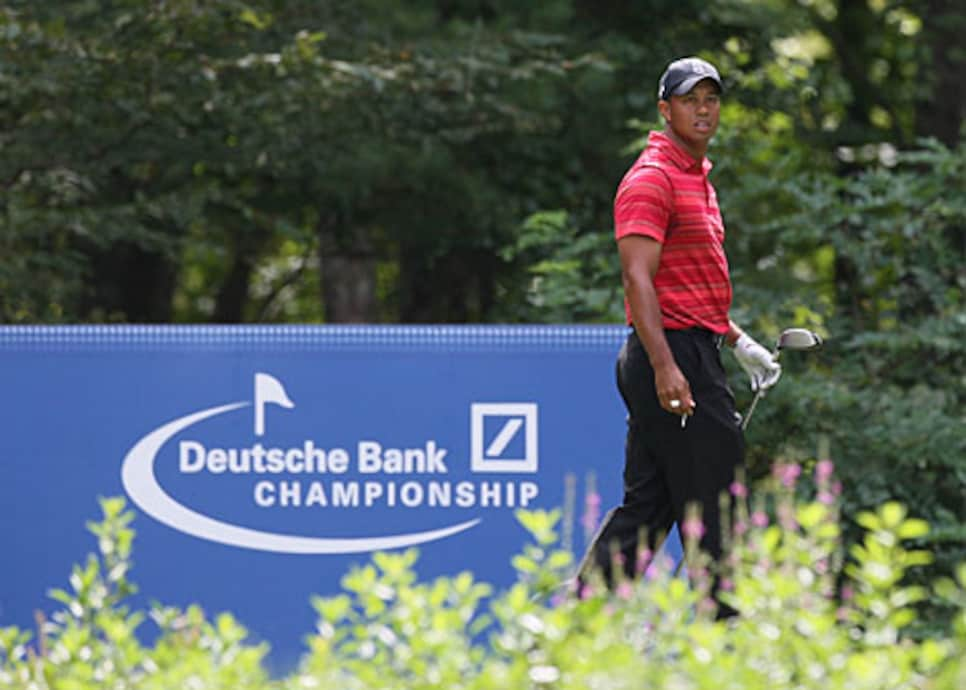 Halfway through the '09 postseason, what matters most in FedEx speak is that Stricker is all but guaranteed an excellent shot at the $10 million jackpot to be awarded in Atlanta later this month. Even if he forgets to show up for this week's gathering at Cog Hill, Stricker will find himself in no worse a position than second when he arrives at East Lake.
Woods is likely to show up there, too. A ferocious Monday charge moved Tiger to within shouting distance of the leaders as those final groups prepared to tee off, but when you start the day nine strokes off the lead and with 29 guys to climb over, the ability to walk on water isn't enough.
"The whole idea was to shoot something in the low 60s, something that would probably get me into the top 10," said Woods, whose 63 left him T-11—just the second time in more than two years (24 starts) that he has failed to finish in the top 10 at a stroke-play event. "Certainly, from where I [started], I couldn't win the tournament, even if I shot 60 or something like that."
He might have sounded a bit like a man who had just guzzled a gallon of FedEx Cup Kool-Aid, but this wasn't Woods' week. His lingering putting woes were apparent at the outset, and when he blew his drive right off the fifth tee (his 14th hole) in the first round, Tiger tomahawked his club at the ground with such force that it caromed off the turf and flew maybe 10 yards, where it landed in some wetlands.
The driver slam wasn't shown on Golf Channel's first-round telecast, nor was it picked up in the weekend coverage on NBC. Woods, who went on to bogey the hole, was in the morning half of the draw and had already played the fifth when Golf Channel went to live air. The incident was, however, captured on videotape from a considerable distance by someone in the gallery, and before long, it had been posted on YouTube.
Asked after the round if the outburst was "just a flash of frustration," Woods responded, "How about every hole?" With that, his post-round interview was over, proving yet again that nobody gets out of trouble—on and off the course—better than Tiger.
To lose to Y.E. Yang and Heath Slocum down the stretch is one thing—two if you're actually counting—but after riding the cut line well into the back nine Saturday, Tiger produced some of his best golf all year: four birdies on the final seven holes to make it with room to spare.
"I was 11 off the lead and started seeing a lot of media guys out there," Woods said of the late binge. "I thought I'd better turn this thing around and make them go away."
Is there anyone funnier than Eldrick T. Comedian? Woods was hardly in a laughing mood, however, when he followed Saturday's 67 with a 72, leaving him T-30 when he teed off Monday. So imagine you're Dufner, three behind the leaders and really in need of a strong finish for the biggest paycheck of your career, maybe even your first tour victory.
You boot up your laptop to check out the early scoring, at which point you see the Dude in the Red Shirt has gone birdie-birdie-birdie-par-eagle-birdie to shoot a front-nine 30, a blazing stretch. The throng following Woods to the back was so huge that two cop cars had parked on the street immediately behind the 10th tee, lights flashing, as if someone had dialed 911.
Maybe it was Dufner. The local police were merely escorting the crowd to the other side of the road, but a couple of fire trucks would have made more sense.
As for the abundance of late-summer sunshine and what was nothing more than a light breeze for most of the week, the TPC Boston, which has always catered to the game's longest hitters, instead became favored ground for the short-but-straight crowd. Not one of the eight players atop the 54-hole leader board ranked among the PGA Tour's top 50 in driving distance.
It was a group that included Stricker (115th), Padraig Harrington (120th), Kevin Na (137th), and the king of the Boston Bunters, Verplank (168th). "When it rains, we have no chance here," Verplank said, speaking on behalf of those who got caught on the wrong side of the trampoline effect without an umbrella.
What made Monday so delightful wasn't just the herd of contenders, but the mix of styles. Masters champ Angel Cabrera and Dustin Johnson, two of the game's longest hitters, were among the five guys who arrived on the 18th green with a chance to win. Dufner was the first to reach 16 under with a two-putt birdie, and when Verplank burned the left edge from 25 feet with his eagle try, a three-man playoff in fading twilight looked like a distinct possibility.
That was before Stricker reduced it to a flicker. "Even when he was struggling [in the mid-2000s], he was still one of the best putters out here," said longtime friend Jerry Kelly, who played with his fellow Cheesehead in the third round. "Nobody has worked harder—every part of his swing is just so on-plane now. He can drive the ball however he wants, and nobody—I mean nobody—is a better wedge player.
"Still, the biggest difference is that he's playing with such a high level of confidence," Kelly said. "That's what this game is all about. He knows he can do it, and he's getting it done."