News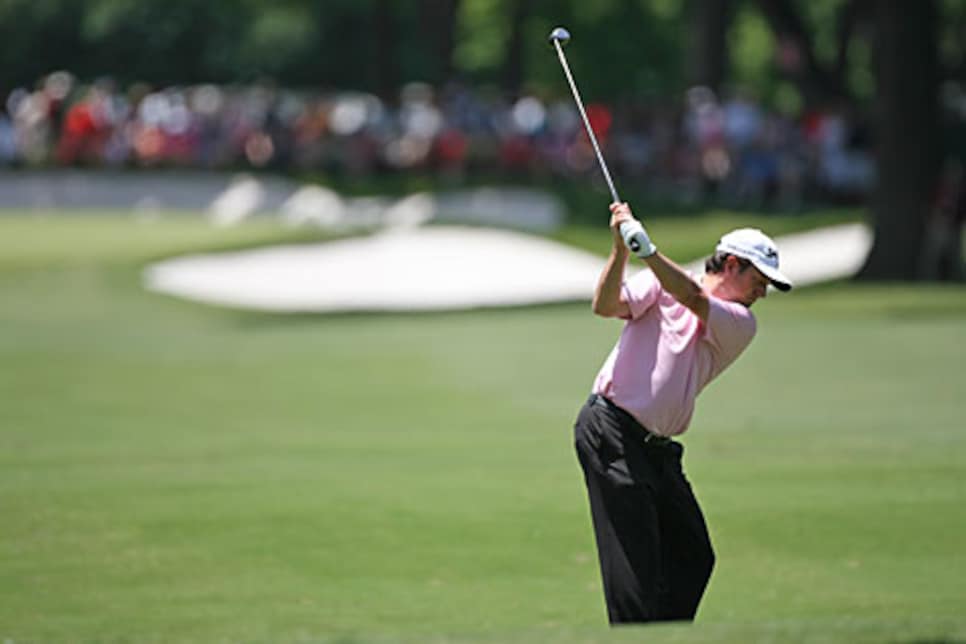 Another promising week ended in disappointment for Tim Clark.
Poor Tim Clark. He had two chances to secure his long overdue first PGA Tour title Sunday in the Crowne Plaza Invitational at Colonial, and couldn't get it done. He bogeyed the 72nd hole to allow Steve Stricker and Steve Marino to join him in a sudden death playoff, then missed a short birdie putt on the first extra hole.
On the second playoff hole, fate turned against him.
After Stricker flagged his second shot on the par-4 17th hole, Clark followed with another pin-seeker. In fact, the ball hit the flagstick, then caromed backwards 22 feet from the hole. Had it missed the pin, the ball would likely have wound up inside five feet.
Clark missed his birdie attempt, Stricker converted for his fifth PGA Tour win, and the heartbroken Clark was left to wonder what it will take for a breakthrough.
Since joining the PGA Tour in 2002, the 33-year-old Clark has now posted seven runner-up finishes, including the 2008 Colonial. The well-liked South African hasn't exactly gone hungry, surpassing $1 million in earnings for seven consecutive years. Although he has two Nationwide Tour victories and four international wins, most recently the Australian Open last December, he continues to be blanked on the PGA Tour. With 184 starts, most consider him the top player without a "W" on his resume.
Birdie: To Stricker, who holed out a chip shot for birdie from behind the 17th green on Sunday. This, after missing two short putts.
Bogey: To the two knuckleheads who jumped into the water at 18 on Sunday at Colonial during the first hole of sudden death.
Birdie: To PGA Tour players, officials, fans and yes, even media types, for observing "Pink Out" Saturday at Colonial to support Amy Mickelson and all women fighting breast cancer. It was quite a sight, particularly CBS foot soldier David Feherty, who painted his goatee pink.
Birdie: To CBS announcer Ian Baker-Finch. Playing his first competitive round since the 2001 Colonial, he opened with a two-under-par 68, but slipped to a 78 on Friday and returned to the broadcast booth. "Just lack of play," he said.
Bogey: To Jeff Quinney, who has missed five of the last six cuts and has made only five of 12 on the year. His best showing is a tie for 22nd at the AT&T Pebble Beach Pro-Am.
Birdie: To Adam Scott, who snapped a streak of six-straight missed cuts at Colonial. It wasn't easy, Scott shooting a three-over-par 38 on the back nine on Friday to squeak in by two strokes.
Birdie: To Dean Wilson, for acing the 160-yard 13th hole with a 7-iron on Thursday, the 24th hole-in-one at Colonial.
Bogey: To Kenny Perry. Coming off a two-week layoff, Perry opened with a six-under-par 64 at Colonial, then lost ground in the second round with a 72. His back nine included a stretch of four bogeys in five holes.
Birdie: To Christian Cevaer of France, who won the European Open by one stroke. Ranked 449th in the world, the former Stanford University standout had only one previous win, in the 2004 Spanish Open.
Bogey: To Olin Browne, who tied for 50th in his Champions Tour debut. After opening with a 67, he followed up with rounds of 73 and 77.
Bogey: To Tadd Fujikawa. Three years after qualifying for the U.S. Open at age 15, the Hawaiian teenager shot 73 in local U.S. Open qualifying in Hawaii and is second-alternate for the sectional qualifier.
Birdie: To newly-crowned Senior PGA Tour champion Michael Allen, who bought champagne for the press room after his victory.
Bogey: To Brian Davis, whose streak of rounds in the 60s ended Saturday at Colonial with a 70. However, he has still recorded a stellar 24 consecutive rounds of par or better.
Birdie: To 18-year-old rookie Danny Lee, who led Colonial with 24 birdies and tied for 46th.
Birdie: To the USGA, for giving a special invitation to Laura Davies to play in the U.S. Women's Open. She accepted, extending her streak to 24-straight Opens.
Birdie: To the Northern Trust Open, for naming NBA Hall of Famer Jerry West as its new executive director.
Birdie: To Dustin Johnson, who has five drives of more than 400 yards this year on the PGA Tour.
Birdie: To Larry Mize, who has three Top-10 finishes in his last four starts on the Champions Tour.
Birdie: To Kristy McPherson, Amy Yang, and Lorie Kane for scoring holes-in-one at the LPGA Corning Classic.
Birdie: To Bob Gilder, for making his 132nd-straight start in events he's been eligible for on the Champions Tour.
Birdie: To Jim Colbert, 68, for needing only 23 putts in the first round of the Principal Charity Classic.
Birdie: Chris Baryla of Canada made six-straight birdies Saturday and shot a career-low 63 in the Nationwide Tour's Rex Hospital Open.
Birdie: To the Memorial Tournament, for its creativity. On Wednesday, the first Memorial Skins Game will be held on the back nine at Muirfield Village Golf Club. Host Jack Nicklaus and top-ranked Tiger Woods head the eight-player field that will vie for a $100,000 purse, with $50,000 going to charity. Players will wear microphones and the event will be televised live on the Golf Channel from 1-4 p.m. Eastern time.
Mark Soltau is a contributing editor to Golf Digest and the editor of TigerWoods.com.