News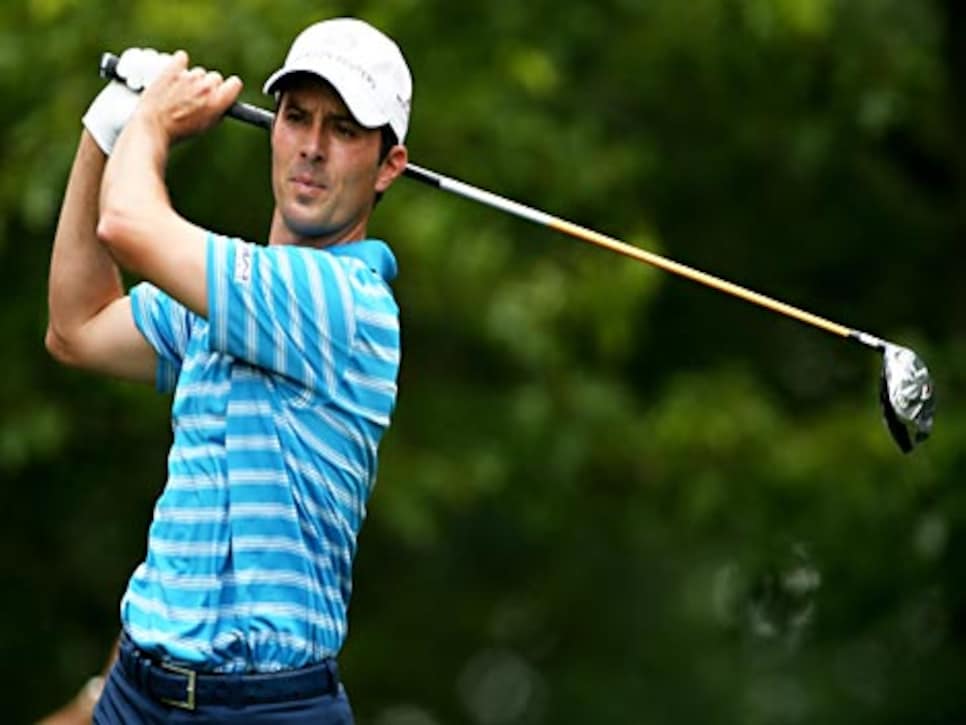 Mike Weir is one of several shorter hitters faring well at the lengthy Bethpage Black.
FARMINGDALE, N.Y. -- In something of a reversal of fortune at Bethpage Black, instead of bomb and gouge, it paid to dink and dunk, as long as one did it very, very carefully. The last time the U.S. Open was at Bethpage, a small portion of the field couldn't even reach the fairway of the 10th hole, a massive 508-yard par 4. Being a short hitter in '02 was the kiss of death. With the rains drowning out Thursday's round, saturating and softening the course, it would seem the 7,426-yard, par 70 monster might once again play into the hands of the nuke-throwing 300-plus yard, titanium-wielding savages. But, not so fast.
When the first round was finally completed late Friday afternoon the leader was Mike Weir, 142nd on the PGA Tour's driving distance stats, who won the Masters on a soggy and super-sized Augusta National GC in '03. "The year that I won the Masters, we were rained out Thursday and it played really, really long and everybody talked about (how) the long players are going to have a big advantage," said Weir after his opening six-under-par 64. "We can compete if we hit some longer irons and longer rescue clubs into the greens (if) the greens are soft enough to hold those. If it was firm conditions and we were hitting those clubs, it would be more of a disadvantage than wet conditions like this. It's not as big of a factor as if maybe it was firmer."
Weir wasn't the only, shall we say, strategic stylist on the leader board. Rocco Mediate, T-144 on the Tour's distance charts and golf's No. 1 underdog, was attempting to reprise last year's Torrey Pines' cameo with an opening 68, six shots better than the guy who beat him in a playoff with a broken leg and a torn up left knee. "You're not used to seeing Opens this wet," said Rocco. "You can carry the ball back in. It's still dangerous. The rough is still high enough but you have to drive it -- I do -- in these fairways. I can't move it out of the rough."
The key for the lighter hitters is playing out of the fairway but the wet conditions also serve to make the fairways wider. Todd Hamilton, T-120 in driving distance on the Tour, hit 12 of 14 fairways in his opening round of three-under 67. "The fairways, as wet as they are, play a lot bigger. I've got to drive it in the fairway to be able to have a chance," said the man who won the '04 British Open when he out short-gamed Ernie Els in a playoff at Royal Troon. "The course is very, very wet so everything is stopping where it lands. If you're swinging well, it's going to stay right there. But you're adding two, maybe three clubs longer because you're not getting that 20 or 30 yards of run. Even if you've got a 5-iron in and it's pretty soft, you still don't want to miss that green short side."
David Toms, who leads the PGA Tour in driving accuracy but is T-99 in distance, hit 13 of 14 fairways in his opening-round 69 and was also among the early leaders. Graeme McDowell, who ranks 66th on the European Tour in driving distance but is 11th in accuracy, was also among those at one-under par.
Even with more inclement weather likely to keep the golf course as soft as cookie dough, don't think for a moment that the Phil Mickelsons, Lucas Glovers, Sean O'Hairs or Adam Scotts of the world are in a rush to take a foot off the accelerator. The wet fairways are wider for them, too, and length still has its privileges.
"The ball's stopping pretty quick, especially if you're a high-ball hitter. I think that's why the scores are so good," said Hamilton. "If you're a guy that drives it really high and far, this is a good course for you. The young guys who hit it high in the air, they've got a big advantage."