News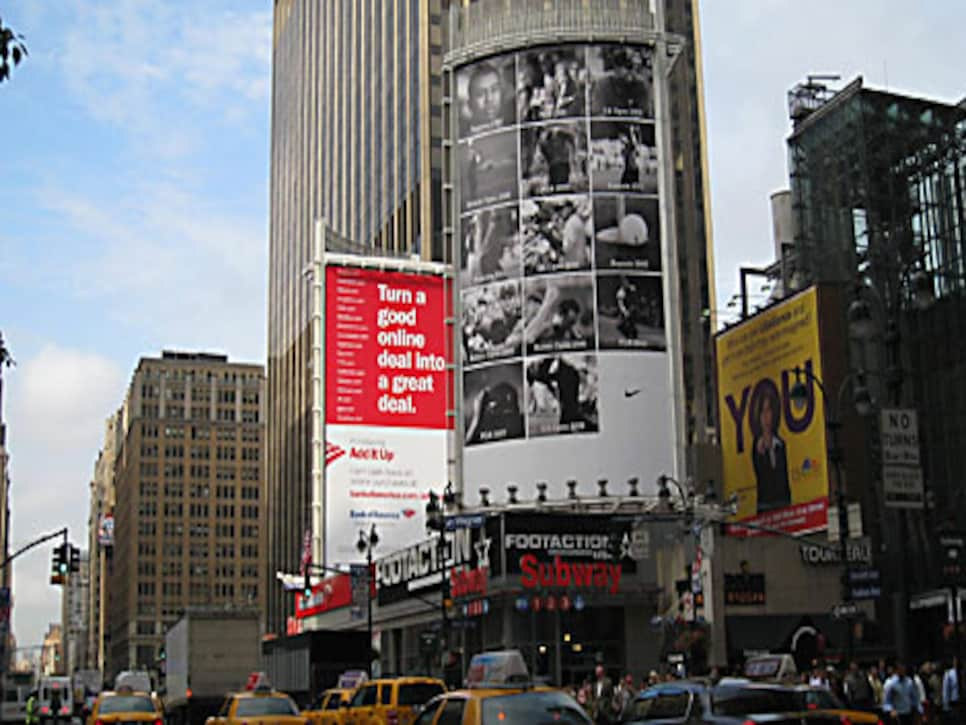 A billboard that chronicles Tiger Woods's 14 major championship victories has room for No. 15.
FARMINGDALE, N.Y. -- On Tuesday, Tiger took Manhattan. It happened the moment his billboard that reaches nearly seven-stories high made its debut at the corner of 34th Street and 7th Avenue in midtown.
Soon, he's going to try to do the same thing to the U.S. Open here on Long Island.
The almost 70-foot high and 40-foot wide, black-and-white billboard celebrates each of Woods' 14 major championship victories in separate rectangular blocks, indexed by the year and the tournament, with one block in the lower right corner decorated with only a Nike swoosh. After what happened at his last tournament, when he came back from four shots down on the last day to win the Memorial, Woods seems on track to put his own brand on 109th U.S. Open on the Black course at Bethpage State Park.
And so the Woods bandwagon rolled deeper into Open week, a time in which he's had some success, most recently last year at Torrey Pines. If Woods was on edge a year ago, given the fact he knew win or lose he was going to have reconstructive knee surgery, then he's giving off a completely different vibe this year.
Call it calmness. He conducted a spirited 35-minute media conference Tuesday morning, then strode out the back door for a couple more impromptu questions. He seemed completely at ease, in no particular hurry. It wasn't so much what Woods said but how he said it.
It's probably difficult to act serene when the U.S. Open is so near, but Woods sounded a note of confidence that was overpowering.
"I like my chances in any major," he said.
As usual, Woods was surrounded by his team of advisors, agents, security and tournament officials. They filled two golf carts. They rolled down a bumpy path and steered their way out of the compound to Woods' car. It was time for a workout and Woods was ready.
On the course, he will be heavily scrutinized, as the defending U.S. Open champion and also as the winner the last time the Open was played here seven years ago. Woods won by three shots.
This one may feel a lot different.
Woods can't forecast the weather, yet, but his practice routine so far is taking into account the potential of rain. Woods played nine holes Tuesday, the back nine at Bethpage Black, and wound up hitting a bunch of 3-irons into the greens. He said the shots were holding because the greens are receptive, which is good news.
But a course made softer allows a lot more players into the mix and Woods would rather have a hard and fast course, which doesn't look likely right now.
At least he's had plenty of practice here. Woods showed up Sunday around 4 p.m. and got in 16 holes while managing to avoid the high level of public attention to which he's accustomed. Not too many even knew he was around, including the USGA. Woods played the front nine on Monday and said he's going to devote his time Wednesday to light practice.
Otherwise, Woods said he's ready.
"Generally, this is the hardest major we face, year in and year out. Narrowest fairways, highest rough."
That's a fair assessment, but it's open for debate whether Woods feels much of that these days. After the Memorial, Nicklaus handed over the winner's trophy to Woods at a ceremony on the 18th green. Nicklaus predicted a U.S. Open victory this week for the player chasing his record of 18 majors.
Woods smiled broadly, and he was still smiling Tuesday. Maybe he'll have the same look on Sunday.
That means a whole new billboard.