News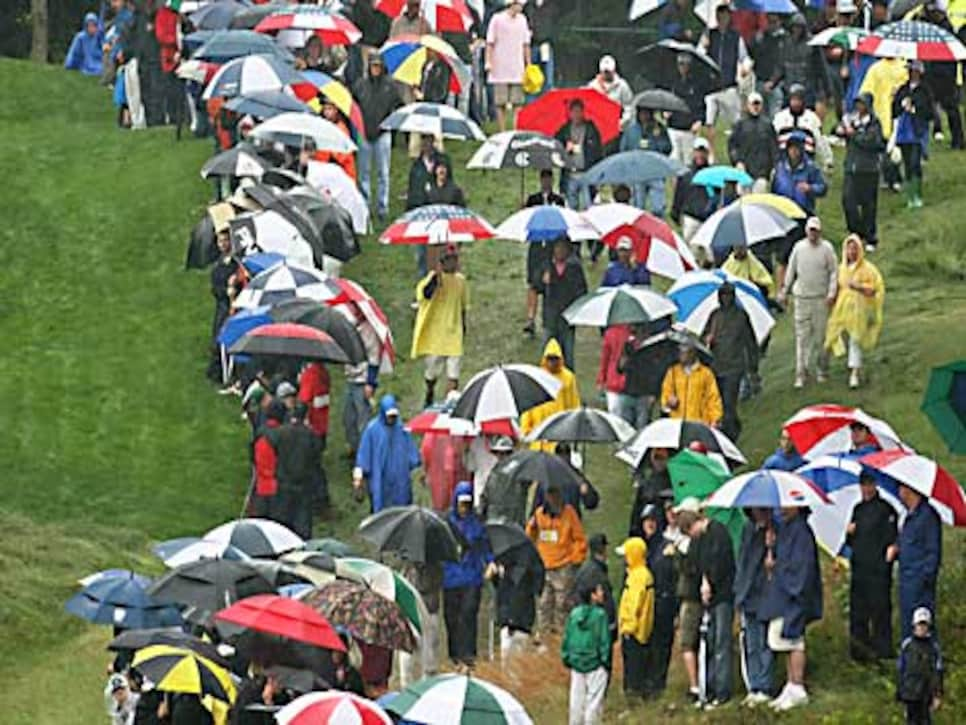 Hordes of enthusiastic fans were met with unrelenting rain during the first round of the U.S. Open at Bethpage Black.
FARMINGDALE, N.Y. -- Terry Whipple of Far Hills, N.J., thinks pro golfers are sort of wimpy.
"These guys should be playing 18 today."
Of course, as Whipple was speaking, a small lake had already formed on the 18th green at Bethpage Black. And back down the hill, a newly created river bisected the 18th fairway, looking for all the world like a tributary of the Amazon.
It was a great opening day at the U.S. Open, but only if you owned the umbrella concession. There was so much rain Thursday at Bethpage that they could have changed the name of the place to Wetpage. Play was suspended at 10:15 in the morning and called off for the day just before 2 p.m., by which time a large chunk of the course was under water. So it seemed like the only sensible move, unless tournament officials were going to switch out the players' courtesy cars for canoes.
But Whipple and a group of his co-workers weren't convinced that suspending play because of rain was even close to the correct call.
"They ever heard of the love of the game?" he said.
As raindrops pelted his slicker, Mike McCarthy of Fairfield, Conn., stood nearby, but not close enough to get any protection from the umbrella held by buddy Adam Wachter of Brooklyn. McCarthy shook his head, as if he couldn't believe his fortune.
"My first day off in two months and this is what I get," he said.
And that would be wet, extremely wet.
If the first day of the U.S. Open proved anything, it's that golf fans are a hearty bunch. Or really hard-headed. On Thursday, they tried to prove they're waterproof.
The thousands of fans that huddled in small groups near the clubhouse tried to keep to the high ground. It wasn't easy, because space was limited on the paved paths and any excursion onto the grass was like walking on cold French onion soup.
Jeff Galiani of Trumbull, Conn. couldn't stop smiling in his place of refuge, under an immense, blue umbrella.
"This rain doesn't dampen the spirits of the people here," he said. "I wouldn't be anywhere else. This just makes it challenging, because, come on, we all play in water. Besides, it is what it is."
Maybe, but on Thursday, the wettest place on earth seemed to be right here at Bethpage State Park.
Becky Buckley of Yardley, Pa., kept dry under her official U.S. Open umbrella, which she bought at the merchandise tent. She was reluctant to reveal how much she spent.
"I'm embarrassed to say," she said, then admitted the umbrella cost $49, which seemed a small amount to pay in order to limit the potential of drowning.
"If they had stands out here with these umbrellas and slickers, they could sell thousands," she said.
Judging from the number of umbrellas in the crowd, they might have come close.
From their position near the flooded putting green, Tony Maher of Queens and his four sons didn't seem at all concerned about the fact that they were standing under what amounted to a huge downspout. They're true golf fans, Maher said. Sharing their own umbrella were his sons – Bryan, 18; Brendan, 14; Brett, 13; and Nicholas, nine.
"It's just water," Brett said.
Nicholas didn't care about the rain, only the golf he was able to watch Thursday.
"I saw Tiger!" he said, and then glanced up at the sky the color of freshly poured concrete.
"Oh, look, the sun's coming out!"
Sadly, Nicholas was wrong. Not only did the sun stay away, the rain started falling even harder. Muddy water swirled down the curb in front of the clubhouse. It pooled and puddled with every step the brave, wet, happy golf fans took on their way off the course when play was finally called for the day.
As far as his sons are concerned, Maher said they'll all be back to see the rest of the U.S. Open.
"Every day, rain or shine," he said.
They only got one half of that on Thursday.