News
Might As Well Roll With It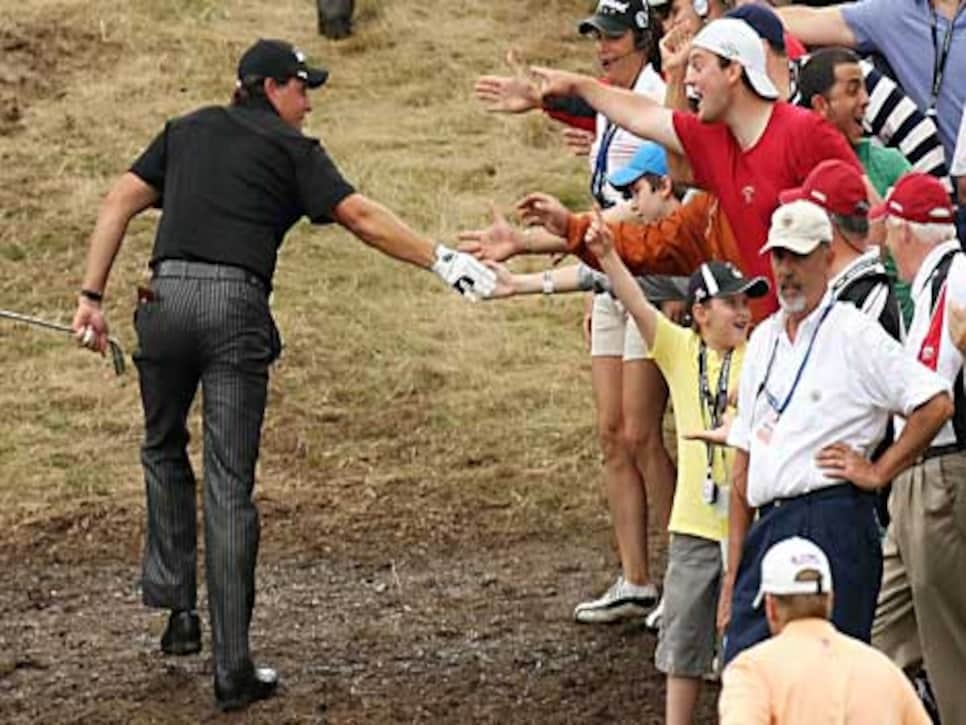 As was the case at the U.S. Open in 2002, Phil Mickelson has enjoyed his trips around Bethpage Black this week.
FARMINGDALE, N.Y. -- He wore all black clothes, maybe to match the color of the sky Sunday afternoon, but his choice of color did not resemble his mood. In a U.S. Open where the only predictions that have come true have been the ones about rain, Phil Mickelson may represent all that is random, unexpected and difficult to explain at Bethpage Black.
He closed out his third round with 40-foot birdie putt that followed the arc of a rainbow. The ball dived in the hole and then Mickelson pumped his fist and smiled broadly.
With that, Mickelson threw himself into the strange coalition that is in contention as the 109th U.S. Open slides into its fifth day Monday. How will this Open be remembered ... besides wet? Maybe unforeseeable, chancy or fluky. Take your pick. Case closed, it's been an upside-down Open with rain and mud, four suspensions of play, rounds that carry over into one day and then the next and some names you could pick out of a hat that are still hotly in contention.
Mickelson may be foremost among them, playing under personal duress in one, last tournament before his wife, Amy, undergoes surgery for breast cancer. Mickelson's third-round 69 put him behind only three players as the fourth round began in the late afternoon. One was former No. 1 but now 882nd-ranked David Duval, another was former U.S. Amateur champ but now 512th-ranked Ricky Barnes and the third Lucas Glover, a non-winner since his rookie season four years ago.
What Mickelson did in his third round was a mirror to the way this Open has shown itself: all over the place, with seven birdies, four bogeys and a double bogey. He came away with a grin on his face. And the fact that Mickelson could maintain any sort of concentration has seemed borderline unreal.
As he stood just inside the door to the clubhouse, before going back out on the course to start the fourth round, Mickelson didn't want to talk about whether he surprised himself.
"I don't think I can allow myself to go down that road," he said. "I'm keeping it together. All I know is that we've got a very difficult period of time coming up with my family and that's going to become my only focus. So I'm not going there right now."
It seems certain that the way to the trophy ceremony will follow an unusual path. Barnes has never led a PGA Tour event, Glover made the cut at the Open for the first time in four tries, Duval started the fourth round in the top three in any tournament for the first time in eight years and Ross Fisher has almost no U.S. Open experience (this is his second).
When play was called, Barnes and Glover had played just one hole and they held a five-shot lead over a group that included Duval, Fisher, Hunter Mahan and Mickelson. No one in the top six played more than two holes of the fourth round.
Barnes isn't used to being a factor, so this is uncharted territory for him, something that makes him fit in nicely at this most topsy-turvy U.S. Open. He's missed six cuts in 12 PGA Tour events and hasn't finished better than a tie for 47th.
"I don't think you come in saying 'I'm going to win this week.' I wanted to compete this week. I definitely thought I could compete."
So Barnes' game plan for Sunday's big finish is a simple one.
"I've got to get my legs moving with my arms," he said. "We all know that those go together."
As for Duval, he said he's just happy to be here, even if few could have expected him to be in the hunt in a major again. Anyway, Duval has been so busy concentrating on playing; he's had a hard time keeping track of what day it is, thanks to the rain delays, postponed rounds and the series of suspended play.
"It's just been so screwy, I barely remember it's Sunday," he said.
"Groundhog Day," Duval said.
Chances are the 109th U.S. Open will come to an end Monday, maybe even allowing enough time for an 18-hole playoff that would follow immediately. Weather permitting, of course, since that's this week's theme.
The other theme? Expect the unexpected. That's the U.S. Open, and Mickelson didn't disagree.
"Yeah, it's different," he said.