News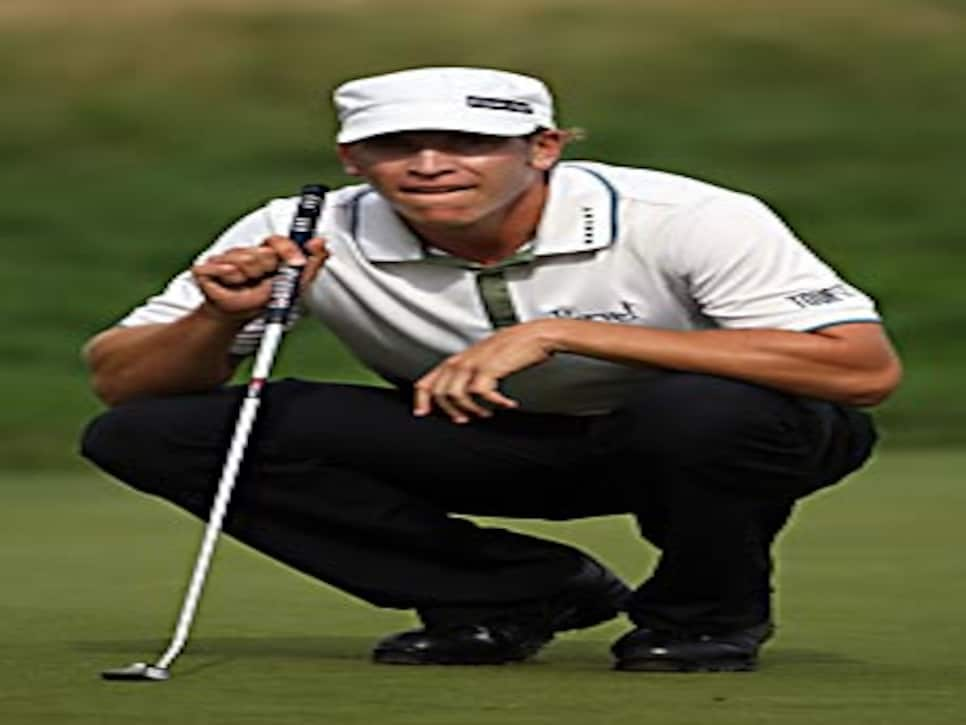 Ricky Barnes set a U.S. Open scoring record for two rounds with a 132 total.
FARMINGDALE, N.Y. (AP) -- Ricky Barnes had the best day of anyone at Bethpage Black.
He only had to play nine holes. He knocked in a 45-foot birdie putt that put him in the record books with the lowest 36-hole score in U.S. Open history. He had a one-shot lead going into the third round. And he still hasn't hit a shot in the rain.
Right when the water-logged U.S. Open began to gain traction, a burst of showers halted the third round Saturday about a half-hour before Barnes and Lucas Glover, who was one shot behind, were to tee off.
It didn't take long for the saturated greens to be submerged, and the squeegees were simply no match. The 60 players who made the cut, including defending champion Tiger Woods a whopping 11 shots off the lead, were to return at 7:30 a.m. Sunday.
The U.S. Open hasn't dealt with weather like this in 25 years.
Even more unusual were the red numbers under par -- not to mention the names next to them on the leaderboard.
Not many could have imagined the U.S. Open's 36-hole scoring record being set at Bethpage Black, a beast of a course. Even fewer could have predicted it would belong to Barnes, who took six years to reach the PGA Tour and has yet to crack the top 40 this year.
He knocked in the long birdie putt on his 17th hole -- the par-3 eighth -- and shot a 65 in the rain-delayed second round Saturday morning that put him at 8-under 132. That broke the previous mark by one shot.
"Obviously, at the beginning of the week, you didn't think that score was out there," Barnes said.
It sure wasn't for Woods, whose bid to get back into contention was stalled by too many bogeys. Woods had to settle for a 69, leaving him 11 shots out of the lead.
The scoring was so easy that Glover had a 20-foot birdie putt on his final hole to match the U.S. Open record of 63. He came up short and had to settle for a share of the course record, set the day before by Mike Weir.
"I'm a little ashamed I did leave it short," Glover said. "But I played well. Probably as good a round of golf as I've played."
With no chance the course can get firm and fast, no record is safe.
Birdies were dropping from all corners of the course -- first in the morning by players completing their second rounds, and even some in the afternoon when the players on the wrong end of the draw tried hopelessly to catch up.
About the only thing not falling was the heavy rain predicted for early afternoon -- but not for long.
Woods and Mickelson, desperately trying to catch up, each scrambled for par on opposite sides of the golf course, when the umbrellas came down, the rain grew stronger and play was suspended.
How benign is Bethpage Black?
There already have been 45 scores in the 60s, compared with 26 scores for the week in the 2002 U.S. Open on the same course. Most of them came from the side of the draw that played 36 holes over the last two days without a drop of rain and mostly sunshine in the sky.
Barnes was on the good side.
"If you would have told me I would have been 8 under and only a one-shot lead, I would have said, 'You're kidding me,'" Barnes said. "But I'll take it. It was solid play."
Lee Westwood of England had a 66 and was at 2-under 138, the only player from the other side of the draw among the top 11.
"I actually set out today to win my side of the draw because I felt that it was a good target and all I could do given how dramatic the split was between the two sides," Westwood said. "I am very pleased with that effort."
Steve Stricker, in his hotel room Friday as the others took aim at the flags, did his best to make up ground with a 66, leaving him 1 under for the tournament and seven shots behind in a group that included Phil Mickelson, who scratched out a 70.
"You realize you got the short end of the stick," Stricker said. "I watched it yesterday and it was a birdiefest, and everybody that they showed was flying it in there and making birdies left and right. And we were struggling to make pars and stuff like that. But you can't dwell on that. Even par was my goal today, and I did one better."
Weir followed his 64 with a 70 and was two shots behind. David Duval rallied from a sluggish start for a 70 that put him in the group at 3-under 137.
Woods appeared poised to climb quickly, but for every birdie he made to build some momentum, a bogey stopped him. Woods hit 10 fairways and only missed four greens, but took 30 putts.
"Unfortunately, my score doesn't reflect how I've been playing," he said. "It is what it is. But you never know. I've got 36 more holes over the next probably three days."
The forecast, which can no longer be trusted at the U.S. Open, was for a chance of rain the next two days. Finishing the second round, however, at least gave the tournament a chance to finish on schedule with a marathon Sunday. That would mean 36 holes for a dozen players, including the leaders.
It also helped that only the minimum 60 players made the cut at 4-over 144. Among those headed home -- and some were thankful to get out of this quagmire -- were double major winner Padraig Harrington, Ernie Els and Paul Casey.
"It's just one of those things where if I keep plugging along like any U.S. Open ... we'll see where it ends up," said Woods, who was made aware that the largest 36-hole comeback to win this major was 11 shots by Lou Graham in 1975 at Medinah.
Mickelson didn't make the most out of his good break in the weather, failing to make key putts and struggling again on the par-5 13th. In the second round, he drove into grass so deep he had to take a penalty shot for relief and took bogey. Mickelson is 3 over on that hole for the week.
Even so, he showed his imagination on the tough 15th by blasting a 19-degree hybrid out of rough so deep he could barely see his ball, from 164 yards to a 40-foot elevated green. It climbed onto the green for a safe two-putt par.
"I like the position I'm in," Mickelson said. "I think that if I can get hot with the putter, I like my chances in the next two rounds."