News
First Putters, Then Squeegees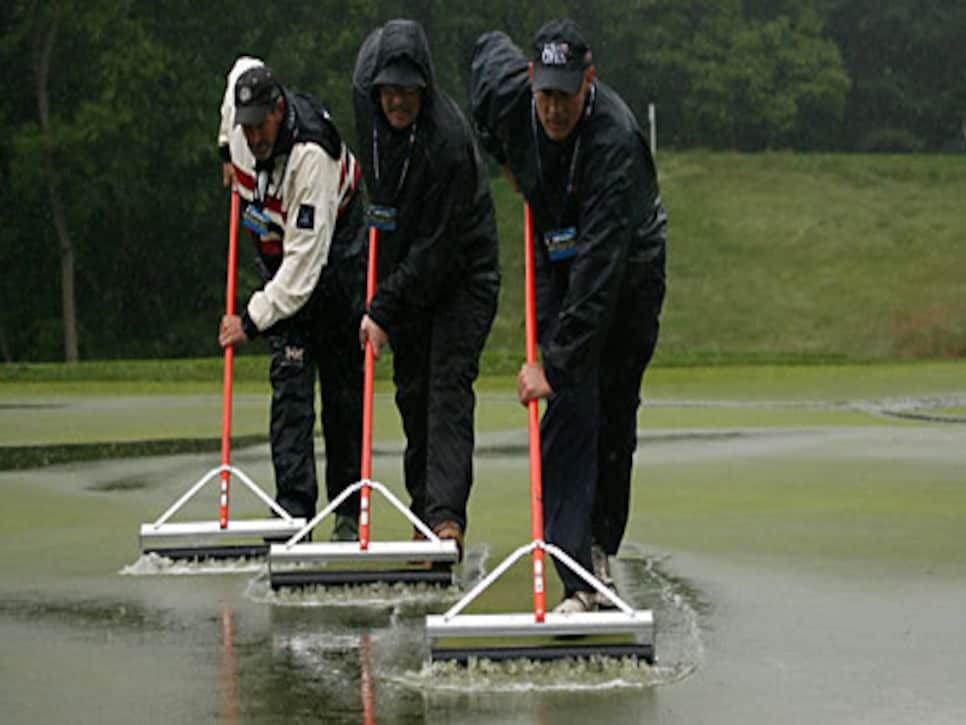 Squeegees on the greens on Thursday were a familiar sight.
FARMINGDALE, N.Y. -- The river began as a snow-melt trickle high in the Andes and moved down the mountains into a valley where it was fed by 4,000 tributaries that ...
Sorry, been reading a book about the Amazon.
We're on Long Island, which, if this rain keeps up, soon will be the Lost Island of Bethpage. We're on the high 18th tee looking south toward the green. Below us, tributaries wriggle across the fairway until converging in the mighty Bethpage River. In the distance, high on a hill, we see a clubhouse. But we are not deceived. That is no clubhouse, it is an ark cleverly designed to resemble a clubhouse.
Play in the U.S. Open was suspended shortly after 10 o'clock Thursday morning when my question was not when play might be resumed but, "How many g's in 'squeegee'?" The gentlemen of the U.S. Golf Association had assembled an army of men -- a navy? – wielding squeegees. Those are implements used to push water off a green's surface. Before I could ask if such stalwart swabbies were known as squeegeers, the USGA spokesman adjusted his scuba mouthpiece to announce that in addition to the squeegees he hoped to get "the water hogs out."
Beg your pardon. Water hogs?
Turns out a water hog is a mini-steamroller kind of deal that, like a pig in slop, eats up everything it touches, in this case water.
The USGA frogman was optimistic. "It will drain," he said of the Bethpage Black course. "The greens will drain." My favorite part of his sunny outlook was his affirmation that "really, the whole golf course on the other side of Round Swamp Road actually drains pretty well."
That's one of those "except for that, Mrs. Lincoln, how was the play?" things. Y'know, except for the swampy parts of the Bethpage, we're fine.
So I went looking for the un-swampy parts, those magnificent meadows of green set upon Lost Island's sandy loam soil that would drain to a velvety plushness the very second that God decided enough's enough.
I left the media center just before 1 in the afternoon and in an hour's sloshing I found no exceptions to the swamp. This was the bog at Bethpage. The greens were lakes, the fairways rivers. Where the paying customers walked, mud. I watched with admiration the work of a dozen squeegeers in black slickers who shoved water out of the 18th fairway's tributaries toward hoses stretched across the fairway to carry it to a dry well secreted in the left rough. "Those guys have been here since 3 a.m.," another drenched-dog of a newshound said. This wasn't Sisyphus shouldering that boulder, but close -- as the tournament co-leader Jeff Brehaut said of squeegeers working the greens, "Soon as they squeegeed it away, it'd come right back."
The course had been playable, said Brehaut, first off the 10th tee at 7 in the morning. "And all of a sudden, it wasn't." He said it was was time to quit when a playing partner's 45-foot putt threw off a rooster tail of water and stopped 15 feet short.
The USGA submariner had hoped to resume play sometime after 1:30, but when next he appeared he said, "Obviously, it's now 2:21, and it's still raining very hard."
So they sent everybody home to dry off for Friday, when it might be OK, but Saturday is tsunami time again, and Sunday's not much better, not to mention Monday and Tuesday.
Jeff Brehaut was content. Here he was, with 11 holes done, seven more finished than anyone else at 1-under. However long it took, he said, "They're still going to give out a trophy."
This keeps up, give the man a yacht.