News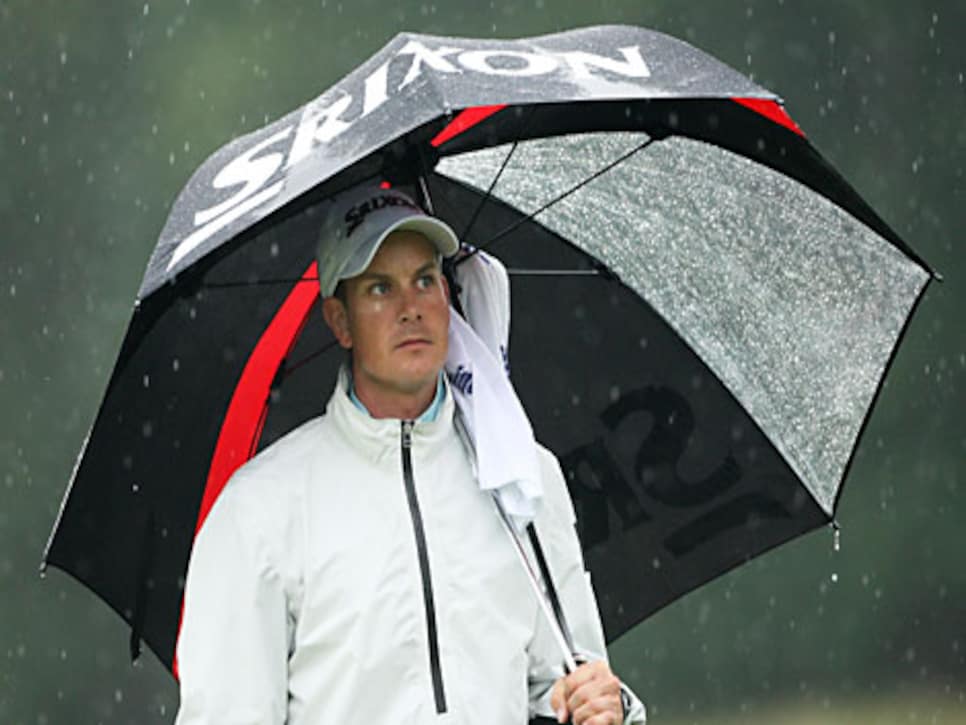 The rain at Bethpage Black is likely to come back, guaranteeing to test players' patience.
FARMINGDALE, N.Y. -- In defiance of Twitter, and in the spirit of Jimmy Cannon, it's time for a good, old-fashioned notes column. Nobody asked me, but I call mine, "Quiet Please."
This Bethpage Open is going to take a while, so settle in. There's a good forecast for Friday -- in fact the sun's expected to break through -- but Saturday's is miserable and while there's hope for Sunday, travel plans are already being altered. That's especially true considering decree by the USGA's Mike Davis that, "We will not determine a national champion until we play 72 holes." I was talking to Jerry McIlroy, father of Rory McIlroy, on the putting green at Bethpage Black on Friday morning, and he feels like the tournament won't end until Tuesday -- and that's without a playoff. Jim Hyler of the USGA seemed to confirm this on Friday, when noting that the first and second rounds will actually be played conjunctively. "There is a chance -- there is a chance, that we could finish Round 2 tomorrow," Hyler said. He would not go beyond that.
There's a lot of griping about how the USGA handled Day One, here at boggy Bethpage. The best measure of this came from Zach Johnson, who never says a bad word about anybody. Just before play was called on Thursday, I ran into Zach leaving the locker room and asked him for a comment on the day. "Do you mean the USGA or the weather?" said the 2007 Masters champion. Ian Poulter, the Englishman, used the word "horrendous" to describe both the rain and the USGA's policy of not going to Lift, Clean and Place -- especially when squeegee operators are allowed to clear the line directly to the hole. It's all about the dreaded mud ball. "They call it 'Lift, Clean, and Cheat,'" Johnson said outside the clubhouse Friday at midday. "But if everybody's doing it, it's not cheating."
Phil Mickelson caught a break with an afternoon tee time on Thursday. He never had to step foot on the course, and with all that's on his mind, and all the cross-country travel he's been through in the past two weeks, it was a good day to unwind. With the afternoon to kill, he went to see "The Taking of Pelham 123" and enjoyed a take-out from P.F. Chang's. Friday morning at 8, he was on the putting green at Bethpage, dressed in gray. The only break he took was to have an extended conversation with Darren Clarke, wearing a pink belt, who had lost his wife Heather to breast cancer.
The USGA is also taking some heat for not giving a ticket refund after Thursday's wash-out, but there was some damage control on Friday when the association's executive director, David B. Fay, announced that Thursday's tickets will be honored Monday. Fay realized there was a big stink being raised over this issue, when he heard conversations getting gas on the way home, and when he was picking up Dunkin' Donuts early Friday morning. "I must say I'm glad I had a coat on," Fay said.
Jeff Brehaut's 15-minutes of fame will extend at least until the weekend, as the journeyman from Northern California got it to the clubhouse at even-par 70. Brehaut was the Q School medalist in 2002, but I talked to him in late 2006 when he was grinding to keep his tour card and played the last 10 tournaments on the PGA Tour hoping to finish inside the top-125. Back in Los Altos, Ca., his children kept asking their dad to come home, but Brehaut had to stay on the road in hopes of surviving. He didn't, finishing 139th on the money list, and bounced back to the Nationwide Tour. This Open was his second major championship. His first was the Oakmont Open, where he finished T-17, one stroke from an automatic berth into Torrey Pines last year.
Billy Foster, the former caddie for Clarke, on the bag this week with Lee Westwood, is about to embark on an amazing fund-raiser for breast cancer research. Foster is going to walk the 90 miles from Loch Lomond during the Scottish Open to Turnberry in time for a practice round before this year's Open Championship, with Clarke's golf bag on his back. Proceeds will go to the Darren Clarke Foundation and Candlelighters, a children's cancer trust. For more information, log in to www.justgiving.com/billyfoster. Just through word of mouth, Foster already had three fans approach him with cash donations of $20, $20, and $100. "Every little bit helps," Foster said.