News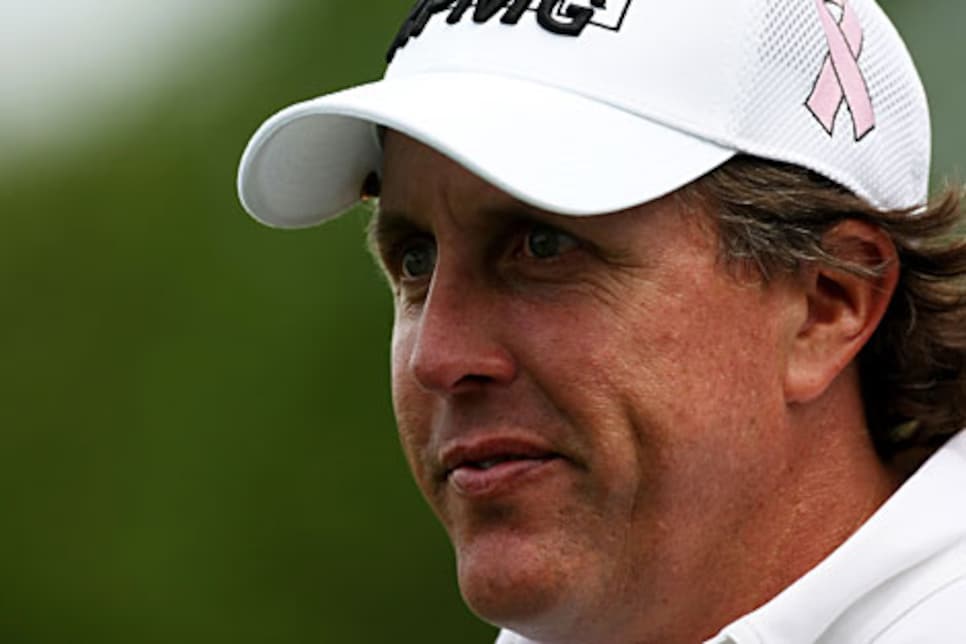 Urged on by his wife, Amy, Phil Mickelson has plenty of motivation to win his first U.S. Open title this week at Bethpage Black.
FARMINGDALE, N.Y. -- Phil Mickelson turned 39 on Tuesday and his wife gave him a pair of sunglasses and a mini camera as a gift. Amy Mickelson said she only wanted one thing in return: a silver U.S. Open trophy in her hospital room.
And all Mickelson wants is for his wife to be healthy again.
There hasn't been much occasion for celebration lately for the Mickelsons, not since Amy was diagnosed with breast cancer a month ago. But they decided to go ahead and stage one on Tuesday, back home in Rancho Santa Fe, the day after Mickelson flew home from the tournament in Memphis and before he flew here for the U.S. Open.
Here's the way it went: Phil and Amy's kids brought them breakfast in bed, then they all went to Phil's favorite breakfast place to eat again with the children -- Amanda, nine; Sophia, seven; and Evan, six. Since Amanda turns 10 on Sunday, Phil decided to celebrate her birthday as well. That day is Father's Day, after all.
When the U.S. Open is over and the trophy is handed out, Mickelson is going to spend a lot more time with Amy and his family than he ever has been able to do during the pro golf season. He's missing the British Open and he's not going to be back until the PGA Championship in August, or maybe even later than that.
The schedule is already made. First, there's a family vacation in Hawaii next week. Then everything changes. Amy is scheduled to go undergo surgery July 1 and that's followed by as many as six treatments separated by intervals of three weeks.
Mickelson said he wants to keep his family close together at such a difficult time.
"We're going to go through treatment," he said. "We're optimistic with what the end result will be. But the process itself won't be easy. In the interim, though, we want to try to have as normal a life as possible."
That won't be easy, either.
But then neither is winning the U.S. Open. And this may be Mickelson's last shot at it. In 108 years of the U.S. Open, only eight players 40 years old or older have won it. It's rare territory, but then the Mickelsons are exploring new ground together anyway, in a personal journey that neither one could have expected to be taking only a few short weeks ago.
The discussion about what will happen on the course is confusing enough. It's possible that Mickelson simply isn't playing well enough to win it, although he thought he hit the ball well at Memphis. He shot five-over on Sunday and tied for 59th. The last time Mickelson played before that was the Players Championship, where he tied for 55th and shot 76 in the last round.
That was May 10. A week later, Amy's cancer was diagnosed. Nothing has been the same since for the Mickelson family.
Their lives have been turned upside down and Mickelson has struggled to adjust to what Amy is going through.
"She doesn't have a mean bone in her body. She thinks about others first. She is genuinely concerned and cares about everybody that she comes in contact with. She loves being a mother ... and for me, she's just been the most amazing spouse you can imagine.
"It's hard for me to see her go through this, but we're going to get through this together. And it's a great opportunity for me to be there for her, and it's brought us closer."
It hasn't taken long for Mickelson to understand the statistics. More than 200,000 women each year are diagnosed with breast cancer. Right now, Mickelson may feel empathy for each of them, but it's one in particular that dominates his thoughts. And as for all the little notes that Amy has written recently to him, the text messages she's sent, the hints she's dropped about bringing home that silver trophy, Mickelson said he's heard her message.
"I'm going to try to accommodate that."