News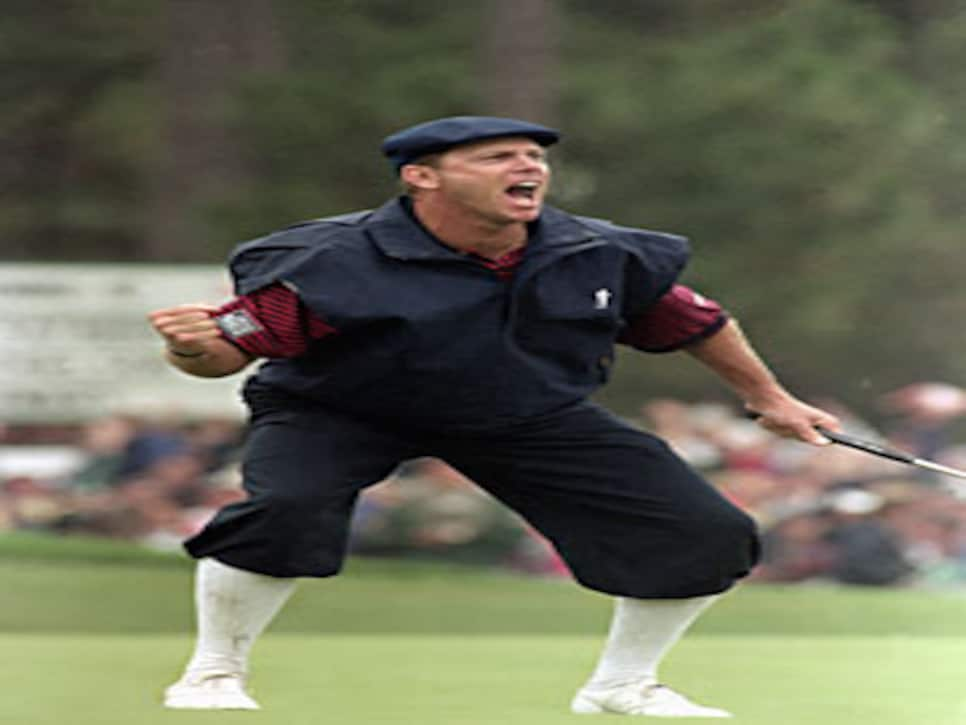 Payne Stewart's death from a plane crash will have been 10 years ago this October, but it's his win at Pinehurst that will remain his lasting legacy
FARMINGDALE, N.Y. -- Payne Stewart loved the U.S. Open -- what it stood for, who had won it, how it brought out the best in his game. When he entered the national championship, which he competed in 16 times and won twice, he did so under his full name: William Payne Stewart. The U.S. Open was as formal as golf got, and Stewart liked to dress up.
He would be 52 now. Golf still misses him.
For about an hour Wednesday afternoon on a huge television screen in the media center at Bethpage State Park, Stewart was winning the 1999 U.S. Open again. The size of the TV made him appear bigger than life.
He often seemed that way, of course, especially 10 years ago this week when he emerged out of the mist, out of one of the best Sundays the U.S. Open has ever seen, with his second national championship at Pinehurst (N.C.) No. 2 course. He beat Phil Mickelson, Tiger Woods and Vijay Singh -- a leader board as well stocked as a trout stream the first of April -- in a tense final-round battle. The characters, plot and stage made for a memorable occasion.
Fitingly, Stewart edged Mickelson by making a par save on the par-4 18th hole, a 15-footer that ranks with the best all-time strokes under pressure. The sound of the gallery was deafening, and Stewart's reaction was as classic as his putt, a demonstrative, leg-up, fist pump of joy.
For U.S. Open celebrations, Stewart's is as iconic as Jack Nicklaus, when he locked up his fourth Open at Baltusrol in 1980 or Tom Watson's in 1982 after he chipped in at Pebble Beach. Every athlete is frozen in time at such a time, but for Stewart the scene was all the more lasting.
One golf's greatest days and one of its saddest weren't far apart.
Just four months after his finest moment on the course, on Oct. 25, 1999, Stewart was gone, killed along with five others when the airplane in which he was flying depressurized then traveled hundreds of miles before it ran out of fuel and crashed in a South Dakota field. He was only 42.
This fall, on the 10th anniversary of the tragedy, it will make sense to remember how Stewart died. But the U.S. Open is the best place to remember how he lived and how he played.
Stewart's swing was silky and easy on the eyes, and the fact that he wore plus-fours and a tam when he played accentuated its old-school feel. He made the game look easy, but it was harder for him than many knew. His mind wandered, and he eventually was diagnosed with Attention Deficit Disorder. On a tough course, though, when he had to focus more than usual, he could handle it. Difficult conditions brought out the best in him.
Not only did Stewart win the U.S. Open at Pinehurst and eight years earlier at Hazeltine National in a playoff with Scott Simpson, but he had five other top-10s including runner-up finishes to his good friend Lee Janzen in 1993 and 1998. He was no slouch in the British Open, either, earning five top-10 finishes highlighted by a T-2 at St. Andrews in 1990.
With a PGA Championship title (1989, Kemper Lakes) to go with his two Open victories, Stewart is in fine company. Only 25 male golfers have won more major championships, and others with a trio of major triumphs include Julius Boros, Billy Casper, Jimmy Demaret, Ernie Els, Hale Irwin, Mickelson, Larry Nelson and Singh.
Stewart, who had 11 PGA Tour victories and was selected for the World Golf Hall of Fame two years after his death, might well have added another major or two before he was through. Winning wasn't easy for Stewart early in his career. After winning a tournament each of his first two years on tour (1982-83), he went four years before claiming his third. A bridesmaid so often he was called "Avis," his third tour win came at the 1987 Hertz Bay Hill Classic, and he gave the whole winner's check to charity.
It's cool, cloudy and rainy for the first round at Bethpage Black today, not unlike the way it was for the final round at Pinehurst in 1999 when Stewart cut off the sleeves on that navy blue rain jacket and went to work, practicing his craft as skillfully as about anyone in his generation.
In a few days, someone will save a par when it matters and then collect a trophy that has Stewart's name on it twice. It's a shiny spoil to start with, but that fact gives it even more gloss.