News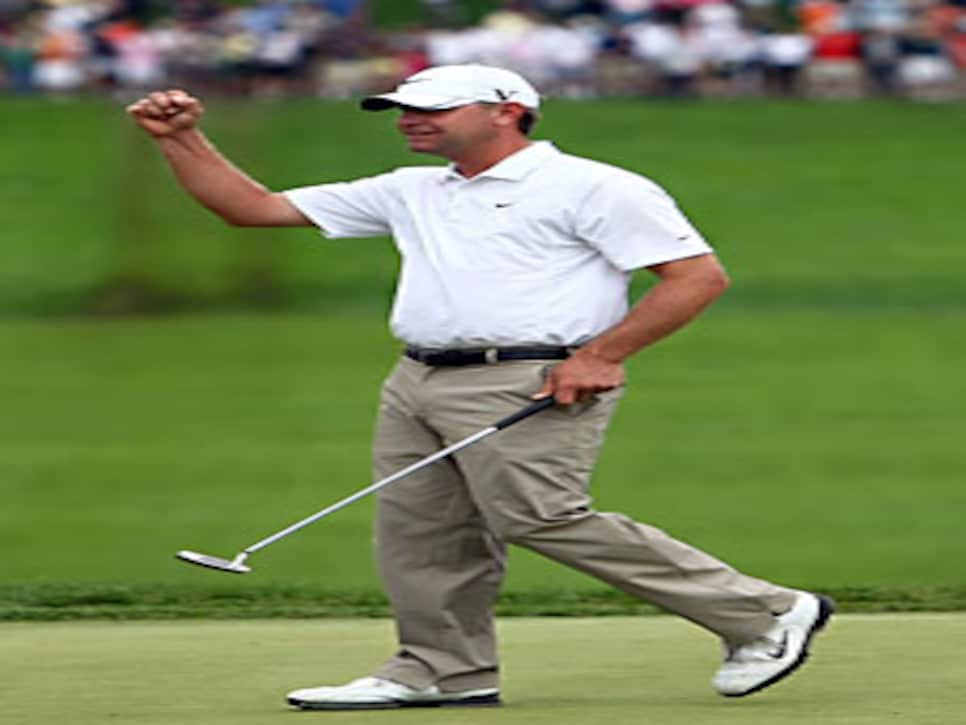 Measured numerically, Duval's jump in the rankings was bigger than Glover's, but pecking order on the Tour is a different story.
FARMINGDALE, N.Y. -- So where exactly does U.S. Open champion Lucas Glover of Greenville, S.C., go from here?
To Hartford for this week's tournament.
Anywhere else? That would be to 18th in the rankings, a climb of 53 places because of his grinding, soggy, two-shot victory Monday over Phil Mickelson, David Duval and Ricky Barnes at Bethpage Black.
As it turns out, Duval's jump in the rankings may be more dramatic than Glover's -- 740 places, from 882 to 142 -- but the world golf pecking order may have gotten shaken up just a little bit more by Glover's unexpected victory.
The 29-year-old who listens to Sinatra music in the car, dips tobacco and had enough rain-delay time on his hands to plow through a handful of books at Bethpage, earned more than the $1.35 million for his triumph at the Open.
Get out the charts. He's exempt through 2014 on the PGA Tour, he's got a 10-year U.S. Open exemption and he's earned a lifetime exemption on questions why a guy named Glover doesn't wear one (he doesn't).
A captain's pick for the Presidents Cup by Jack Nicklaus in 2008 but overlooked by Ryder Cup captain Paul Azinger in a similar situation last year, Glover may have earned himself a record for perseverance on a demanding U.S. Open course that required both patience and shot-making.
He proved he's capable of delivering on each of those qualities. Not only was he top 10 in driving distance by averaging about 291 yards, Glover was fourth in greens in regulation and 11th in putting. In short: He's long and he can putt. That's not such a bad combination.
As it turns out, Glover is a man of few shots, and choice words. He held the silver U.S. Open trophy and was asked about how it felt.
"Heavy," he said. Equally weighty is the fact that Glover had to qualify to play in the national open. He did so at Columbus, Ohio, the day after he tied for 45th at the Memorial, where he shot 76 in the fourth round. But even so, his confidence level never dipped when he got here.
"If I can win this one, I guess I can play all right," he said. "I should play all right every week. I'm just kidding. I didn't know yet. I hadn't gotten there yet. I hadn't put a tee in the ground since Thursday. It's going to be a big confidence boost."
So things will be different, Glover said.
Mickelson knew enough to become a fan.
"He played some incredible golf. All I know is he shot 4-under on a very difficult course and closed it out in the end."
On Sunday, Glover made just one birdie and shot 3-over 73, but that was enough. There are probably going to be closing days in big events when that actually isn't enough, yet that doesn't discount what Glover managed to accomplish at Bethpage.
It's still June, but the majors are already halfway completed, if that seems possible. If there's a constant, the two winners couldn't have been predicted: Angel Cabrera at the Masters and now Glover. What that means for the British Open and the PGA Championship is unsure, but for Glover, the results are extraordinary and semi-unexpected.
After all, his only other PGA Tour victory in five-plus years on the tour was at the Walt Disney in his second year when he birdied the last two holes -- and holed a 100-foot bunker shot on the 18th -- to beat Tom Pernice by one shot.
Don Cooper, Glover's caddie, said his boss possesses some of the qualities necessary to succeed in major tournaments the rest of his career: "Funny, serious, determined," said Cooper.
He's probably going to need those and more from here on out. After battling through the rain and delays and truncated rounds to come through at Bethpage, Glover is probably no longer allowed to slide under the radar. Whether high expectations mix with his personality remain to be seen, but the game that was on display for five soggy days at Bethpage Black indicate we've haven't seen the last of Glover, but possibly only the first.