News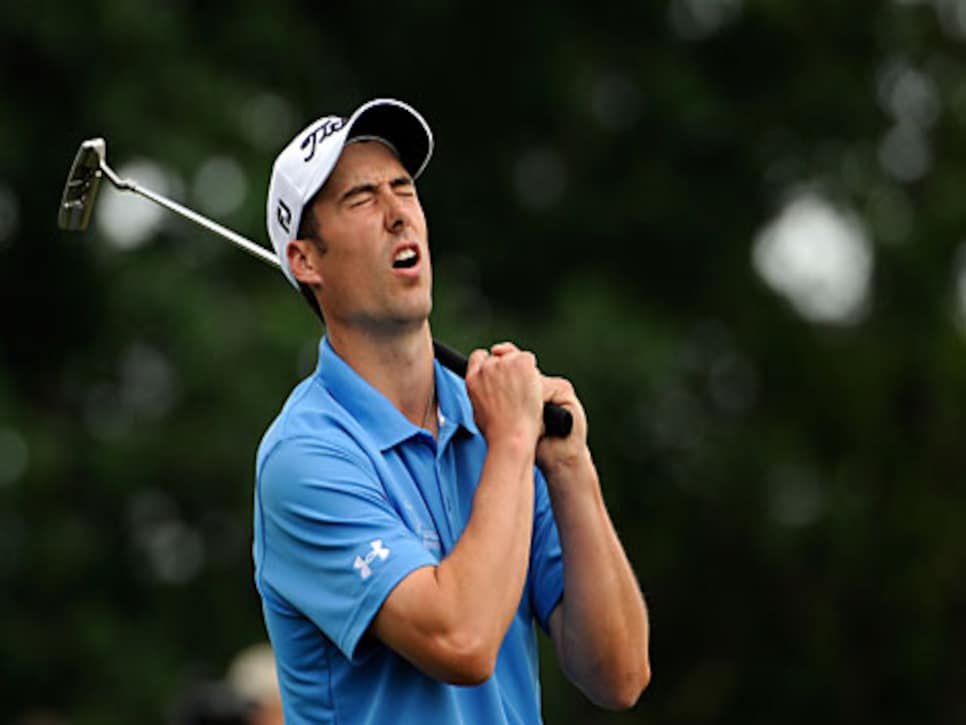 Ross Fisher wasn't spared frustration at the U.S. Open. And he was one of the lucky ones.
Somewhere around halfway through the 109th US Open -- I forget which day that was -- sports writing legend Dan Jenkins reckoned it the worst major championship ever. The great man has seen 200 of these special events, so he'll get no argument from me. Or anyone else, I imagine. Truly, until an inspired Phil Mickelson and David Duval came along to somewhat save the day of Lucas Glover's life, this much-delayed disaster was going down as a low point in the history of golf at the very highest level.
Worst of the worst, of course, was the by now well-chronicled trials and tribulations caused by the rotten weather. Rather than an Open for the ages, this was an Open that just took ages. The only consolation here is that my many American friends will now think twice about making the usual disparaging comments regarding the prevailing meteorological conditions in sunny Scotland. And, on a related subject, could NBC commentator Peter Jacobsen (one of those guys who seem to agree with Johnny a lot) please refrain from indulging in what he clearly feels is an exact replica of a Caledonian accent? Not even close, pal.
Second worst has to be the collective performances produced by many of those in contention come the fifth and mercifully final day. There we all were expecting to see the US Open and a monthly medal broke out. Maybe the venerable Jenkins is right after all; he reckons that only a couple of modern chappies -- no prizes for guessing -- who come close to comparing even remotely favorably with that other guy from Fort Worth, Ben Hogan. Certainly, it was hard to imagine the "Wee Ice Man" (Scots never have said 'mon,' by the way) hacking and slashing and gouging his way round in the manner of so many on Monday.
Speaking of Woods, albeit briefly, think the world's best golfer would like to play over the last four holes of his opening round? You know, that little run he played in a deeply disappointing four over par? Yeah, me too.
Tiger's performance wasn't the only mystery, however. Mention must also be made of this touchy-feely myth that spectators in this part of the United States are a warmly endearing bunch, full of friendly, witty badinage and jolly repartee. Well, maybe some of them are some of the time. But you do have to wonder when an inoffensive and genuinely pleasant individual like Wisconsin native Steve Stricker is greeted with an unprovoked obscenity: "Hey Stricker, f--- your mother!" Memo to PGA of America: never, ever think of bringing a Ryder Cup to the public face of golf in New York.
Then there was the Bethpage bunkers, or 'Black Holes' as I like to call them. Seven years ago at this venue your humble correspondent asked architect Rees Jones, the man responsible for sprucing up the Black course, why all the fairway traps were actually in the rough.
Make that many yards into the rough. To his credit, Jones acknowledged the charge and agreed that the only way for balls to enter sand was on the fly; they certainly weren't going to run or bounce into what are supposed to be hazards rather than havens from long grass.
Anyway, Jones clearly has a good memory. Early in the week -- what seems like months ago now -- he accosted your still unassuming scribbler with the news that "the bunkers aren't in the rough any more!" Not having been out on the course at that point, I accepted the news with good grace and looked forward to seeing evidence of such enlightenment for myself.
Unfortunately, while many of the bunkers were indeed nearer the edge of the fairways, the vast majority remained marooned in seas of long grass. Mister Jones needs glasses.
The subject of bunkers resurfaced after the opening round when Englishman Ian Poulter -- whose closing 67 was a commendable if tardy effort -- complained about the number of badly plugged lies he and his playing partners had endured.
"It's ridiculous," said the colorfully trousered one. "My group had four bunker shots between us today and all four of them were hit from plugged lies. Three of those balls were hit into the sand with wooden clubs. This course is difficult enough without that sort of nonsense."
Poulter's case gained even more credence when, only one hour into Monday's play, Glover, Duval and Mickelson had all found themselves hacking out of plugged lies in sand. Duval's misfortune at the short third hole led to a triple bogey that made his sterling play thereafter all the more agonizing. And the new champion had to take a drop under penalty, so bad was his ball's position relative to the surface of the planet. Memo to USGA course set-up man Mike Davis: less sand please.
Oh, and one more thing, Mike. Having moved the tee up on 18 for the final round, why didn't you shave the gap between the bunkers short of the green? That would have given the guys the chance to at least try a pitch and run up the bank. Imagine how much fun that would have been. Oh well.
As for the collective performance of the sizeable European contingent, with the obvious exceptions of top-tenners Ross Fisher, Soren Hansen, Henrik Stenson, Sergio Garcia and Rory McIlroy, this was not a championship too many will look back on with any pleasure.
Indeed, this was one major to forget for the likes of Padraig Harrington, Paul Casey, Luke Donald, Miguel Angel Jimenez, Alvaro Quiros, Justin Rose and Darren Clarke; all of them sloped off home after two rounds.
The supposedly in-form Casey in particular arrived with high hopes of breaking his major championship duck. But it wasn't to be. The world number three appeared out of sorts, to the extent that, immediately following his opening 75, he blew past a polite request for a minute of his time with nary an acknowledgement, nor a break in stride, nor a backward glance. Philly Mick he ain't in times of stress.
Casey was hardly alone in his Old Worldian misery, of course. But they should be getting used to it by now. Next year at Pebble Beach it will be exactly four decades since England's Tony Jacklin won America's national championship at Hazeltine. Based on this past week, that's just about the only drought golf has left.