News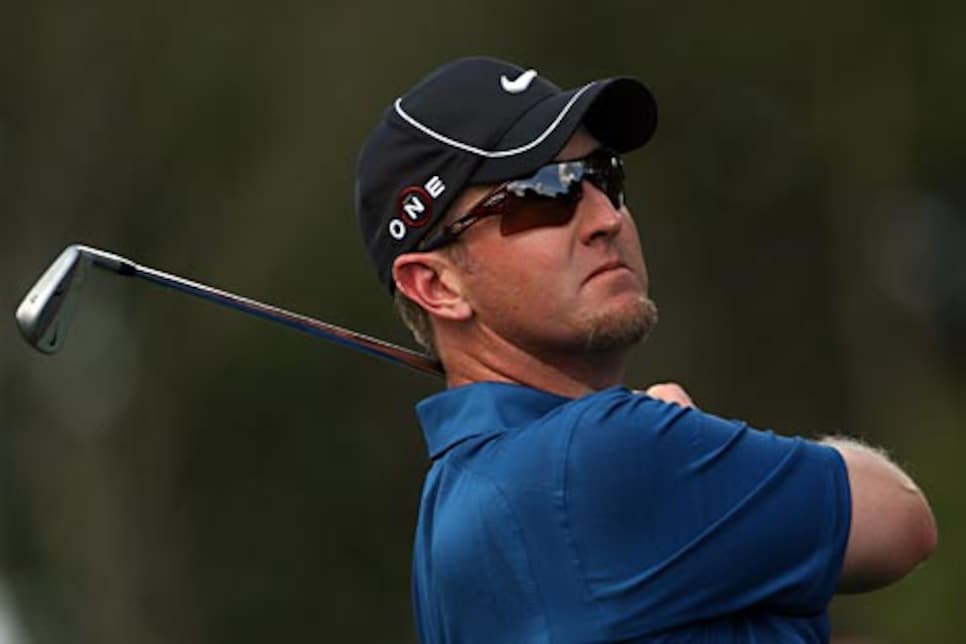 In the first two rounds at Bethpage Black, David Duval has shown flashes of the form that once made him No. 1 in the world.
FARMINGDALE, N.Y. -- They're just little pins stuck into David Duval's shirt collar. On the right side, there's one with the New York City police department logo, given to him by a state trooper. On the left, there's a pin he bought this week at the city's fire department museum. His father's a New Yorker, his grandfather, too.
"In some maybe small way," Duval said, "I have some connection with the folks around here."
No grandstanding here. To honor folks due honor, he is wearing some little pins barely visible from six feet away. But on David Duval those little pins are like sandwich boards on anyone else. He used to hide from us behind wraparound shades and gunfighter insouciance. And then, when we almost knew him, he disappeared into a black hole. Now he's on the leader board halfway through this U.S. Open. Not only there, but reaching out, in his quiet way, to remind us that he once was The David Duval and he wants to be that guy again.
And wouldn't that be fun?
It's mid-afternoon Saturday and I'm looking at the names on the leader board: Barnes, Glover, Weir, Yano (Yano??), Hanson, Stricker, Taylor, O'Hair, Fisher.
Do you see a Hogan, Nicklaus, or Tiger there?
But there is Duval, with a 67 and a 70, five behind Barnes, whoever Barnes is.
This could be the time and the place for one of the game's great stories, David Duval back from the abyss. He once stood eye-to-eye with Tiger and never blinked because he could hit any shot. Four years later, he jerked two out of bounds and used a wedge to get it in the fairway because he couldn't hit any shot. Now, this.
Now he stood by the putting green at Bethpage Black, raised up on a platform to talk to reporters, all asking different questions that were really the same question, one they dared not ask out loud: Can you win this thing? Such a question. This is the 31st major championship since Duval won the 2001 British Open. He did not play in 10, missed the cut in 13, withdrew from another. After a tie for 10th in the 2001 PGA, he completed only five more majors, finishing 22nd, 34th, 16th, 56th, and 39th. Be silly to ask this man if he could now win. So they asked . . .
Are you aware of the New York crowd reaction to you?
"How could you not be?" he said, smiling. "It's very loud and I'm just happy I'm giving them a good show so far and I'm hoping to give them a good show for a couple more days."
Recently, you've played well in stages at the majors. Does a big event motivate you?
"It sounds almost unprofessional to say it, but maybe I don't focus as well on the other events. Precision is needed so much more in these events that it's easier for me to really, really get focused."
Has patience been important to you all these years?
"Patience is crucial in this game, and I feel like I have been patient for many years, and I continue to work hard, and, if anything, my patience has been most tested over the last six, eight months when I really felt like everything was falling together -- but nothing good was happening for me."
He has not won on Tour since that British Open. In 13 events this season, he has made only four cuts with a best finish of 55th. But somewhere in him, somehow, at age 37, there lives the residual memory of the player he was. That's why he wanted to be in this U.S. Open. That's why, after missing the cut at The Memorial in another week of getting nothing, he teed it up in a 36-hole Open qualifier at Columbus.
What keeps you going? What's your motivation?
"I love playing the game, and I love to compete. But more than that I'd really like for my wife and my family to see how I can actually play this game."
Five years ago, he married Susie Persichitte, a mother of three. He skipped the 2007 Masters when she endured a difficult pregnancy with their second child together. This week they went to the New York fire department's museum to see a sculpture done by her father, Joe Cipri, whose "Bravery in Arms" shows a firefighter carrying an infant. Duval, whose parents divorced early in his life, has said he now feels the comfort of family for the first time.
"They haven't seen me at my best," he said, "and I want them to."
He has said that before, in other places, and it hasn't happened yet. But, maybe, this time.