News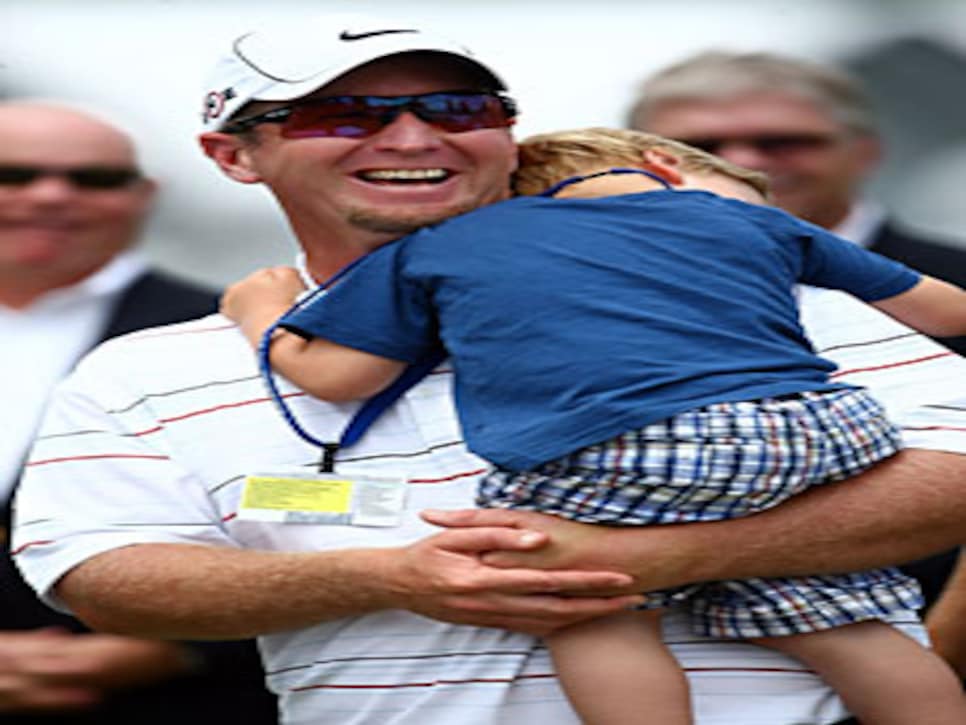 David Duval, holding son Brayden, has reason to hope his runner-up finish at Bethpage Black will lead to something bigger.
FARMINGDALE, N.Y. -- In the hurried aftermath of this bizarre U.S. Open, as David Duval was ushered through his post-round obligations, a fan called out to the former world No. 1 by the putting green at Bethpage State Park.
"Welcome back, David," he said.
Even prior to his T-2 finish here, his first top-10 showing in a major since the 2001 PGA, Duval had made a point of telling anyone who would listen that he already was back -- and had been for some time. But right then, the 37-year-old Duval did little more than nod. The truth, and Duval likely knew it, is that a golfer isn't whole again until he can prove himself under the brightest lights. On the soggy Black course Monday, even with a late stumble, Duval had done just that.
It's tempting after weeks like these to only toast the guy holding the trophy, but that's to overlook the fact that there are other kinds of victories. Because just as Lucas Glover can claim a career-defining win in fending off Duval, Phil Mickelson and others, a handful of players may later be able to point to this tournament as a vital step in their respective careers.
A major championship unfolds over four days, or in this case five. But the process often takes root years before. On the rarest of occasions, you have players who skip that progression entirely -- like when a Ben Curtis or Shaun Micheel emerge from obscurity to win a major before they've done anything else. Even Tiger Woods, who had a handful of nothing-to-lose appearances as an amateur in majors, was fortunate to win the Masters in his first go as a pro. But far more often, there are steps along the way -- some painful, some exhilarating, but all in some ways enlightening.
The Black may have provided that step for some. There is Duval, who already has one major to his credit but who now may be poised to enter his career's unlikely second act. There is Ricky Barnes, who after a half-dozen wayward years as a pro may have proved he is ready to deliver on his vast potential. And there are players like Ross Fisher and Hunter Mahan, both already accomplished young pros who still got their first real taste of what it's like to contend for a major deep into the final round.
"To see my name up there towards the top ... I was trying to get it right up top," the 28-year-old Fisher, a two-time winner on the European Tour, said. "I didn't manage it this week, but hopefully there will be things to come after this. I'll have a lot more U.S. Opens and majors to play in."
Granted, not everyone parlays a major near-miss into history. Far from it, in fact. If that were the case, then the likes of Mike Donald (1990 U.S. Open), Bob May (2000 PGA) and Len Mattiace (2003 Masters) would have converted a playoff loss one year into a championship another. Instead, all three faded back into the shadows not long after their 15 minutes were up.
But even then, the experience was something. It was concrete. Some guys need a foundation for a split-level ranch house. Some need it for something far more elaborate.
It is the rare major champion who can't point to the clear path that got him there. Greg Norman's defeats in majors are largely what define him, but they also helped sow two wins in the British Open. Jim Furyk had 11 top 10s in majors before his win in the 2003 U.S. Open at Olympia Fields. And let's not forget Mickelson, whose well-chronicled shortcomings on the game's biggest stages eventually led him to the first of his three majors at the 2004 Masters.
Even Bethpage Black has proven to be a breeding ground. Seven years ago here, another young European Tour player who was largely unknown in this country found himself two-under par through two rounds of the U.S. Open and paired in the final twosome with Tiger Woods. Padraig Harrington acknowledged then he didn't know what to expect, and once there, he didn't handle it well, playing the next two rounds in eight over. But as we know now, Harrington wasn't finished: a half-decade later, emboldened by past experience, he would rattle off three major titles in 13 months.
Therein lies a lesson. No one should assume a mere flirtation with a major title assures glory later on. For all we know, Duval's return at Bethpage may have been his last, best chance to reclaim his old self. But it does prove that if you've knocked on the door once, you'd be a fool not to keep coming back. After all, the 2009 Open might go down as one that felt like it was never going to end. But for someone, it could be remembered as just a start.