News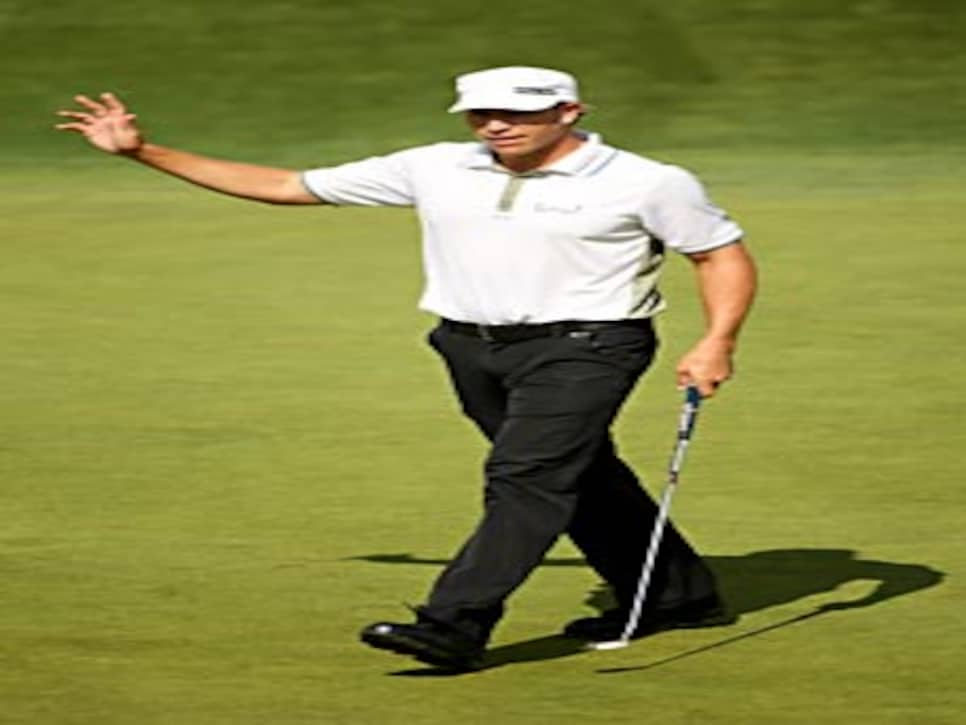 Ricky Barnes' total of 132 through two rounds is a U.S. Open record.
FARMINGDALE, N.Y. -- How difficult must it have been for Ricky Barnes, the '02 U.S. Amateur champion who was slogging his way through a lackluster Nationwide Tour career, to watch the guy he beat in the finals of the amateur at Oakland Hills, Hunter Mahan, become a Ryder Cup hero and one of the brightest young American golfers? Not that Barnes ever had anything personal against Mahan, but it surely couldn't have been easy.
"I've grown up," said the 28-year-old Barnes after setting the 36-hole U.S. Open scoring record with an eight-under-par 132 at muddy Bethpage Black. "I obviously thought after my college career I'd be out here right away. I'd be lying if I said I wasn't really pissed off the first two or three years. And seeing other guys that you played with getting out there and playing well. The guys you know you competed against in every tournament and every step of the way and they're out there and you're struggling just to kind of get conditional status on the Nationwide Tour. But, it's obviously gotten me real ready to play out here and it's humbled me the past four or five years."
The low point for Barnes came in '06 when he was one-stroke shy of getting his card through the Nationwide Tour when Ryuji Imada chipped in on the 17th and 18th holes in the year's last event to knock him out. "It was a tough one to swallow," says Barnes.
Then, roughly a year and a half ago, Barnes, a California kid who went to school at the University of Arizona, began working with another California guy, Dean Reinmuth. "He was very frustrated," said Reinmuth. "I've never worked with a really good athlete who wouldn't be. The key question is how you channel that. If you feel like you have a good game plan, they can put their energy there."
Barnes, whose father, Bruce, played for the New England Patriots, was just such an athlete. They turned first to the driver. Barnes was rotating his left foot and hooking his driver badly. As his tee balls improved and he gained confidence in Reinmuth's advice, they turned their attention to the shorter irons. "People think you have one swing but you really have two," says Reinmuth, who compares the long swing and the short one to a tennis player's baseline and net games. Barnes' ball striking improved dramatically and he finished with nine top tens last year on the Nationwide Tour, grabbing the last qualifying spot for the big tour.
After the Northern Trust Open at Riviera in February, Barnes' mother, Cathy, sent Reinmuth a videotape of her son's U.S. Amateur victory. Reinmuth compared the putting strokes from then and now and saw that Barnes was accelerating through the ball so much, he often appeared close to making a double hit. "He'd chase after it," said Reinmuth, who described it as a "forced acceleration." Gradually, Barnes' speed and line both improved.
"For him, it's a great accomplishment," Reinmuth says of the scoring record. The greens and fairways may have been soft and he may have gotten a little lucky with the draw but Barnes took advantage of it, hitting 31 of 36 greens in his rounds of 67-65. He called his first 36 holes, "pretty stress-free." And stress and U.S. Opens generally go together like chicken and pox.
After Barnes putted out in the dark Friday night, leaving himself nine holes to finish in the morning, he spoke with Reinmuth by phone. "I told him you've worked hard to get there. You deserve to be there," Reinmuth said. "He's a player that, what I know of him, when he gets it going, he's comfortable enough to keep it going."
It's been tough for Barnes to get it going in his rookie year on the PGA Tour, much less keep it going. He's made the cut in just half his tournaments with but one finish inside the Top 50. Coming into Bethpage, he was 197th on the money list and ranked 519th in the world. But, golf and fortunes have a way of flipping fast when hard work finds solid purchase, even on slippery ground like Bethpage.
"Could I have predicted I would shoot 132?" said Barnes. "No. Did I know I had it in me? Yeah. I'm starting to play well. Working hard on my game on and off the golf course. And I just think it's proven that, to be able to settle the nerves once I got kind of up near the lead and kind of improve on it, I think says a lot about it." And, perhaps, about things to come as well.