News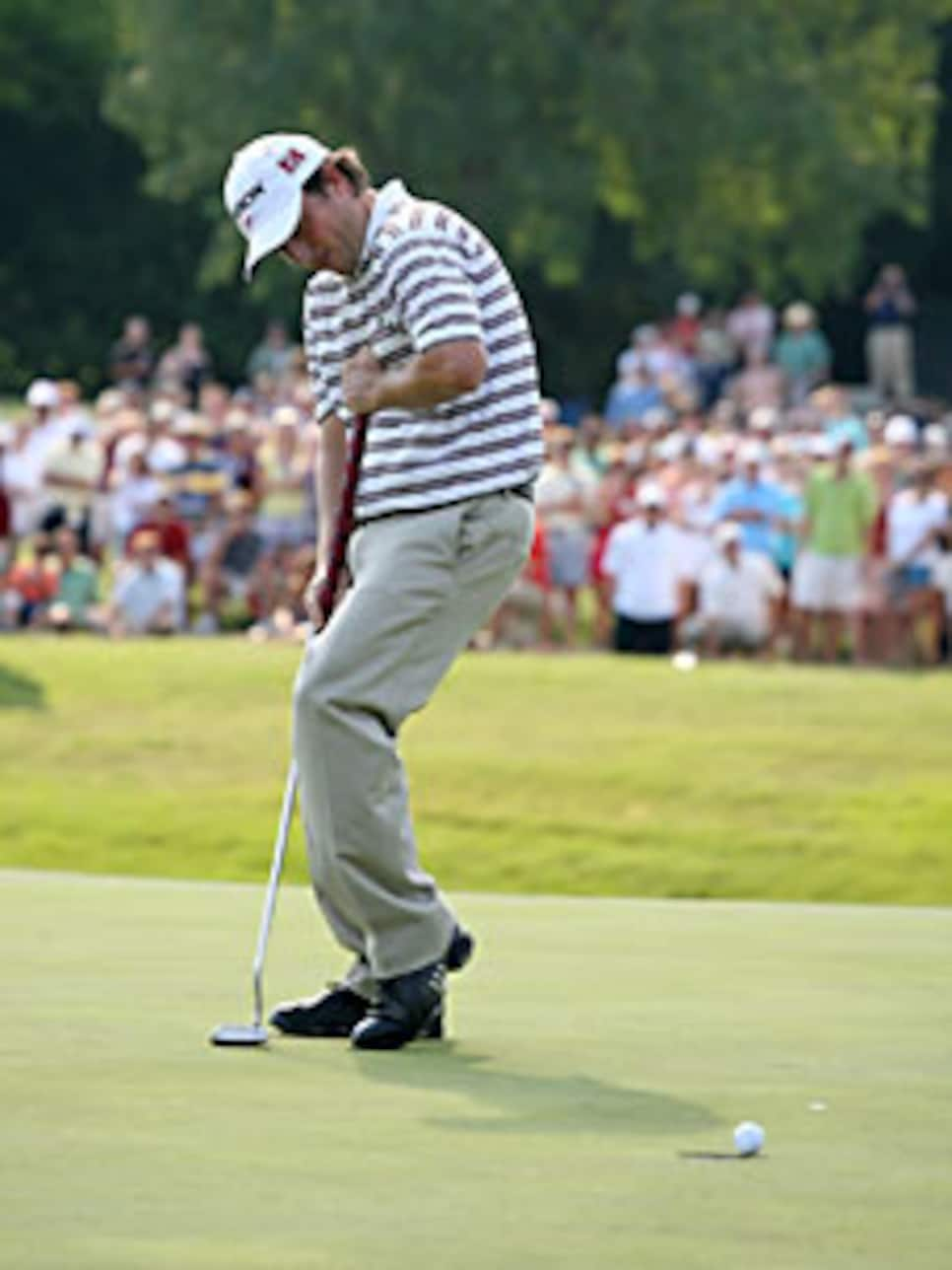 Tim Clark has proven himself as a world-class talent, but the ability to close out tournaments still eludes him.
The pain shown by Tim Clark trying to finish, and the tears coming from Steve Stricker after he finished, are the most recent illustrations of how hard it is to win a golf tournament.
As Stricker pointed out after winning another battle of shaky nerves, Tiger Woods makes it look relatively easy. Even with his B or C game, he's got enough fight to outplay the demons that crept into Clark's mind and Stricker's heart in the closing holes at Colonial. Even when Woods swings left-handed, as he did in his last appearance at the Players, there is never the slightest trace of fear.
Clark has now gone 0-for-184 without a victory. He is the 27th-best player in the world, moving up six spots with his seventh career runner-up finish. With a chance to get the monkey off his back, he missed a six-footer for the win and the 18th fairway by 50 yards trying to protect a one-stroke lead on the 72nd hole. "I have a lot of work to do when it comes to closing out golf tournaments," said the dejected South African, leaving Fort Worth.
Stricker, considered one of the game's elite players, now has five victories in 349 events. He went from 2001 to 2007 without a win, then another 37 events from that tearful celebration in the FedEx Cup Barclays event at Westchester to the playoff for the Crowne Plaza Colonial. Most recently, he has blown a lead with a final-round 77 at the Bob Hope, and bogeyed the 72nd hole at Riviera to finish one back of Phil Mickelson.
"It's always tense coming down to the stretch, the final few holes of a tournament when you are in contention," Stricker said in the pressroom. "That's what makes winning difficult and hard to do. Sometimes we take for granted what Tiger has done, or what Phil has done. You know they make it look fairly simple at times, and for the average player out here, it's a very difficult thing to do. You know, I can remember trying to win my first event, and I could relate to what Tim was trying to do today. You know, it's just a hard thing to do."
With Woods back in action this week at the Memorial, there are eight players in the field who could vie for the title, Best Player Without a Victory. Two of them were on the board at Colonial, along with Clark, who is taking the week off.
Steve Marino, 81 starts: Sitting in the Dallas airport on Monday, eating a plate of nachos, Marino admitted to having mixed bag of emotions as he headed to Ohio. On one hand, he looked the coolest of the playoff competitors. On the other, he never hit it close enough down the stretch, and instead of making putts, he was just off at the hole. "I felt comfortable," Marino said. "I wasn't scared." This was his second runner-up finish, coming 14 months after shooting 64-66 on the weekend at Mayakoba in a two-stroke loss to Brian Gay.
__Jason Day, 44 starts:__The youngest player on the PGA Tour starting the year, Day is in a tough category -- 126-150 on the previous year's money list. But with a second at Puerto Rico and a fourth at Colonial, he has virtually locked up his card for 2010. There is far more in it for the 21-year-old Aussie phenom. Playing on a sponsor's exemption at his new hometown event, Day played the last 12 holes in two under at Colonial and headed to Memorial, where another invitation awaited. That's how highly he's regarded not only as a golfer, but as a young ambassador for the game. Day won a Nationwide event in Ohio and met his fiancé in the Buckeye State, and rolls into Muirfield Village disappointed that he didn't finish better in Texas, but happy with the overall experience.
Tim Clark, 184 starts: The math isn't that hard to do: per event, Clark makes over $72,000. He has lost in the past by his own doing (blowing a four-stroke lead with five holes to play at the John Deere in 2008), and has been beaten at the end by some unbelievable shot making and luck (Phil Mickelson at Colonial last year). He has taken Tiger out in match play and finished second to him at Augusta, but has also been passed on Sunday by shooting 72 at Disney. All in all, Clark is feeling the competitive pain more than any player in golf at the moment, but there's no time to feel sorry for himself, not when he heads to Memphis, where last year he lost a two-stroke lead by shooting a final-round 75.
John Mallinger, 77 starts: Part of the garage band playing out of Jamie Mulligan's school of instruction at Virginia CC in Long Beach, Ca., the 28-year-old Mallinger started popping up on leader boards in Houston (T-6), closed strong at the Players (T-3), and backed that up with a nice week at the Nelson (6). "Mally" recently outplayed his Virginia running mate, John Merrick, who was second at the Hope and sixth at Augusta with a final-round 66. His strength is driving accuracy and consistency, with six third-place finishes, including twice at Pebble Beach.
Danny Lee, five starts: Just for the sake of argument, the U.S. Amateur gets face time on this list not just because of his win at the Johnnie Walker Invitational, but also for the promise shown in his last two events, a T-13 at The Nelson, where he botched the 18th hole and cost himself a top-10, and a T-46 at Colonial, where he led the field in birdies (24) and bogeys (13). If five tournament are enough to judge his statistics on face value, then his putting numbers are off the charts, his driving distance is top-35 and he's top-10 in birdie average and par breaker percentage.
Kevin Na, 148 starts: Whether its rules officials or playing partners, Na has steadfastly remained resolute as he grinds out the top 10s. At Bay Hill, he challenged an out of bounds ruling, held up the golf course and said afterward, "I don't care if you're Buddha. You're going to be upset." Masters champion Angel Cabrera became unnerved at the Players when Na and caddie Kenny Harms went over every situation in micro-detail. But all in all, Na is due. His T-3 at the TPC Sawgrass was one of six top-10s. He also finished third at the FBR, so playing to a big stage doesn't intimidate him.
Brett Quigley, 349 starts: The second leading money winner in this category, Quigs has been cashing checks since 1997 and is approaching the $10 million mark in career earnings, with just under $1 million already this year. Two big chunks came on back-to-back weeks in March, when he finished T2 at the Puerto Rico Open and Transitions Championship. But for all the highs of a career non-winner come the lows: he arrived at Memorial coming off four straight missed cuts, and in five of his last seven events, going back to…Transitions.
Brian Davis, 144 starts: Technically, the Englishman has already won the most pressure-packed tournament in golf, the finals of PGA Tour Qualifying School. And he's overcome a myriad of injuries, illnesses and family emergencies, whether it was the tumor doctors took out of his neck, the kidney disease suffered by his son, the evacuation of his home because of a carbon monoxide leak, or his daughter's collapsed lung. Through this, Davis played his way into late Sunday afternoon tee times, and played admirably. He finished second in Memphis a year ago, traveling in the middle of the tournament back home to make sure his family was OK after the CO2 leak. He was also second a few weeks ago at the Nelson, his third straight top-5 with a run that began at The Players (T-5). Memorial will be his eighth-straight tournament.
Bubba Watson, 96 starts: When Bubba is on, he can take it right to the edge of winning on a tough golf course, as he did at Quail Hollow the first week of May. That was his third career runner-up finish, and afterward, the tour's longest driver was brutally honest in talking about how far he had to go in the process before breaking through. At times, Watson can display a dazzling wedge game. He wasn't afraid to take on Steve Elkington when the veteran gave him the quick walk last year in New Orleans, but the killer instinct just doesn't seem to be there -- yet. As he showed at Oakmont in 2007, the talent is there to contend in a U.S. Open -- or to post 63 on a Sunday and win that way.