News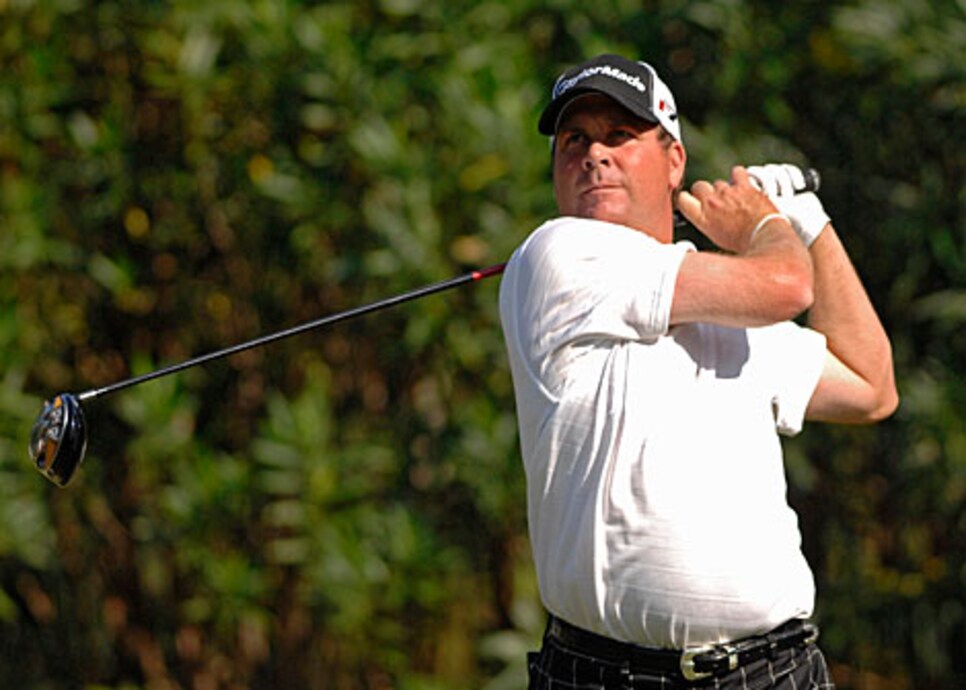 "I'm not going to be a pessimist about the deal or roll over and feel sorry for myself," Doug Barron said.
Second stage of PGA Tour Qualifying began at Deerwood CC in suburban Houston Wednesday morning, just as Doug Barron was on the highway, leaving town. The consummate journeyman pro was heading home to Memphis by way of a golf game in Arkansas, trying to regroup after losing his request for a temporary restraining order that would have allowed him to compete at Deerwood in the next step towards regaining his tour card.
Barron, as everyone knows by now, failed a drug test at the PGA Tour's St. Jude Memphis Classic earlier this year, and was subsequently suspended by the PGA Tour for one year -- the first player publicly identified to have failed such a test, and to have been penalized as a result. But as he sat down to dinner Tuesday night near The Woodlands, the unsuspecting 40-year-old who has bounced back and forth between the PGA and Nationwide tours since 1995, was his old self, alternately funny and introspective, whether it related to his body, or the tour -- which has, in his mind, made him a sacrifice to the International Olympic Committee that just sanctioned golf as an Olympic event.
Barron has been camped at a friend's house at The Woodlands, playing Adams Golf Pro Tour events, since his suspension was announced Nov. 2. "I'm very disappointed as far as not being able to play golf," he told GolfDigest.com after a round with his agent and attorney, Art Horne, in which he gave Horne three a side. "But I don't feel like my career is over now. This just makes it more difficult."
Difficult has been the story of Barron's life. He is saddled with several physical and chemical issues that require him to take medications that do not fall within the parameters of the tour's drug laws. He describes his 165-pound body as "a miniature John Daly," and the joke on Memphis sports talk radio is that if Barron took performance-enhancing drugs, he didn't do a very good job of it.
The jibe stems from a popular YouTube clip which shows Barron removing his shirt to hit a shot from a creek bed during the 2006 Transitions Championship, and revealing a healthy pot belly spilling over the front of his pants. "I carry no muscle," Barron confessed. "I'm an embarrassment to look at."
Barron's positive drug test occurred in Memphis, his hometown, not far from Germantown High, where he went to school. What was deemed to be "performance-enhancing" drugs were -- Barron inists -- actually medications that allowed him to lead a normal life. He was diagnosed with a heart condition (mitral-valve prolapse) in 1987, has been treated for panic disorder, and has prescriptions for Beta-Blockers (to calm his heartbeat) and testosterone (to boost his energy). He and his supporters insist the medications he takes are to treat legitimate and serious health issues -- not to give him a competitive advantage. They question the fairness of the ruling and won't rule out further legal action against the tour.
"Doug's medication has zero to do with golf," said his wife, Leslie, an artist and mother of his two sons, John, 8, and Wiley, 3. "It has to do with health."
Bolstered by his faith, Barron is maintaining an upbeat attitude. "I'm not going to be a pessimist about the deal or roll over and feel sorry for myself," Barron said. "My family has strong values and I firmly believe I will be back on my feet sooner rather than later."
Like Leslie, Barron's pastor, Chris Conlee, has been a source of strength. "What I told him was every dream he still has is still possible, but just delayed," said Conlee, lead pastor at Highpoint Community Church in Memphis, and a close friend of Barron's since they were 10 years old. Conlee also knows the game: He played at the University of Memphis and caddied for Barron in the 1999 U.S. Open.
Conlee remembers Barron being "definitely cocky," as does Jimmy Johnston, the former tour player-turned-agent who grew up in Knoxville and was a junior golf rival of Barron's. "He was good, very competitive," said Johnston, adding, "I don't know what you would call it, but he was a little bit of a loose cannon. I was, too. But he had issues, you could tell."
Those issues continued during Barron's college years at LSU and later Mississippi State. He left Baton Rouge when Tiger coach Buddy Alexander departed for the University of Florida, and partied his way to some unstable times. Leslie recounted those days in a 2003 article in the Memphis Commercial Appeal, which detailed Barron's struggles with anxiety disorder. The golfer credits falling in love with Leslie and converting to Christianity in 1996 with helping turn his life around.
At first, Leslie couldn't understand what Barron was going through, why he would have to get up from a restaurant table during a panic attack, even though he could handle speaking to 600 people at a Fellowship of Christian Athletes breakfast. But there was no questioning the sluggishness she saw her husband experience, which doctors eventually diagnosed as low testosterone. "It was hard for him to get out of bed," she said. "He was sick all the time."
Barron admits he did not tell the tour's testers in Memphis that he had taken a shot of testosterone two weeks before the tournament, but he says he did admit to being on Beta Blockers. "When I went in I didn't think it was a witch hunt. I thought I was being proactive," he said.
The St. Jude was his only PGA Tour event of the season, and he missed the cut. Five months later, there are questions as to, Why Doug Barron? Why was he tested at his only tour appearance of the year? But there are no simple answers. Meanwhile, Leslie wonders, "If one of the tour's top players tested positive, would they have zero tolerance for that?"
Rich Young, an attorney for the tour in the Barron case, said the tour wouldn't discriminate. "Once you get a positive test for a Beta Blocker or testosterone, you've got to go forward with it regardless of who it is," Young said. A tour spokesperson added that Barron was randomly selected for testing in Memphis.
But now with Barron left out on an island, fending for himself, another familiar issue has been raised: Do tour players need a union? Some wonder if, at the end of this battle, the PGA Tour may wish it hadn't suspended Barron. They wonder if the Doug Barron case might not develop into a public relations debacle to rival the Casey Martin case. Ironically, Barron and Martin are friends, and used to hang when Martin, who suffered from a circulation disorder and won the right to use a cart on the PGA Tour in a lawsuit that went all the way to the U.S. Supreme Court, was still competing.
"I saw the pain [he was in] and knew he didn't have an advantage over me," Barron said. "I would let him ride a cart the rest of his life. I'm glad he won."
Barron is resolute in taking this to the next legal level. Though he was denied the temporary restraining order, he and his legal team have taken enough positive signs from the ruling to believe they have a case. While he says tour commissioner Tim Finchem "couldn't have picked me out of a one-man lineup," he is decidedly more big picture than he is bitter.
His reputation, he's not worried about. Not in the golf community, or in Memphis, where he is known for his generosity, if nothing else. Conlee recounted the example of Barron offering to donate to a fund paying for a summer camp and high school lettermen's jackets for an inner-city school. Swing coach Sam Kern has known Barron for 20 years and caddied for him in 1997-1998. "Doug Is very giving. He loves helping people," said Kern.
Barron figures his court case will eventually prove successful and his name will be cleared. That's when people on the outside won't say, "That's the doper," but instead, "That's the guy who just wanted to be a healthy person, a good husband and good father."
"There are more important things than what's happened to me," said Barron. "Phil Mickelson's wife and mom have breast cancer. I can only imagine what he's thinking about now. My friend Chris Smith lost his wife and nearly both kids in a car accident and I'm going home tomorrow and I still have my family. I'm not feeling sorry for myself. I'm more blessed than most people in this world."