News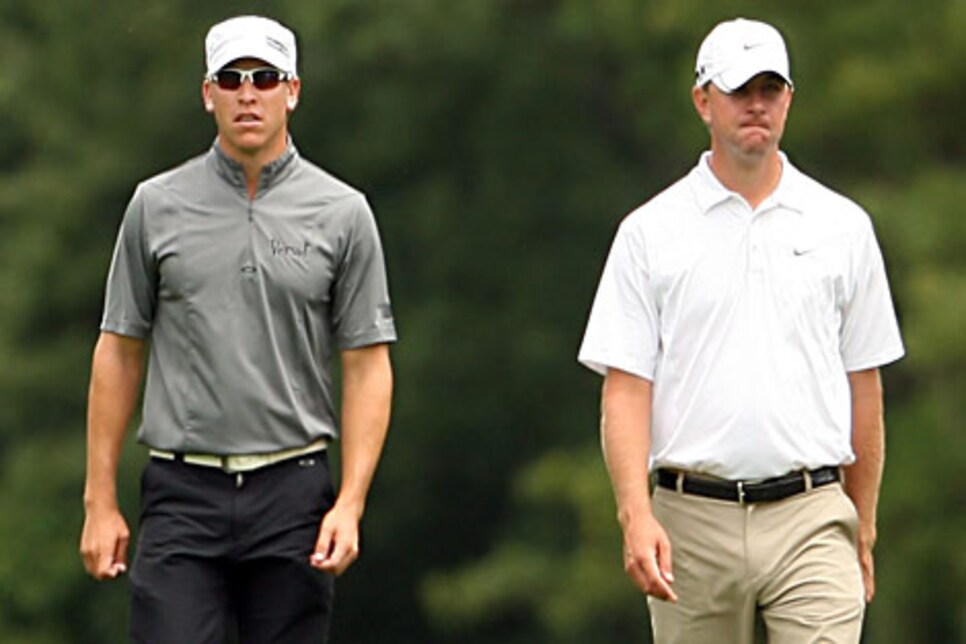 The after effects of success are very different for U.S. Open winner Lucas Glover (right) and runner-up Ricky Barnes.
BETHESDA, Md. -- On the driving range at Congressional Country Club, the guy with the skin-tight shirt and the painter's cap and the loopy grin took his assigned position and started whacking balls. Ricky Barnes, a runner-up at last month's U.S. Open, made himself at home.
"I'm living the dream," he said. "I'm going on from here."
Not far away, in the first floor hallway of the clubhouse outside the locker room, Lucas Glover sat in an overstuffed chair and sipped from a bottle of water. The guy who won the Open was distilling some words of advice he had just received from former Masters winner Zach Johnson about where to go from here as a major champion.
"He said 'The only chance you got to be normal now is to play golf,''' Glover said. "I said, 'Well, I'm doing that.'"
As far as levels of being normal, there's probably a fine line being walked right now by both Glover and Barnes, and U.S. Open winner and U.S. Open runner-up really are trying to figure out just where they go from here.
Beginning Thursday, it's the AT&T National outside Washington D.C., but it was only a couple of weeks ago that Glover and Barnes were paired together, walking the soggy fairways at Bethpage Black, trying to win the U.S. Open without sinking up to their ankles in mud.
There hasn't been any shortage of blue skies at Congressional, where Glover and Barnes have a chance to make the most of their unique, shared experience at Bethpage. Call them the Sunshine Boys.
For Glover, where he's going is clear, after his two-shot victory at Bethpage. He's exempt on the PGA Tour through 2014, he has a 10-year exemption into the U.S. Open and a five-year exemption into the Masters, the British Open and the PGA Championship.
He said the after-effects of winning the U.S. Open are starting to wear off, at least a little.
"I'm getting back down a little bit," Glover said. "Cloud 4 as opposed to Cloud 9, I guess. But it's been good."
And in two weeks, Glover will be at Turnberry. Barnes is not assured he'll join Glover there, but has a chance if he finishes in the top two positions on the tour's mini-money list, a six-tournament race that adds up earnings from the Players, the Memorial, Memphis, the U.S. Open, Hartford and this week.
But the bottom line for Barnes may be that he's a winner for not winning the Open.
"The phone was ringing before the tournament was over," said Dennis Blake, Barnes' agent at Blake Sports Group. "He's gotten so much out of his second-place finish. There are no regrets."
Setting the Open's 36-hole scoring record established Barnes in a major arena and his second place can only be considered huge because it follows up a somewhat nondescript pro career. But if he had dropped off the radar, he's all over the place now.
"I'm just thankful for the way things have turned out and I'm taking only positives away from the Open," Barnes said.
So is Blake, who counts Barnes' endorsement association with Verve, a Scottsdale-based energy drink company, as well as Barnes' painters cap deal with Boston-based Back Nine, as impressive pieces of his client's portfolio with room to grow.
Verve is the official energy drink of the Phoenix Suns of the NBA and the Coyotes of the NHL. Barnes was already a fan of the drink, so he solicited the endorsement himself. Now, with the Verve logo featured on Barnes' shirt attracting lots of attention during NBC telecasts, they're trying to figure out the impact.
"There's a lot of math," Blake said.
Meanwhile, the tally associated with Glover's victory may not be as much about numbers as expectations. They're up, for sure, and Glover insists he's going to remain as grounded as he can possibly be after his first major victory.
"I think I said to myself 'Really?' a couple of times," he said. "But that part has sunk in and obviously [it's] a good feeling. But it took a few days."
Glover said he asked Davis Love III about how to stay in the moment.
"I just asked him Monday ... 'How do I go forward currently and work on my focus for the week at hand instead of two weeks ago?' It's something I've got to work on and not go back too much."
So he moves on and keeps playing. In fact, Glover will wind up playing five straight weeks through the British because he had already committed to Hartford, the AT&T and next week's John Deere before he won at Bethpage and felt it important to fulfill the commitments he made in order to get into the British Open.
Glover's priorities may have been altered by what happened at Bethpage -- he wants to win another major. But then Barnes' priorities look different too. The $559,830 Barnes earned at Bethpage helped place him 82nd on the PGA Tour money list, so his 2010 tour card is well within reach if he plays reasonably well the rest of the way. That starts Thursday at Congressional.
Glover and Barnes are in the same half of the draw, going late Thursday and early Friday, and Barnes is one group behind Glover. So they'll probably be seeing a lot of each other. That much hasn't changed, even if what happened to them at Bethpage means most everything else has.