News
Garcia Gets Off To Hot Start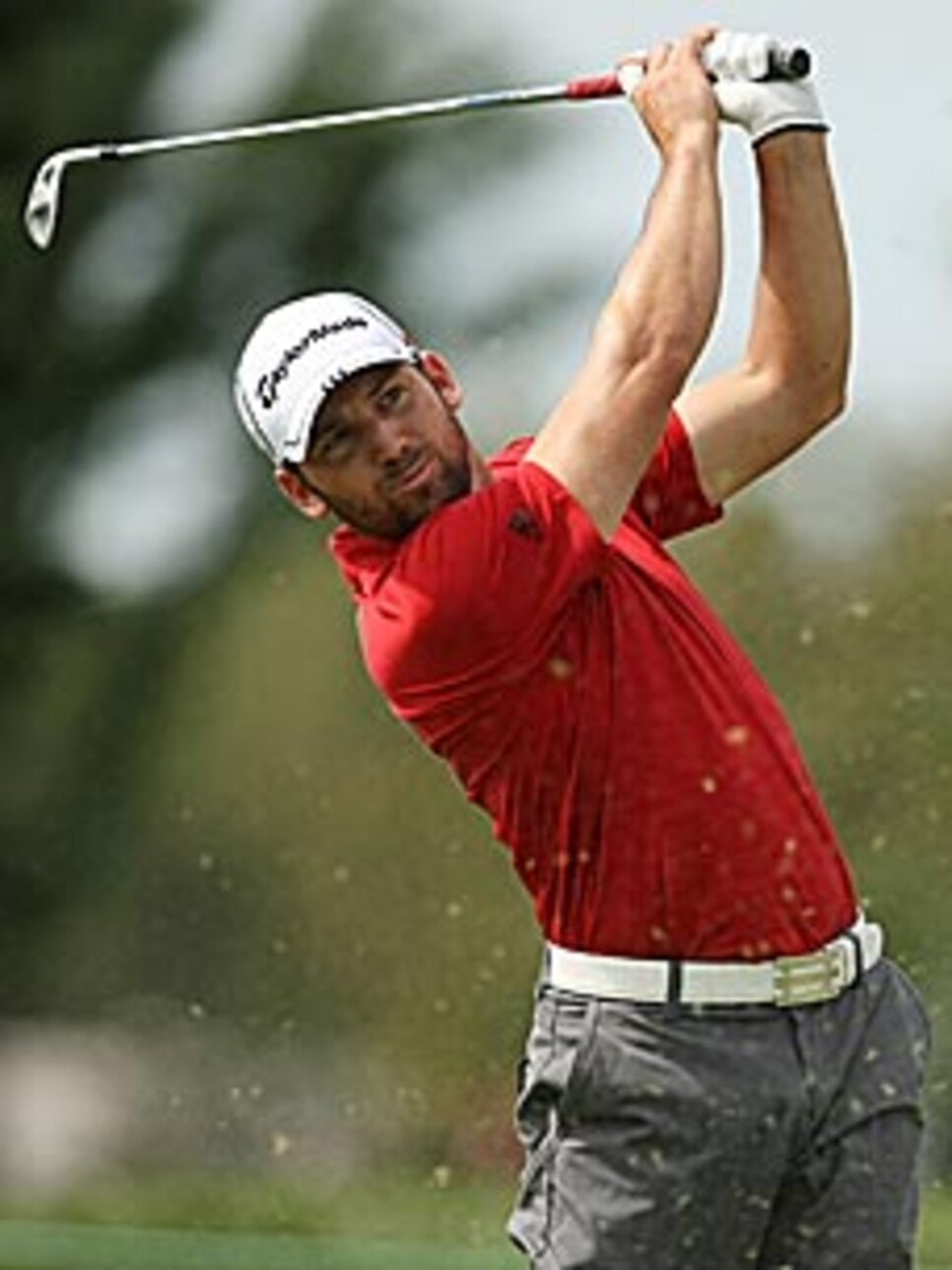 Garcia made seven birdies and just one bogey in his first round.
JERSEY CITY, N.J. (AP) -- Seven days ago, Sergio Garcia wasn't even sure if he would be eligible to play in The Barclays for the start of the PGA Tour Playoffs for the FedEx Cup.
Suddenly, he has a splendid view from the top.
Garcia took another important step toward recovering from a troublesome season Thursday with a 6-under 65 at Liberty National for a share of the lead with Paul Goydos and Steve Marino.
"We are getting back into it," Garcia said. "Last week was nice. It was good to see ourselves ... getting that feeling of being out there trying to win a tournament and getting the juices flowing a little bit. We're just looking forward to hopefully finishing the year well here, keep this good momentum going."
At a different venue, Garcia stayed the course. He is a two-time winner of this tournament, both times at tree-lined Westchester. On a track with intimidating views inside the ropes and gorgeous vistas of Manhattan, he wound up in a familiar spot.
In some respects, so did Tiger Woods.
The Barclays is the only tournament Woods has played at least three times without finishing in the top 10. He shot a 70.
Most players would have taken such a score when they first saw Liberty National. The course played significantly shorter, however, with five tees moved forward, and it showed in the scoring. Nearly half the field was at par or better, and some two dozen players shot in the 60s.
Goydos ran off five birdies in a six-hole stretch starting with the 16th hole, which he attributed to great putting, solid wedge play, and the PGA Tour rules staff for being gentle with hole locations and some forward tees.
"In theory, you have 125 of the best players on the PGA Tour here this week, someone is going to shoot a low round every day," Goydos said. "Today was my chance."
Marino seized on his opportunity, too, getting to 7 under until a bogey on his last hole.
They were one shot ahead of a group that included Charley Hoffman, who stumbled in by missing a 4-foot birdie putt on No. 8 and having to save bogey with an 8-foot putt on his final hole.
Y.E. Yang, in his first tournament since taking down Woods in the final round to win the PGA Championship, had a 71.
Woods looked solid in his return to The Barclays for the first time in six years, until he lost some control toward the end. Poor tee shots took away easy birdie chances on a pair of par 5s late in his round, and another one led to his lone bogey at No. 7.
Woods declined interview requests, telling PGA Tour officials he was going to the chipping area.
"You've got to make hay on the par 5s here," Woods said in a brief interview with XM Radio. "You don't get too many opportunities around this place, and I only made one birdie on the par 5s."
He probably would have taken a 70 after his first time around Liberty National, a course that has received scant praise from the players this week. The best anyone has said about the course designed by Tom Kite and Bob Cupp is that it is hard.
"It's a long, hard golf course with difficult greens," Goydos said. "I don't think Tom Kite was thinking, 'Let's see how easy I can make this course.' I don't think that was his mindset.'"
Still, it helped that the hole locations were accessible, and the course wasn't as long as its 7,419 yards. The biggest difference was the 18th, where Woods turned to the right, stopped when he couldn't find the tee markers, then marched 50 yards forward.
"Someone around here is smart," Zach Johnson said under his breath.
Phil Mickelson, a member at Liberty National, made four bogeys in a five-hole stretch around the turn, the meatiest part of the course. He bounced back for a 70.
The biggest rally, however, belonged to the 29-year-old Garcia.
He opened his year with a couple of top 10s in Abu Dhabi and Qatar on the European Tour. The rest of the season has been a letdown, consumed by poor play and the breakup with Morgan Norman, the daughter of Greg Norman.
Garcia tied for 10th at the U.S. Open, his only top 10 for a seven-month stretch until he tied for fourth last week in Greensboro, N.C., a tournament he only played to make sure he got into the playoffs.
He showed quickly that might be more than just a good week. Garcia ran off four birdies on the back nine (he started at No. 10), twice making birdie putts in the 15-foot range. His best shot came on the third hole, a 9-iron from 138 yards into a breeze that was the proper distance on a hole where it can be tough to get it close.
Then came the cheers, with consecutive wedges that danced around the cup and set up tap-in birdies.
"It's obviously very nice, after last week and playing well and being up there all week in contention, to open this tournament with a good, solid round," Garcia said. "Don't be deceived by the scores. It's not an easy course. That's important. And hopefully, we can go out there tomorrow and play another solid round."