News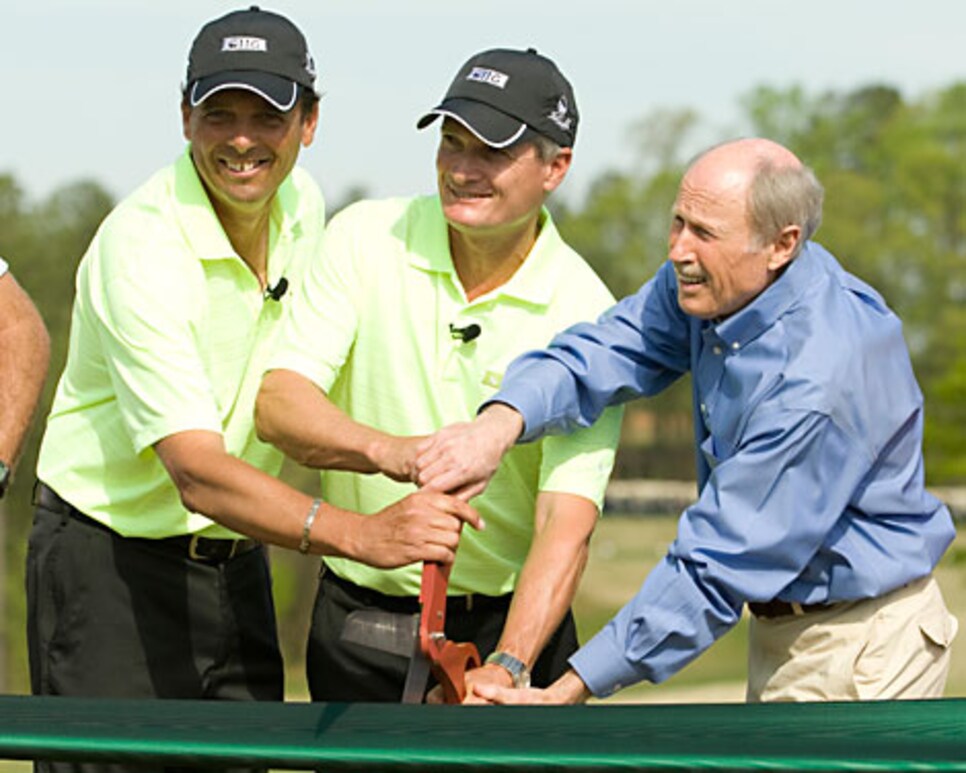 Instructors Dale Lynch and Steve Bann, pictured with Cliffs owner Jim Anthony, boast an impressive stable of students.
Neither have the strong personality of Butch Harmon. Nor are they household names like David Leadbetter. And they certainly don't have a hit television show like Hank Haney. All Steve Bann and Dale Lynch have are successful students.
Until now, Australia's best and most well-known golf instructors have hidden their lights under a bushel down under in their home country. But beginning last week, they began to spread their gospel in the United States, based in the South Carolina foothills.
Bann and Lynch have located their newly-formed International Institute of Golf at the Keowee Springs course at the Cliffs Communities near Greenville, S.C. Lynch was so enamored of the site along with the golf and real estate development that he is permanently relocating to the Cliffs with his wife and six children.
Between them, the two instructors have five students in the top 60 in the Official World Golf Ranking -- Geoff Ogilvy, K.J. Choi, Stuart Appleby, Aaron Baddeley and Mathew Goggin. Ogilvy, Appleby and Goggin were on hand at the Cliffs for the IIG grand opening.
Bann and Lynch connected as teachers in 1990 when the Victorian Institute of Sport, a nationwide movement backed by the Australian government, wanted golf as part of the curriculum to groom world-class athletes. Heretofore, the VIS had been attracting and training Olympic athletes, using a holistic approach from technique to nutrition.
"In the very beginning, the Victorian Institute of Sport was a big change in the way golfers were developed," Bann said. "We were introduced to the concept of holistic training of golfers. Golf is more than just how to swing a club. It's technique, it's physical, mental and strategic.
"When we first started at the Institute, we would go to lectures from anything from pistol shooting to gymnastics to swimming and we'd learn from all the other sports and their coaches. The approach was to individualize in all those training factors that each athlete requires. We have taken that approach for elite level golfers and have applied it to golfers of all levels."
It was an eye-opening experience for the two instructors, who had competed against one another as juniors and both had a turn playing on the Australasian Tour with some success. But their real success was as teachers. Among their first students were Ogilvy, Appleby and Robert Allenby -- all of whom are still loyal to Bann and Lynch. Because they had been tour-level players themselves, they had instant credibility to the young players.
"The reason Lynch is such a great coach is that he worked so hard on his own game and found that he was working on the wrong things," said Ogilvy, the 2006 U.S. Open champion who is ranked fourth in the world. "It should have worked out for him but it didn't. That created his thirst for knowledge about how the golf swing works and how the game should be played. A lot of coaches teach one method, but these guys teach the player who turns up. We are all different and Lynch is very good at working out what each of us needs to hear. He is perfectly willing to accept other people's good methods."
Appleby was raised on dairy farm and came to the Victorian Institute of Sport as a teenager. He now has eight PGA Tour victories and won the 2001 Australian Open.
"We were lucky enough to have two coaches who were willing to learn from other sports and are very open to ideas," Appleby said. "There is no one principle. That open-mindedness has enabled them and us to learn and grow. There are other coaches that have bigger names but who don't have the holistic approach that Bann-Lynch have. It's been a long journey -- more than 20 years -- for me to come from a small country town to play the Tour. I'm lucky that I had Bann's guidance. We've benefited all around."
Aaron Baddeley, K.J. Choi and Nick Flanagan are among the most well-known Bann-Lynch students. Baddeley has won twice on the PGA Tour and Choi is a seven-time winner. Flanagan won the 2003 U.S. Amateur and won three times on the Nationwide Tour last year, earning his way to the 2009 PGA Tour. Goggin, who started being coached by Lynch in 2001, had five top-10 finishes on the PGA Tour last year.
"The amazing thing about what these guys have accomplished is, if you look at any other golf program, none of them have had anywhere near the success in taking kids and identifying the best players in the region or in the country," Goggin said. "There was a core group who came along about the same time and who are the top players in the world. You don't see that come out of any other famous program, not even close."
Bann and Lynch care little or nothing for attention. In fact, both are shy about talking about themselves to the media. They are much more comfortable with their students in the spotlight.
"The thing is that you have coaches with high profiles in the media and the major magazines do their rankings," said Lynch, who was named 2006 Instructor of the Year by Golf Digest. "As long as your student believes you are the best coach in the world for that person, that's all that matters. As far as marketing and the media, it certainly helps, but at the end of the day it's what you do with that particular player and helping him or her get where they want."