News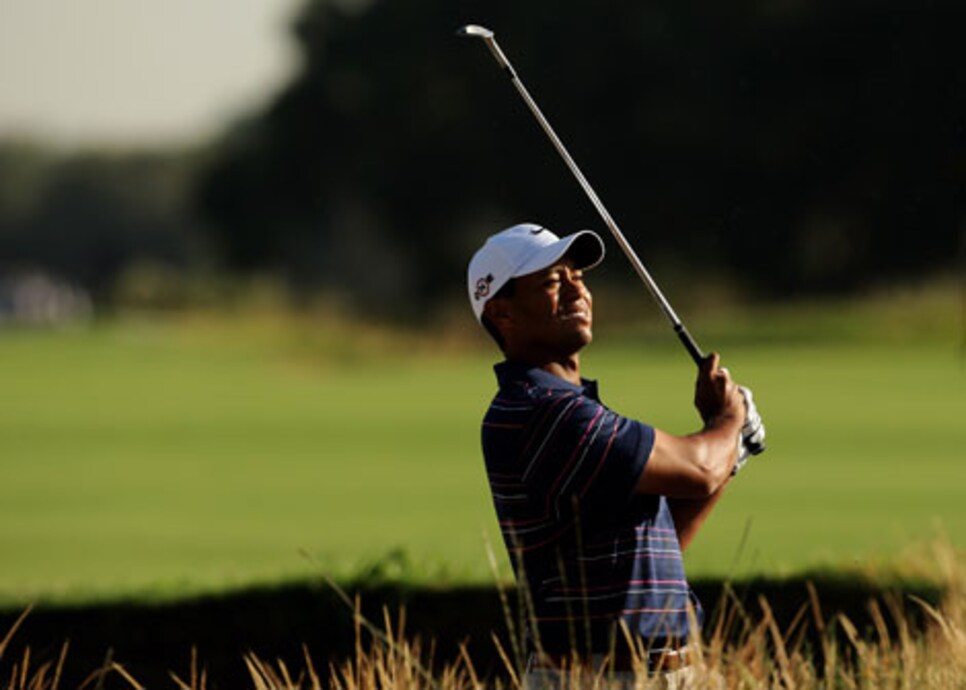 Tiger Woods hit 17 of 18 greens in regulation in his first round at Kingston Heath.
MELBOURNE, Australia (AP) -- Seve Benson has never seen so many people on a golf course. Some 10,000 fans lined both sides of the 10th fairway Thursday morning as the sun was still climbing over Melbourne.
Never mind that they didn't come to watch him.
Tiger Woods, who teed off behind the 23-year-old Englishman, made the Australian Masters feel like the one at Augusta National. Tournament officials said 21,356 people came through the turnstiles, an enormous crowd for the size of this golf course. Most of them scooped up tickets months ago after learning the world's No. 1 golfer would compete Down Under for the first time in 11 years.
Woods delivered a performance that matched the hype, even if it fell slightly short of his own standards.
Despite a few loose shots with short irons and spending most of the round lag putting on greens that were softer than he expected, Woods had a birdie chance on every hole except his last, easily handled the par 5s, nearly drove one of the par 4s and wound up in a three-way tie for the lead at 6-under 66.
He was tied with Branden Grace of South Africa and James Nitties, an Australian who easily kept his PGA Tour card after his rookie season in America. Nitties gets extra credit for his 66 because he had to play behind Woods.
Most players in the group behind Woods have to cope with the media. Nitties couldn't see them through a wall of fans who were allowed to stand in the crossing areas as Woods putted. The way the fans surrounded each green, nine-deep behind the green and four-deep in front, it made every hole look like the 72nd hole at the British Open.
Not everyone could watch every shot, so thousands lined the fairways two holes in advance to wait on Woods. Once he played through, most of them waited for a few more groups - Geoff Ogilvy was two groups behind - to plot their next move.
That gave players on either side of Woods a chance to share the buzz.
"It was amazing," said Benson, a European Tour rookie who opened with a 70 and needs a big week to keep his card. "After a couple of holes, you get used to it. But then you realize that they were not on the hole before. They had been waiting awhile."
Nitties' best week on the PGA Tour was a tie for fourth at the FBR Open in Arizona, with the famed raucous crowd on the par-3 16th. Even so, this gallery took him back.
"More people than I'm used to following me around," he said.
Fans lined up at the gate and stretched 200 yards down the road at dawn, and it took some 45 minutes for cars to move a quarter of a mile down Kingston Road. Told that he was responsible for a traffic jam, Woods laughed.
"I was stuck in it, too," he said.
Woods is playing the Australian Masters for the first time since 1997 - two months before his 12-shot victory at Augusta National that set off the first big wave of Tigermania.
Australians haven't seen him since the 1998 Presidents Cup at Royal Melbourne, and they couldn't get enough of him Thursday. One man sitting near the third green, frustrated that security officers and marshals were blocking his view, turned to a reporter to ask him if he had been following Woods.
Such a question is usually intended to find out how Woods was playing. Not this one.
"Then you shouldn't be here," the man said. It was his way of saying, "It's my turn to watch Tiger."
Woods made the gallery wait nearly two hours before making his move. He birdied the par 5s on the back nine to make the turn in 2 under, added another birdie on the par-5 opening hole, then laid up short of a fairway bunker and hit 6-iron to about 4 feet.
The thrill came on the 294-yard sixth hole, when he hit 3-wood, leaned left to give it some body English and watched the ball roll just up to the green, then roll down on the edge. A simple chip-and-putt gave him the first of three straight birdies, capped by an 8-iron to 7 feet on the eighth hole to take the outright lead.
That lasted only one hole. Woods pulled his driver enough to land in a tea tree, forcing him to punch out of thick rough, bounce the ball onto the ninth green to 40 feet and take two putts for his only bogey.
"I bogeyed the last hole and missed two short putts for birdie," he said. "Other than that, it was a pretty good day."
Cameron Percy, who grew up in Melbourne and opened with a 67, had the advantage of playing on the opposite side of Kingston Heath. No matter. He still saw the crowds and felt the energy.
"It was like when I first turned pro and (Greg) Norman used to play," Percy said. "It was like a major, basically."