News
Sunday Showdown For Woods And Kim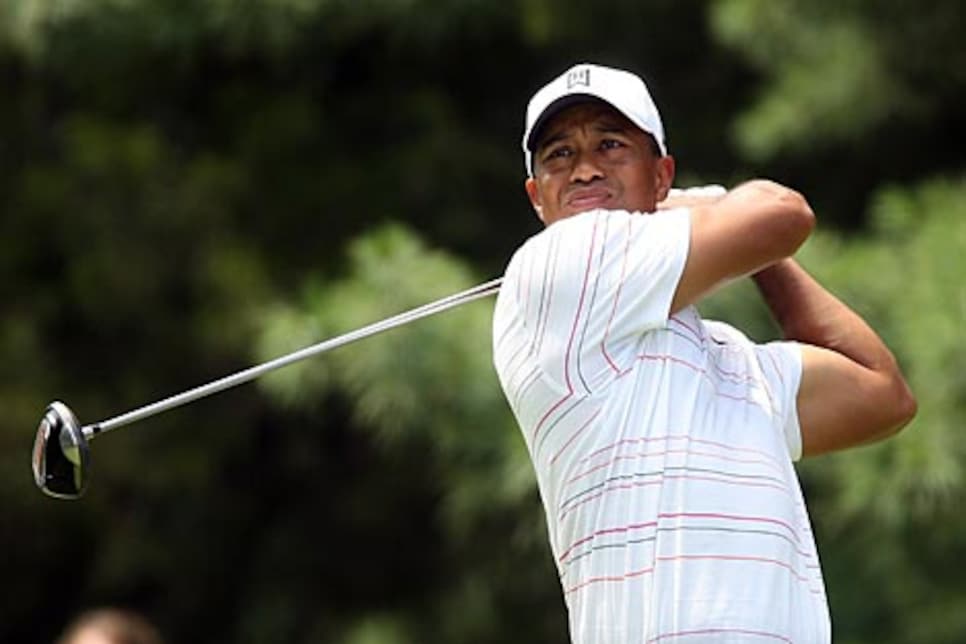 Tiger Woods will play with up-and-coming star Anthony Kim for the first time ever in a PGA Tour round on Sunday.
BETHESDA, Md. (AP) -- Anthony Kim finally gets a crack at Tiger Woods, and when he says he has been practicing for a moment like this all his life, Kim isn't kidding.
As a 10-year-old growing up in Los Angeles, in those final hours of twilight as he waited for his father to pick up from the golf course, Kim imagined he was in the final pairing with Woods and had a 10-foot putt for the victory, with the world's No. 1 player watching.
"Man, they were going in a lot," Kim said, laughing.
He can only hope fantasy meets reality Sunday in the AT&T National.
Kim kept his cool after a couple of blunders at Congressional, saving par from 84 yards with a creative chip he had been too scared to try in competition, then making birdie on the 16th that led to a 2-under 68 and his name atop the leaderboard.
Woods, having lost a three-shot lead in a span of two holes with a double bogey on the 11th, found one last birdie with a putt up the slope of the 16th green to tap-in range that allowed him to salvage a roller-coaster round at 70.
That gave him a share of the lead with Kim at 10-under 210, and gave Congressional a Sunday showdown a bustling gallery has been craving since the tournament began Thursday.
Woods is tournament host. Kim is the defending champion.
Woods is the guy who made golf cool, a multiracial talent who shattered records during his rise to No. 1. Kim is perfecting cool, a bundle of energy at 24 who practices with music blaring from his iPod.
They are separated by just under 10 years, but this generation gap seems wider than that. Woods also grew up in Southern California, and he often stayed late on the practice green dreaming of the putt to win a major.
And who was he trying to beat?
Jack Nicklaus. Arnold Palmer. Ben Hogan. Sam Snead.
Told about Kim's tale of trying to beat him, Woods offered a wry smile.
"I'm aging," he said. "That's what that means."
But he has been around long enough to have built a 44-3 record on the PGA Tour when he has at least a share of the 54-hole lead, a statistic that has defined why it's so tough to beat him.
Kim is only thankful for the chance. He has never played in the same pairing with Woods, nor has Kim ever finished higher than Woods in any of the tournaments they have played since Kim joined the PGA Tour three years ago.
But the kid has an idea what he'll see.
"I expect he's going to be wearing a red shirt and be out there ready to go," Kim said. "And I'll be ready, as well."
They both would do well do look over their shoulders, for this is far from a two-man race.
Michael Allen, who is 0-for-336 in his PGA Tour career but undefeated on the Champions Tour when he won the Senior PGA Championship earlier this year, made seven birdies in a round of 65, the best score Saturday.
Allen turned 50 in January and ventured out to play against men his own age only once, winning at Canterbury at a senior major. He has won on the Nationwide Tour, the PGA European Tour and the Champions Tour.
This one would be the most meaningful.
"It would be a culmination of what I've always been try to do," Allen said. "And champagne for everybody."
He was at 9-under 201 with Cameron Beckman, who chipped in for eagle on the par-5 16th for a 66.
A dozen players were separated by four shots going into the final round, including Jim Furyk (69) and Rod Pampling (71) at 8-under 202, and U.S. Open champion Lucas Glover (68) another shot behind.
Woods had a one-shot lead over Pampling, an advantage that was gone after the opening hole when Woods drove into the gallery and couldn't reach the green out of the thick rough, a sign of a struggles that would last most of the warm, blustery day before an enormous gallery that was as energetic as any for a non-major this year.
He recovered with a 3-iron to 25 feet, and a leaning fist pump when the eagle putt fell, giving Woods a three-shot lead.
Then came the 11th hole, which has given Woods fits this week. From the left rough, he hit into a bunker some 50 yards short of the green, caught that shot too heavy and slammed his club when it tumbled into another bunker. Woods blasted out to 7 feet, then missed the putt to make double bogey. He has played that hole in 4-over par for the week.
This one cost him the lead.
He didn't make any mistakes coming in, although he didn't give himself hardly any birdie chances except for the par-5 16th.
"It was a tough day," Woods said. "One of those things you just had to grind it out and get through it. There were a lot of lag putts. I just never had a whole lot of birdie chances."
Woods might need some Sunday playing with Kim, an explosive player who is regarded as the next American star the way he won last year at Quail Hollow and Congressional, then energized the U.S. team in a Ryder Cup victory.
"I'm excited to be there," he said, and it was evident the way he leaned into the microphone and smiled. "I'm excited for the opportunity. There's not too many chances you get to play against the best in the world at his golf tournament. I've won this tournament before, and I don't see why I won't have a good opportunity tomorrow."
He won last year with a 65 in the final round, and when he made the final putt for the victory, Woods was watching -- from his couch in Florida, recovering from knee surgery.
"On TV," Kim said. "He was in a different state, which was weird. But he was watching. I would love to play great tomorrow."