News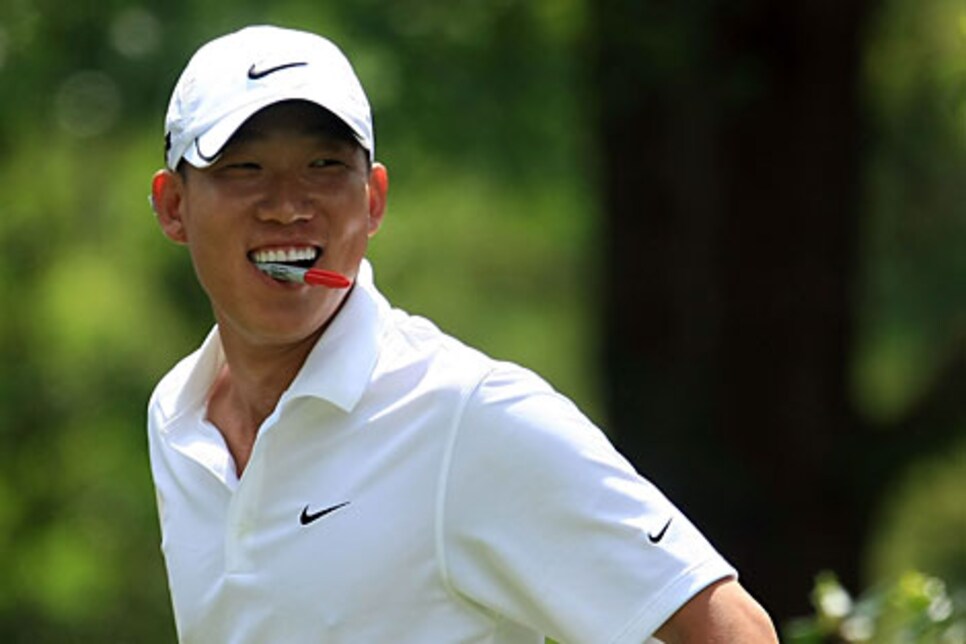 Anthony Kim's brash reputation predates his time on the PGA Tour.
LA QUINTA, Calif. -- To find La Quinta High School, you cruise east down Highway 111 to Adams, make a left, and then turn right on Westward Ho. The complex of buildings surrounds a large tower in the center, not far from the office of academic counselor Carol Ramirez.
She can tell you about Anthony Kim.
"As a student here, he was so dedicated to being great," Ramirez said. "At times, immature, maybe brash, but for sure confident. He was so focused on what he wanted, it didn't matter to him what people think."
It probably still doesn't. But the line starts here for those who are clearly thinking about him.
And when it comes to figuring out Anthony Kim, there are plenty of people busy peeling away the layers of a fresh, young golfer who is as perplexing as he is talented.
At 23, there is no question about Kim's ability, but there may be plenty of questions about other stuff ... such as his dedication (parties too much?), his playing schedule (skipped Riviera to play in Australia), injuries (pulled out of the Hope with a shoulder injury), caddies (he's rotated through several) and his short schedule (only six events so far this year).
Despite all that, Tiger Woods said Kim is tracking upward, and fast.
"He's just got all the talent in the world and it's great to see him out here playing well and getting better," Woods said Wednesday at the Quail Hollow Championship.
The spotlight is shining on Kim once again this week at Quail Hollow, which he won last year and served as his springboard to the Big Time.
An impressive win in the AT&T National on another tough course, Congressional Country Club, followed by a blitzing of Sergio Garcia at the Ryder Cup only furthered Kim's reputation as a takedown artist. But it may be possible that the player's game is further along than his maturity level. That's hardly a crime, of course, and the fact that Kim is probably growing up before our eyes only adds to the experience.
But if we're just really getting to know Kim, there are plenty of folks on his old high school campus who had a sneak preview of this brash but engaging character.
Bob Hicks was the golf coach at La Quinta for a year and had Kim on his team. It might as well have been Anthony and everybody else, Hicks said.
"In team meetings, players might say 'I can't shoot that score' and he'd say 'Yes, you can and step up and get it done.' He had a few choice words in there, too," Hicks said.
"And if anything interfered with his practice schedule, well, let's just say he was not a happy camper. He never doubted himself. He was aggressive with everything. Now? Anthony, he is mellowed now."
Kim's parents, who lived in Los Angeles, bought him a townhouse here when Anthony was in high school so he could basically pursue his dream of playing professional golf. His parents, Paul and Miryoung, made weekend trips to visit Anthony the golfer, who was moonlighting as Anthony the student. He wound up playing just one year of high school golf, the rest of his time spent participating in junior events (he was a four-time AJGA All American) to hone his craft for college.
The stubbornness Kim showed at times may have been a liability then, but may also serve as a building block toward success in his pro career.
Hicks said he butted heads with Kim on more than one occasion, usually about playing.
"We had some disagreements. He was adamant that high school golf and certain golf tournaments in high school didn't matter. He had a focus to get where he wanted to be."
Kim wound up choosing Oklahoma, where he was a three-time All American after being the NCAA's 2004 Freshman of the Year.
Matthew Bugg isn't surprised at all about Kim's success. When Bugg was Kim's vice principal, he knew Kim had a plan for the future -- and the personality to make it happen.
Bugg said the first time he remembers Kim was at a school fund-raising tournament when Kim took Bugg's turn at a par-four hole -- and promptly drove the green.
"I was flabbergasted," Bugg said.
"When he got called to the office, we talked about college and the future, about tutoring and the ACTs," Bugg said. "He was a free spirit, but he was so far beyond everybody else even as a junior. As a senior, he wanted to get his game ready and not play in [high school] golf tournaments.
"He was never a discipline issue. He never went about acting like he was better than anyone else, which he was, and you'd think he'd get this big head, but he didn't.
"He's got game. I'm a little bit surprised that he's this much of a star. I'm not surprised that he's good, but that it's this quickly."
Kim seemed to fit in easily at La Quinta High School, one of four public schools in the Desert Sands Unified School District. At a distinguished public high school that boasts its share of famous graduates, Kim's name may be right at the top. Ramirez said it's not just about Kim's fame, it's just that he made such a favorable impression.
"He was a funny kid, like one of those winning kids -- always laughing, always talking. Real likeable. Even when I had to get on him about going to class. I remember him sitting in my office, laughing. He was an average-to-good student, but he took care of business to get to college. He always did what he had to do to reach his ultimate goal.
"I still think of Anthony as my student. There's not one person in this building that doesn't think of him fondly."
You can probably learn a lot about someone from their teens year. Kim isn't any different. He's well thought of around this place, and certainly not forgotten. For this rest of us, it's just good information ... Anthony Kim, High School Confidential.