News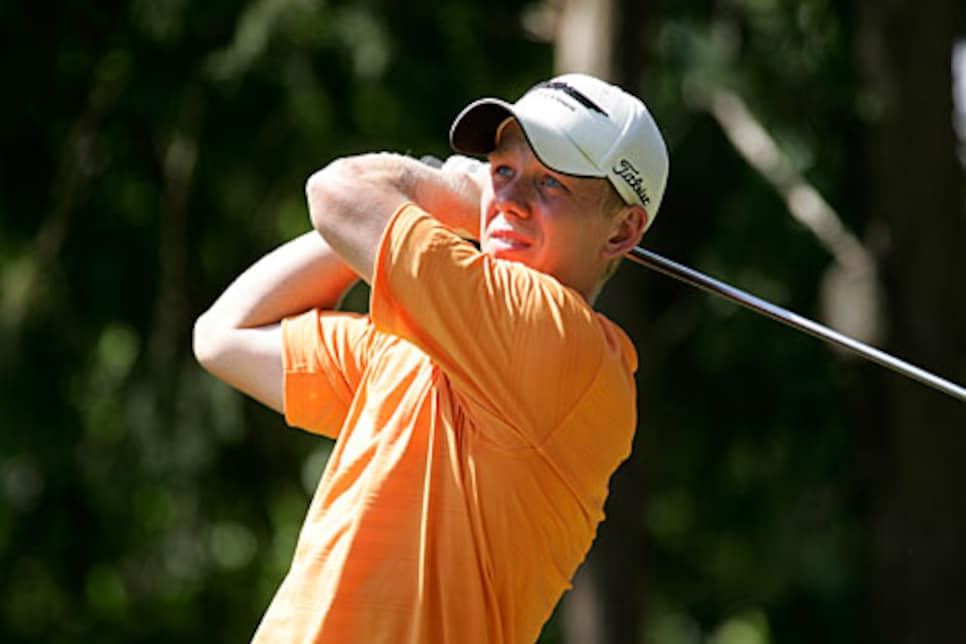 Benjamin will put plans to turn pro on hold until after next April's Masters.
No one would have given you a second look if you forecasted the championship match between Nick Taylor and Brad Benjamin at the 84th U.S. Amateur Public Links would have ended up being a lopsided 7-and-6 affair. You wouldn't have gotten a second follower, however, if you predicted Benjamin, a 2009 Memphis graduate with just five top-10s in 33 college starts, would be the one doing the lopsiding.
The outcome was particularly striking when you consider the week each had been having in Norman, Okla. Taylor, a 21-year-old Canadian who was the low amateur at last month's U.S. Open, hardly seemed to break a sweat at Jimmie Austin GC (figuratively at least, considering the triple-digit temperatures that baked the University of Oklahoma's home course). After winning medalist honors with a six-under 136, the first-team All-American at Washington proceeded to scorch his initial five opponents, never once being forced to play the 18th hole and just twice being pushed past the 15th.
Conversely, Benjamin, a 22-year-old from Rockford, Ill., playing in his first USGA championship, barely squeaked past most of his opposition just to get to the 36-hole final. Through his 1-up semifinal win over Brandon Crick, Benjamin had made only 12 birdies offset by 11 bogeys.
In the July 18 finale, however, Taylor and Benjamin reversed roles. Benjamin methodically hit fairways and greens, putting pressure on his rival. In turn, Taylor uncharacteristically struggled with his putter after making two eagles and 15 birdies (to six bogeys) in match play prior to the final.
"Obviously, he's twice the player I am, at least on the résumé, if not more than that," said Benjamin, who nevertheless took a 4-up lead through the morning 18, losing just one hole and making only one bogey. "But eventually you've got to build one, so I might as well start today."
"Brad played unbelievable," added Taylor, winner at the Sahalee Players Championship two weeks earlier after claiming four titles during his junior season with the Huskies. "He pretty much did to me what I did to the other guys coming in."
Benjamin remained the aggressor during the afternoon 18, birdieing the par-4 first to go 5 up. Impressively, he played the final 23 holes bogey-free, giving Taylor no chance at a comeback. "That was the start I needed [in the afternoon]," Benjamin said. "That was the thing I was most concerned about, going back out. Obviously the momentum could go his way."
Dormie heading to the 30th hole, Benjamin closed the match on the 164-yard 12th when he nearly made an ace with an 8-iron, leaving the ball six inches from the cup.
With the win, Benjamin joined 1988 champ Ralph Howe III as the only left-handed golfers to claim the James D. Standish Jr. Cup. He is the first lefty, though, who turns around and putts right-handed to win. The victory, meanwhile, derailed plans to turn pro later this summer. Instead, Benjamin intends to remain an amateur in anticipation of an invitation to the Masters that Augusta National has extended APL winners since '89.
"It's so surreal," Benjamin said.
Surreal indeed. Predictable, though? Not on your life.