News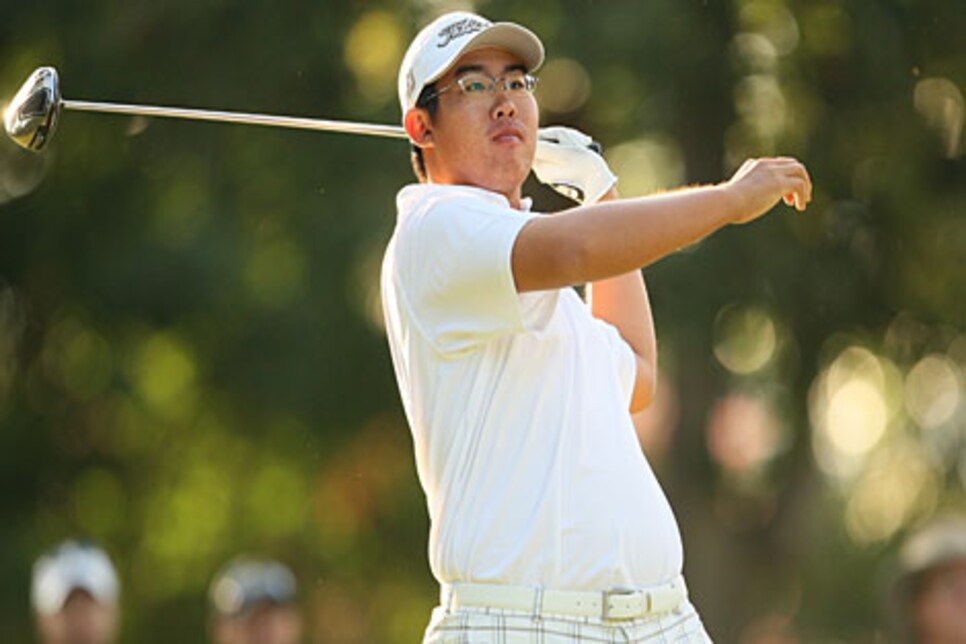 exceeding expectations: An had modest goals when he arrived in Tulsa but drew inspiration from countryman Yang's breakthrough victory in the recent PGA.
They stood in the bar at Southern Hills CC on a Sunday afternoon, a few dozen members gathered to toast the golfer who'd won the 109th U.S. Amateur on their formidable course. When Byeong-Hun (Ben) An joined them, he was greeted by champagne flutes held high. With a toothy grin, An returned the favor, albeit clutching a Shirley Temple, before thanking his hosts for their hospitality.
The scene was joyous and memorable and heartfelt, provided you overlook one minor detail: Not a single person in the room had any idea at the start of the week that this high school senior, 3½ years removed from leaving his native South Korea to live in the U.S., would be the one being honored—including An himself.
"My goal was just to make it to match play," An insisted, noting how he had failed to qualify for the U.S. Junior Amateur in three attempts and hadn't been victorious in any tournament in three years. "Winning is beyond my wildest dreams."
Somewhere in the midst of playing nine rounds in seven days, An started thinking he just might defy his own logic and become, at 17 years, 11 months and 13 days, the youngest golfer to win the USGA's oldest championship. Yet even after closing out Clemson fifth-year senior Ben Martin, 7 and 5, in the championship match to become the second consecutive Korean-born golfer to win the Havemeyer Trophy and the fifth international player in seven years, he wasn't one to brag.
"I played pretty bad today. I got lucky," said An, who broke the previous mark of 18 years, one month set last August. (Danny Lee, we hardly knew ye.)
What's the saying, it's not how but how many? While An shot the equivalent of nine over par for 31 holes, it was still better than Martin's 15 over. Few will mistake the 36-hole final in Tulsa, Okla., for the Mona Lisa. As An and Martin made five birdies between them while carding 23 bogeys and three doubles, it looked a lot more like Dogs Playing Poker.
Give credit (or is it blame?) to Perry Maxwell's 7,093-yard, par-70 brute, whose narrow fairways had most of the field's 312 players gasping for breath. The EMTs at the course insisted they treated no one for claustrophobia, but if they had offered a pill for the ailment, there would have been a line stretching to Oklahoma City.
Some will argue Sunday's sloppiness fit a championship that seemed to have gone off script from the start. Five days before An gave teenagers something to cheer about, Tim Jackson did the same for the AARP crowd. The Tennessee native who had turned heads by leading July's U.S. Senior Open after 36 holes, shot even-par 140 (with a one-stroke penalty for slow play) to become the Amateur's oldest medalist at 50, breaking the mark 46-year-old Walter Travis had set in 1908. Nevertheless, the championship remains a young man's game, as Jackson learned when he lost in the second round.
Round 2 was also where the last of the eight U.S. Walker Cup members was sent packing. At least Bud Cauley made it past the first round, a fate the other four who qualified for match play—Rickie Fowler, Nathan Smith, Brian Harman and Morgan Hoffmann—couldn't claim. Captain Buddy Marucci can only hope his boys were saving their strength for next week's matches at Merion GC.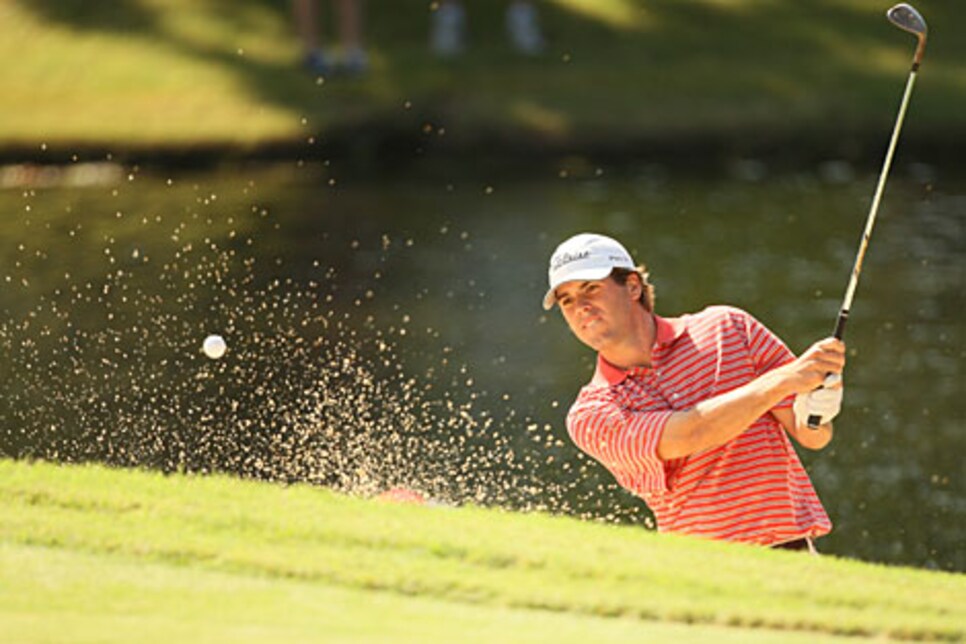 With the current USA roster eliminated, those on the short list for the two remaining spots had a chance to determine their destiny. Ultimately Cameron Tringale and Peter Uihlein, who advanced to the third round and quarterfinals, respectively, were chosen to the wear red, white and blue.
Martin had hoped to crash the Walker Cup party himself. The Greenwood, S.C., native, who turned 22 in Tulsa, began the summer impressively, having qualified for the U.S. Open at Bethpage. His name even appeared on the leader board during the first round, Martin's family having the picture to prove it.
After shooting a one-over 141 to claim the fourth seed, Martin worked his way through the match-play bracket, beating David Lingmerth, 2 and 1, in the quarterfinals despite a loss-of-hole penalty when his father/caddie, Jim, raked a bunker with his son's ball still in it. Thankfully, there was no such drama in the semifinals, Martin beating Charlie Holland, 5 and 4.
An, the 22nd seed, settled into a rhythm on his side of the draw, too. Twice a winner in extra holes, he never trailed in any match until the semifinals, where he rallied against Bhavik Patel, winning 3 and 2. (At week's end, he was behind for only five holes.)
In the final's morning 18, fatigue seemed to settle in for both golfers. (How else do you explain halving the par-3 sixth with double bogeys?) As both fought their swings, neither took more than a 1-up edge until a par-birdie-par run from An on Nos. 15-17 gave him a 3-up lead at the break.
Hitting only five fairways in the morning, Martin fared no better in the afternoon, bogeying six of the first eight holes to go 6 down. After winning the 27th and 28th holes, Martin saw his last comeback chance fade when An made a birdie putt from 15 feet on the par-3 11th (29th overall) while Martin's attempt from 12 feet missed to the left.
"As tough as this golf course is, you've got to be hitting quality shots. I was just kind of out there searching for something and never found it," said Martin, who lives 60 miles from Augusta National, has attended the Masters since he was 9 and gets to play there as a competitor next April, as well as at next year's U.S. Open at Pebble Beach.
At 6-foot-2, 210 pounds, An could pass for a tight end. You would hardly mistake him, though, for someone who plays table tennis, the sport that brought An's parents together at the 1988 Olympics. Jae-Hyung An won a bronze medal for South Korea, Zhi Min Jiao a bronze and a silver for China. The two were married soon after.
Zhi stayed in Asia when her son and husband moved to Florida in 2006 hoping to see Ben's game improve. Initially enrolling at the Leadbetter Academy in Bradenton, An left a year ago, and now plays out of Concession GC while still working with instructor Jonathan Yarwood.
"This week has been awesome," said An, who sprinkles that word into seemingly every fourth sentence. Indeed, he is very much your typical teenager, conversing with friends via texts and insisting his father/caddie meddles too much.
To be fair to An, saying his win was a total surprise is a stretch. Earlier in the summer he lost the AJGA Rolex Tournament of Champions in a playoff. Last month he was a quarterfinalist at the Western Amateur. Having gotten several college scholarship offers, An has made a verbal commitment to attend California in the fall of 2010.
Just how his victory will play out in Korea remains to be seen. Still celebrating Y.E. Yang's win at the PGA Championship, An hopes others can take inspiration from him the way he did from Yang. "In the years to come I think you'll see more Koreans win big tournaments," An said. "There are no barriers anymore."
Seven days earlier, An might not have actually believed that. Now he's living proof.