News
South Korean Teen In Semis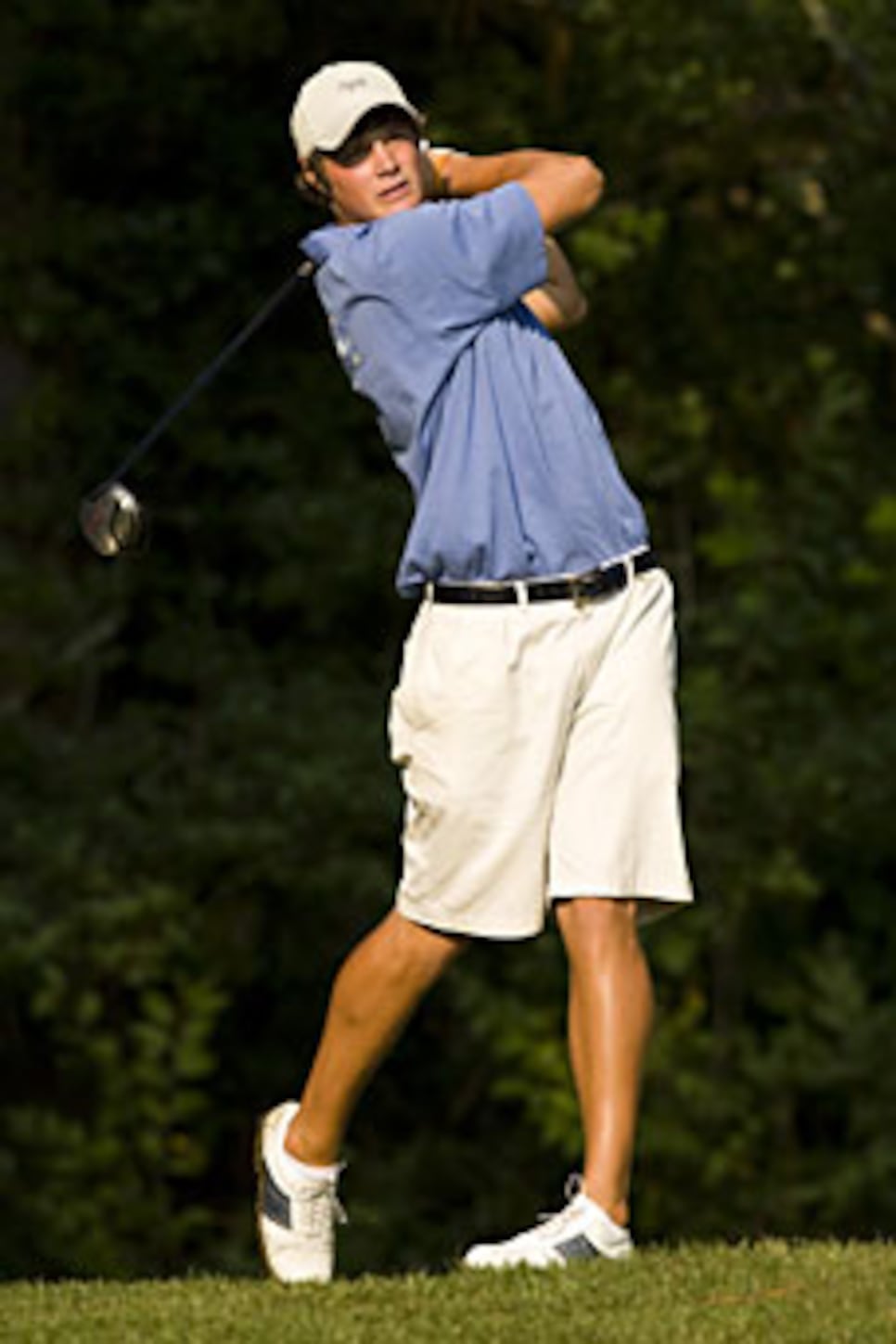 Peter Uihlein lost his quarterfinal match to Charlie Holland on Friday.
TULSA, Okla. (AP) -- Mention Y.E. Yang prevailing at the PGA Championship and Byeong-Hun An's eyes light up.
After one historic win for a South Korean this summer, why not follow it up with one of his own at the U.S. Amateur?
After a 21-hole victory against Stanford junior Steve Ziegler in the quarterfinals on Friday, An stands two wins away from making history. The 17-year-old who goes by "Ben" can become both the youngest player to take the U.S. Amateur title and the first Asian-born player to do so.
"I never thought about that," An said. "I didn't know I could make it this far, because I was playing bad before. It would be great to win, but there are a lot of good players out there ... It would be awesome if I win, but I'm happy winning tomorrow's match to get in the Masters."
An's opponent on Saturday will be Fresno State sophomore Bhavik Patel, who defeated Clemson senior Phillip Mollica 1 up.
Texas senior Charlie Holland defeated Oklahoma State sophomore Peter Uihlein in 19 holes to reach the other semifinal against fourth-seeded Ben Martin, who finished his college career at Clemson last year. Martin beat Arkansas senior David Lingmerth 2 and 1.
An squandered a 3-up lead on the back nine, bogeying the 17th and 18th holes to let Ziegler force a playoff. It was the second straight day that Ziegler was 2 down as he arrived at the 17th hole, only to win the last two holes.
An prevailed when Ziegler missed the green with his second shot at No. 3 and An followed by leaving his right in the middle of the green. When Ziegler missed a long par putt, he flipped his putter into the air and swatted at it before removing his cap to shake An's hand.
"I'm pretty happy obviously because it's quite an accomplishment to get this far in the tournament," said Ziegler, who will be exempt at next year's event by reaching the quarterfinals. "There are a lot of guys who went home unhappy a lot earlier. But then again, it's a lot of mixed emotions because I know I had a chance to do something pretty special."
An said he watched Yang's PGA Championship victory, going back and forth between being convinced Yang would win after he chipped in for eagle at No. 14 to feeling certain Woods would find some way to come back for the win. In the end, Yang became the first Asian-born player to win a major.
There have been only 10 foreign-born winners in the 108 U.S. Amateurs. Three have come from Scotland, two from Canada and Australia, and one apiece from England, Italy and New Zealand. Just last year, Danny Lee - 18 years and one month old at the time - broke Tiger Woods' record to become the youngest champion.
An doesn't turn 18 until Sept. 17.
"I'm not really used to big tournaments and a lot of big names, but I don't think I feel intimidated before I go off," An said. "I just play my best."
Sports success runs in his family. An's father, his caddie this week, and mother both won Olympic medals in table tennis in the 1988 Seoul Games. Not quite a decade later, An was 6 and following his dad around at the driving range when he tried golf.
"I guess I had nothing to do that day other than just hit some shots," An said. "I think my dad liked it. He liked my swing."
He started playing tournaments at age 7 -- "I wasn't that good," he admits - and developed enough that 3½ years ago, he and his father moved to Florida to take advantage of the top-notch golf facilities. He was the runner-up at this year's American Junior Golf Association Rolex Tournament of Champions and a quarterfinalist at the Western Amateur before qualifying for the U.S. Amateur earlier this month.
If not for the tournament, he'd be in school this week at Bradenton Preparatory Academy - and he's got another tournament next week.
"I'm missing the first two weeks of school. Pretty bad," he said.
An conceded that he was impressed when he looked around at the range earlier this week and saw top-ranked amateurs like Rickie Fowler and Morgan Hoffman. Now, he's outlasted both - and just about everyone else, too.
"I don't have to feel different than them. We're the same golfers," An said. "They're better players than me, but we all qualified for this tournament, so I think we all have the same golf ability."