News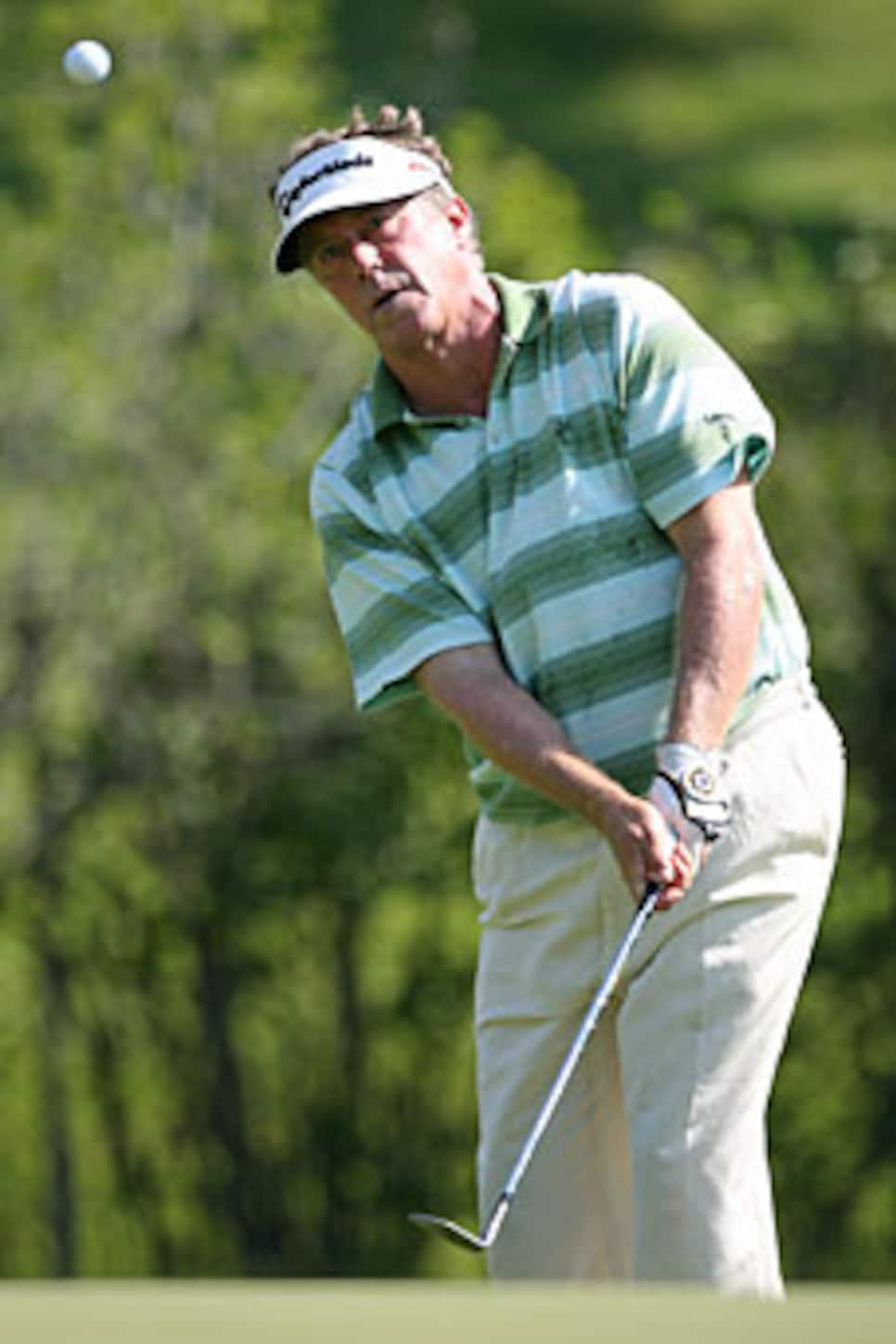 worth the wait: Eleven years since winning an event on the Nationwide Tour, Allen was unflappable at difficult Canterbury, becoming just the fourth man to snare a major title in his senior debut.
Cleveland is an unlikely place to go rummaging for redemption. The Rust Belt relic in northern Ohio is where sports dreams go to not just die but to be eviscerated. Drop your favorite underdog on the shores of Lake Erie and you'll see: Cinderella walks on broken glass, Rocky can't get out of the first round, and there is absolutely, positively no way the U.S. Olympic hockey team authors the "Miracle on Ice."
So one has to note the discordant locker-room scene at Canterbury GC, the storied layout that has hosted all manner of big events and almost without fail has produced an accomplished champion. There was Michael Allen late Sunday afternoon sitting in front of Locker 19, puffing on a fat Te-Amo cigar between gulps of Heineken, signing autographs and relishing the fact that his 5:30 p.m. EDT flight home to Scottsdale had already taken off without him.
"I've waited a long time to miss a plane on Sunday," Allen said with a grin after emphatically exhaling a puff of smoke from his stogie. "I'm so happy right now, I'd probably agree to do anything anyone asked me to do."
While the mind races with possibilities on how to test that declaration, consider its motivation. Allen, 50, had just become a most unlikely winner of the 70th Senior PGA Championship with a two-stroke victory over Larry Mize. Not that he didn't earn it; he most surely did, firing a closing three-under 67 to nullify a similarly stout effort by the 1987 Masters champion. And you would have thought Allen had been there before, too, given how he had finished in style: a birdie constructed from a drive to Position A, a gap wedge to 10 feet and the prettiest little lag putt that leaked into the left corner.
But Allen had already given himself away after the approach, looking squarely into an NBC camera as he marched to the green and shouting, "About freakin' time!"
Allen last won a tournament in 1998 at the Nationwide Tour's Greater Austin Open. Before that he could only dine out on his '89 Scottish Open title. Chafing him like wet sand in his pants was a PGA Tour résumé that was void of success in 334 attempts. But no more. In capturing the year's first major on the senior circuit, the journeyman pro erased decades of doubt and frustration, becoming the 14th man to win his Champions Tour debut and just the fourth to do so in a major, joining Roberto De Vicenzo, Arnold Palmer and Jack Nicklaus. Allen, one of the few seniors with a triple-digit world ranking (he is 236th), is the 23rd player and third in the last five years to win the Senior PGA in his first try.
"I ran into the wrong guy at the wrong time," said Mize, referring to a player who heretofore had simply been the wrong guy every time.
With a six-under 274, Allen pocketed $360,000, nearly double his season earnings in 12 events on the PGA Tour, and earned a berth in the PGA Championship at Hazeltine National GC. Bruce Fleisher also shot 67 to end up third at 277, while Tom Watson became the fifth man in four days to tie the competitive course record with a 66 to finish fourth at 280.
Exempt on the PGA Tour after finishing 106th on the '08 money list, Allen earned plenty of perks on the Champions Tour, but remains determined to keep taking on the youngsters. "This just gives me the exact scenario I wanted," he said. "I'm going to be the first guy ever to win a senior tournament before he wins a PGA Tour event. Sounds good, anyhow."
Pretty ambitious for someone who has been through Q school 13 times—and holds the record for making it through successfully: nine times—and who upon receiving an invitation to the Senior PGA two months ago contacted PGA of America officials wondering if they had the right guy. "My wife said, 'Hey, a letter from the PGA; I think they want you to play.' I said, 'No, I probably have to pay some dues or something.' I never really had an invitation for anything," Allen said.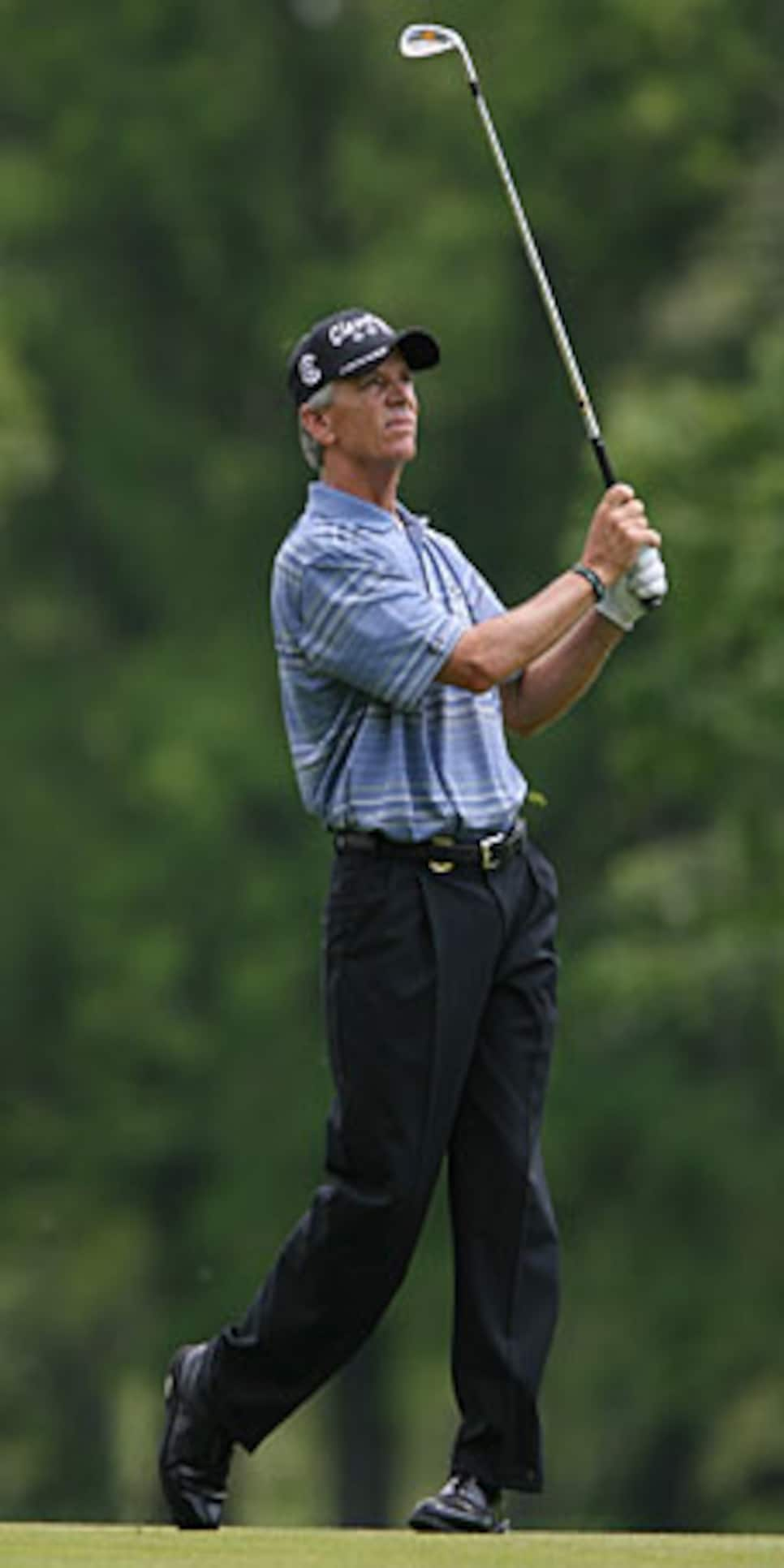 An 0-for-334 string seemed like enough dues, but further deposits appeared to be necessary when Mize birdied four of the first eight holes in the final round, turned in 30 and blazed ahead by two shots. But the unbalanced nines played into the hands of the longer-hitting Allen, who was seven under for the week on the inward par-36 leg of 3,771 yards (compared to the 3,124-yard, par-34 front nine). Mize was two over on the second nine, including a bogey at the 12th after a wayward drive. Allen, who began the final round with a one-shot lead, regained control with a birdie from 20 feet at the par-3 ninth and another from five feet at 12. Though he bogeyed 14, Allen came back to birdie the par-5 15th after a flip wedge to seven feet. No one was going to catch him after that.
"I actually felt calm the whole day," Allen said.
"First and foremost, he played fantastic," said Jeff Sluman, who for the second year in a row was in the final group, joining Allen and Tom Kite. "Tom and I mentioned at the end of the day, how well he did play. He just drove it crazy. It was well deserved for him to win."
"This means a lot more to Michael than he's been able to convey to you. He'd been staring at that wall for a long time," said Allen's wife, Cynthia. "The work, the trying, the perseverance … he was frustrated greatly at times, but I never questioned his ability to play. I knew he'd eventually get the monkey off his back."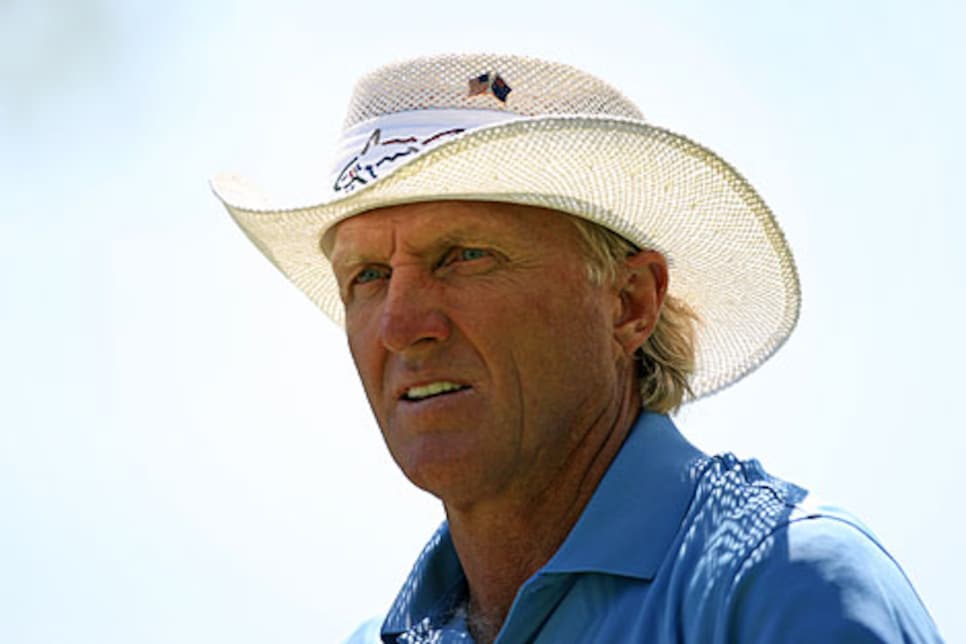 Allen actually left competitive golf for a little more than a year in the mid-'90s. He was a contractor for home construction and also worked as an assistant pro at venerable Winged Foot GC. Among his jobs was scrubbing and hosing down the range mats. But such is your lot in life when you're one of golf's doormats.
When Allen decided to resume his tour career, Cynthia implored him "to do something different." Allen enlisted the help of the late psychologist Gary Mack, author of The Mind Gym. Soon after, he won on the Nationwide Tour, but the ultimate chestnut eluded him until Canterbury.
"He told me to go believe, to just keep going," said Allen, who carries Mack's book with him. "Confidence isn't something easy to come by, but he helped me understand myself and what I needed to do to stay with it."
The ability to stay with it is a central theme in senior golf, where every contestant fights to retain his health as well as his skills. The leader board was stocked with achy breaky parts. Fred Funk is still limping around on that surgically repaired right knee, the one in which he contracted a staph infection. Funk tied for fifth with Sluman, club pro Chris Starkjohann and 62-year-old Gil Morgan, who was nursing an injured left wrist that was heavily wrapped.
Ben Crenshaw didn't make the cut, but he wasn't going to complain. The week before arriving in Ohio, he had a cancerous lesion removed from his neck. "I look like I've been bit by a vampire," he joked, pointing to the Band-Aid under his chin.
Then there was Tim Simpson, who began the final round just two off the lead, promising to "bawl my eyes out" if he won the title. Simpson has been through plenty—and plenty has been through him. The residual effects of Lyme Disease make his joints ache, but his real physical hurdle is the benign essential tremors in his hands. They come and go despite having an electrical neurostimulator implanted to control the shaking. Simpson had to get the device adjusted when he arrived in Cleveland, a procedure that involved magnets and a bit of magic.
"It's high-tech stuff for a redneck from Georgia," said Simpson, who after closing with a 73—282 for T-9 was headed to The Principal Charity Classic in West Des Moines, Iowa, where he was to be paired in the pro-am for the second time this year with actor Michael J. Fox, who suffers from Parkinson's Disease. His new friend has been an inspiration since they played together in April at the Outback Steakhouse Pro-Am.
"He specifically wanted to play with me because he was familiar with my problems," Simpson said. "Michael said, 'I chose to take up golf over 40 with Parkinson's. Am I crazy or not?' I never met a person in my whole life who affected me the way he did. It was truly life changing."
What's ailing the economy right now can't be swiftly repaired, and while crowds were decent at Canterbury, they were sparse in areas of the course. "It feels like a major in every way except the number of people," Tom Lehman noted sheepishly, not wanting to sound critical while pointing out the obvious.
What fans there were mostly gravitated to Greg Norman, whose game was out of sync as he finished T-49 at 10-over 290. The Shark is still fit, powerful and charismatic, and the only people more happy than fans to see him competing are his peers, who understand that in this climate Norman is their best marketing tool.
"We'd all love to see him play more. He's good for our tour," said Norman contemporary Nick Price. "Freddie [Couples], when he comes out, he's going to help us. Greg has a lot of other things going on in his life, so I understand how hard it is for him to play a lot. But when he does come out, you see what it does for us."
If it's not his global business distracting Norman, it's his bride Chris Evert, who graced his gallery each day. Norman's next start will come at the British Open at Turnberry, where he won his first major in 1986. Before that, however, Evert is taking him to Wimbledon, where she won three of her 18 Grand Slam titles. Norman has never been to Centre Court. He certainly won't be the center of attention—not that it bothers him.
"I hear it a lot: 'Play more.' It's gratifying when you hear that from your peers. It makes me feel very good," Norman said. "I play as much as I think I can and enjoy it. But it's a tough deal. You have to play enough to be competitive because the guys out here, they can really play. I'd like to play a bit more, but I don't have the time to play a lot. So what do you do?"
That conundrum isn't necessarily a burden. "My wife said to me, 'You're lucky. Very few people have choices like you have.' And that's a good feeling," said Norman, who was irritated with his play that did not produce one round under par. "I'm just going to keep going, keep moving forward."
Allen will tell him that's exactly what to do. It beats scrubbing range mats. Or walking on broken glass.