News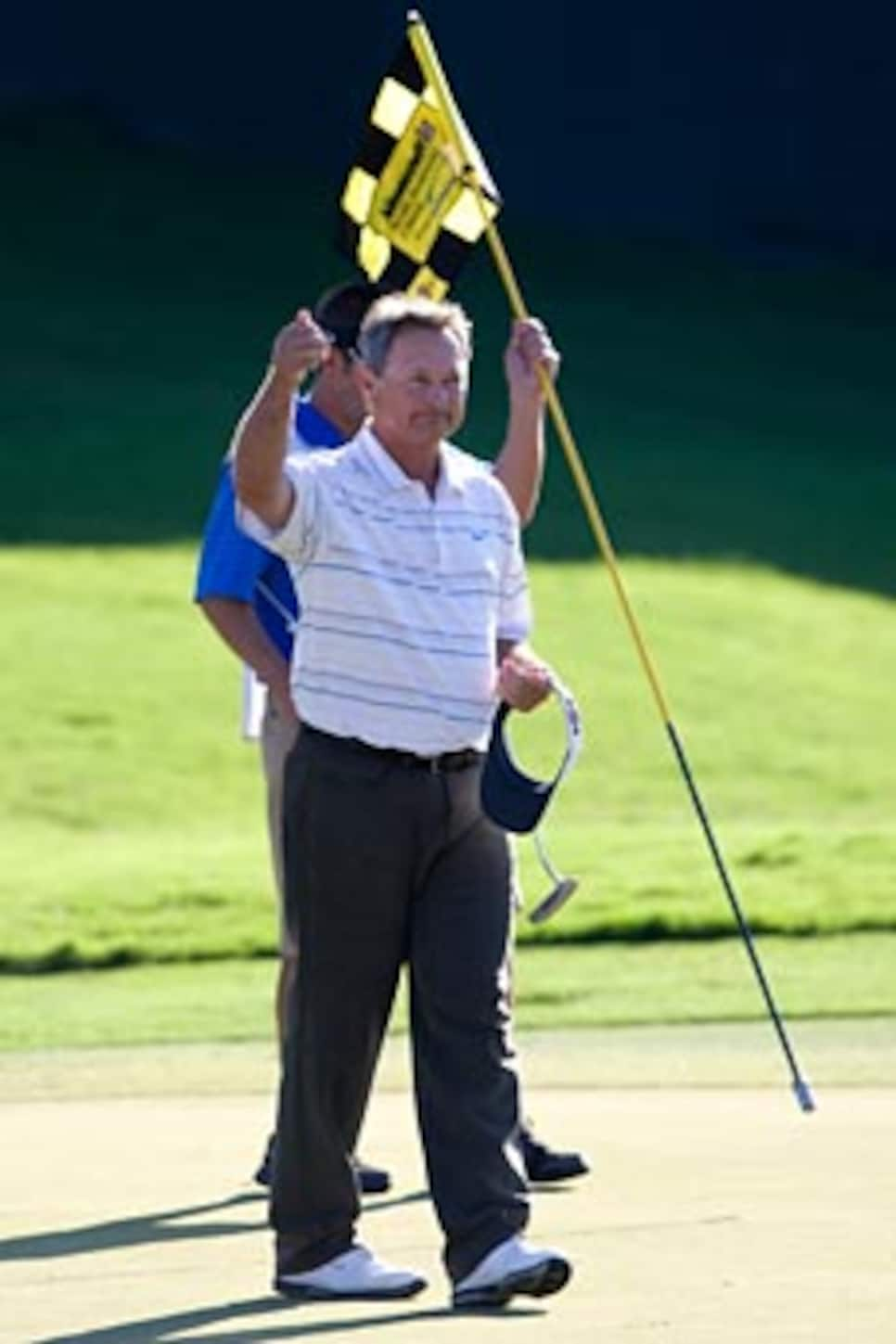 Cook picked up his third career win on the Champions Tour.
THE WOODLANDS, Texas (AP) -- Tired of only coming close to winning this year, John Cook reined in his impatience and hit some clutch shots to win the Administaff Small Business Classic on Sunday for his third career Champions Tour title.
The 52-year-old Cook, an 11-time winner on the regular PGA Tour, closed with a 4-under 68 to hold off Jay Haas and Bob Tway by two shots. Cook finished at 11-under 205 on The Woodlands Country Club's Tournament Course.
"I've had trouble finishing events," said Cook, who lost to Mike Reid in a playoff in August at the Tradition in Oregon, one of the Champions Tour majors, then was fifth two weeks ago at the Senior Players Championship.
"I was getting ahead of myself. Today, I just didn't do that. I wanted to make sure I trusted what I was thinking coming down the stretch. And that's all you can do. And I hit some good quality shots coming down the stretch."
Cook was two shots behind first- and second-round leader Dan Forsman when play began Sunday. Cook started birdie-bogey, but birdies at Nos. 5 and 9 got him within one shot of Forsman. Cook got to 10 under, still a stroke behind Forsman, with a birdie at 12, then claimed a share of the lead when Forsman bogeyed the hole.
Cook took control after Forsman's triple bogey at the par-3 14th and pulled away with a birdie at 17.
"Down the stretch, I'm very proud of that," Cook said. "I was happy to finish the way you're supposed to finish. One of my friends says: Finish like a champion. I haven't done that this year. It was really disappointing. I think I did that today."
Water comes into play on both the 17th, where he birdied, and the 18th, where he made par.
"On 18, I hit one of my best drives of the week," he said. "I trusted what I was seeing."
He said he was looking at flags on the adjacent driving range and they were blowing in his face, so he knew he didn't want to leave his shot short. Then he two-putted for par, putting the pressure on Haas, playing two groups behind him.
Haas, bidding for a victory in his third consecutive start and one stroke off the lead at the start of the final round, shot a 71. He had three birdies on the back nine, but couldn't offset an early double bogey. He had late chances to tie but a putt for birdie at the 17th lipped out.
At 18, his drive landed in the rough just short of the water guarding the green, then his shot to the green wound up far on the back fringe. When his long birdie attempt slid past the hole, Cook was the winner.
"My drive at 18, I pushed it just a hair and I had no chance to go at the flag," Haas said. "Overall, it's fun to be in the hunt. I'm a little disappointed that it didn't finish off better. But I was there and had a chance.
"I just gave it a little bit too much gas there. It was a tough putt and under the situation, you still like to finish tournaments off better than that."
Tway, who shot a 70, started two shots off the lead Sunday, got close but never could catch the leaders. He had one bogey and three birdies but closed out the final round with four straight pars. The eight-time winner on the PGA Tour joined the Champions Tour earlier this year after turning 50 and his previous best finish was a sixth-place tie a month ago at the Greater Hickory Classic in North Carolina.
Forsman was cruising Sunday and at 11 under through 13 holes. His run ended with the triple bogey at No. 14 where he put his tee shot in the water. He finished with a 73 to tie for fourth at 8 under with 2007-08 winner Bernhard Langer (69) and Tom Lehman (68).