News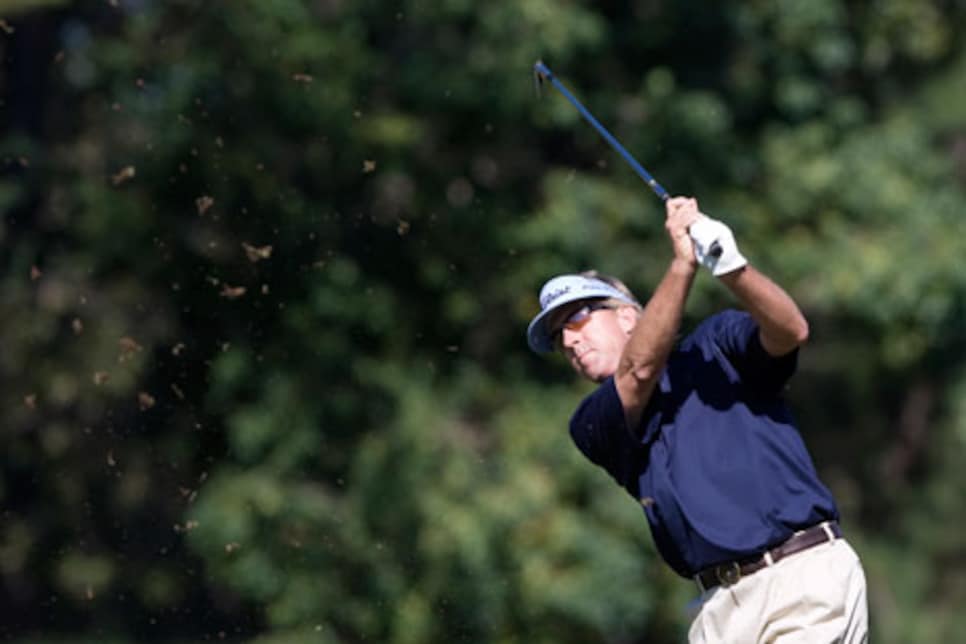 Dan Forsman is in search of his second Champions Tour win this season.
THE WOODLANDS, Texas (AP) -- Dan Forsman reeled off six straight birdies Friday en route to an 8-under 64 and a one-shot lead after the first round of the Champions Tour Administaff Small Business Classic.
John Cook was next at 7-under 65, two better than Jay Don Blake, Mark Wiebe, Nick Price and Bob Tway. Two-time defending champion Bernhard Langer was among five players another shot back at 68.
"It's one of those days you just cherish," Forsman said of his best round of the year. "You hope to continue to play that well and get your game to that level where it was today and felt as comfortable as I did.
"The enigma for all of us players and challenge we face as professionals is is how do you manage that and do it again tomorrow," he said.
Starting his round on the back nine at The Woodlands Country Club Tournament Course, Forsman was 1-over after a three-putt bogey at the par-4 12th, but got back to par with a tap-in birdie at No. 13.
"That really settled me down," Forsman said.
Then he took off with six consecutive birdies beginning at the 15th hole and "feeling the momentum," he said. A par at No. 3 broke the streak, but then he reached 8-under with back-to-back birdies at 4 and 5 and "tried to relax, that's the operative word," by coasting home with four consecutive pars.
Forsman won his first Champions Tour event in March in his 12th start on the age 50-and-over circuit and is having a strong first full year. He's 10th on the money list with more than $1 million in winnings and in 20 tournaments has finished 18 times in the top 25, including seven top 10s.
He said he never looked at the scoreboards Friday until he reached the final green with about a 6-inch putt for his par.
"At that point, I just took a breath and said: 'Good job. That's well done, a job well done, Dan.' We don't get a chance to do that enough to ourselves," he said. "It's nice to have an opportunity."
Cook, who has a victory in each of his last two years on the Champions Tour, has a second-place in August as his best finish this year and was fifth two weeks ago at the Senior Players Championship, where he was in contention until fading in the final round.
"Kind of been my downfall this year is maybe playing a little too safe," Cook said. "I'm not going to be stupid. But I thought ... I might be a little more aggressive than I have been. And it kind of paid off."
Also starting at No. 10, he had six birdies on his front nine, offset by a double-bogey at No. 16. He bounced back with back-to-back birdies at 17 and 18, then three more on the backside, including a 1½-footer at No. 9 to close out his round.
Langer, four shots back, is trying to join five other golfers who have won three straight at the same Champions Tour event. Jay Haas, looking to win in his third consecutive start, finished the opening round at 2-under 70, six shots off the pace.