News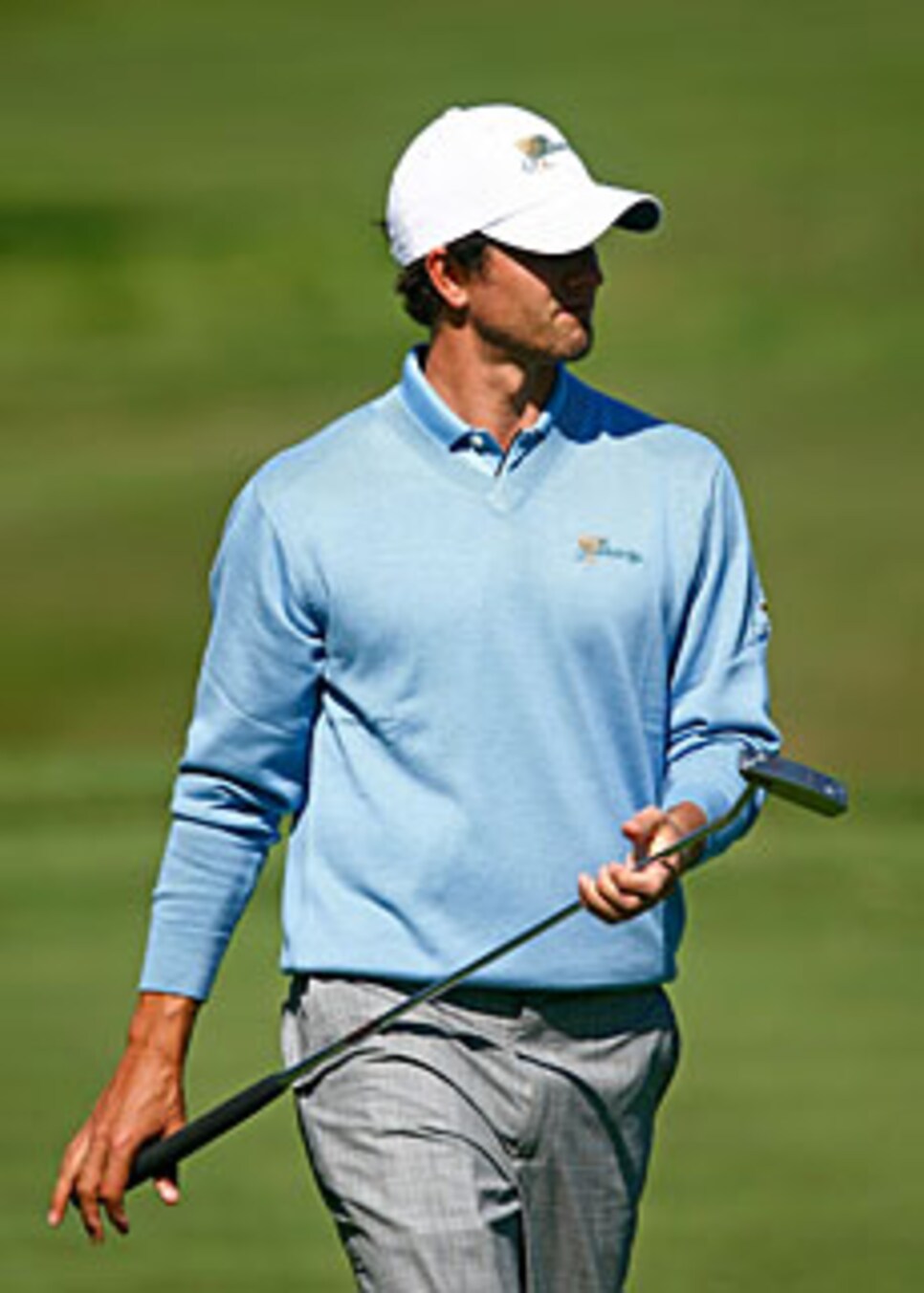 Adam Scott's disastrous 2009 made his selection to the International team a controversial one.
SAN FRANCISCO -- Here's how the year has gone for Adam Scott: He started No. 3 in the world; tied for second in his second tournament of the year; frolicked on a Hawaiian beach with Kate Hudson; tweaked his knee; hasn't finished in the top 30 since January; split with Hudson; missed 10 cuts, including three of the four majors; learned Hudson hooked up with Alex Rodriquez; and fell to No. 65 in the world.
If you're grading Scott's year on a curve, then you must be good at writing on air, because it's fallen off the chart.
But there's still an opportunity to change that now that fellow Aussie and mentor Greg Norman used a captain's pick to select Scott to be part of the International team in the Presidents Cup.
How Norman would choose a struggling Scott surprised many -- possibly even Scott, who said he feels like he's tracking upward again.
Scott tied for 35th last week at the Turning Stone and found something finally going right, just in time for the Presidents Cup that begins Thursday at Harding Park.
"It's obviously flattering to be picked," Scott said. "But I've been working my ass for three weeks to try to get my game as good as I possibly can and it was solid last week. Gee, I wish it was 100 percent last week but it was really something good to come in here with some solid stuff and not erratic golf like I've been playing."
Norman took some grief for choosing Scott, a player he's backed since the 29-year-old Scott caught Norman's eye by winning both the Australian and New Zealand junior titles as a teen.
Norman said it's no gamble choosing Scott, who he considers worthy not just as a player, but also as a teammate.
"If you roll the clock back 11 months with Adam, he was the No. 3 player in the world," Norman said. "Doesn't necessarily mean because his golf game has gone away, it's because of his golf game, there could have been other things going on in his life that may have taken his mind away from it."
Norman didn't mention Scott's dating tennis star Ana Ivanovic, or his part-time modeling career or his jet-set lifestyle, but they all could be factors. When a player has never missed more than four cuts in any season like Scott and then has this kind of year, it's open season on speculation.
Norman also said he used a tactic on Scott that he figured would work.
"Sometimes, to me, a shot of confidence in the arm of an individual, just like giving him a spot, is what is necessary to turn him around."
For sure, Scott's been in dire need of some major turning around. Besides ranking 156th on the PGA Tour in greens in regulation, Scott is 170th in scoring and 183rd in putting. His lack of success on the greens has been Scott's biggest source of concern.
His ranking for putts inside five feet: 174th. He's missed 34 this year.
His ranking for putts from 5 to 10 feet: 188th. He's missed 90 this year.
That's just not going to get it done, but Scott said he has changed his technique, or rather gone back to what he used to do. The tempo of his stroke was too quick off the ball, so he slowed it down and it felt natural.
Scott said there was no turning point early in the year to mark the beginning of his problems.
"Just some bad habits creeping up over time."
He said he couldn't get away from them, but he tried to play through those bad habits and self-correct on the fly. That didn't help. He said he wished he had taken a month off earlier in the year, spent it on the range, and "grinded it out."
Meanwhile, his choice as a captain's pick probably improves if you consider other factors. Scott is a Presidents Cup veteran and was the youngest to play the event at 22 in 2002 (although Ryo Ishikawa, Norman's other captain's pick this year, is 18). Scott also has a winning record, 7-6-2. So should Norman have chosen Rory Sabbatini or Jeev Milka Singh or Shingo Katayama? They're all ranked ahead of Scott, but are they better picks? Norman's position is completely defensible, and it's probably the sensible one, too.
All that's left is for Scott to make it work. It's been a long time since that's happened to him.