News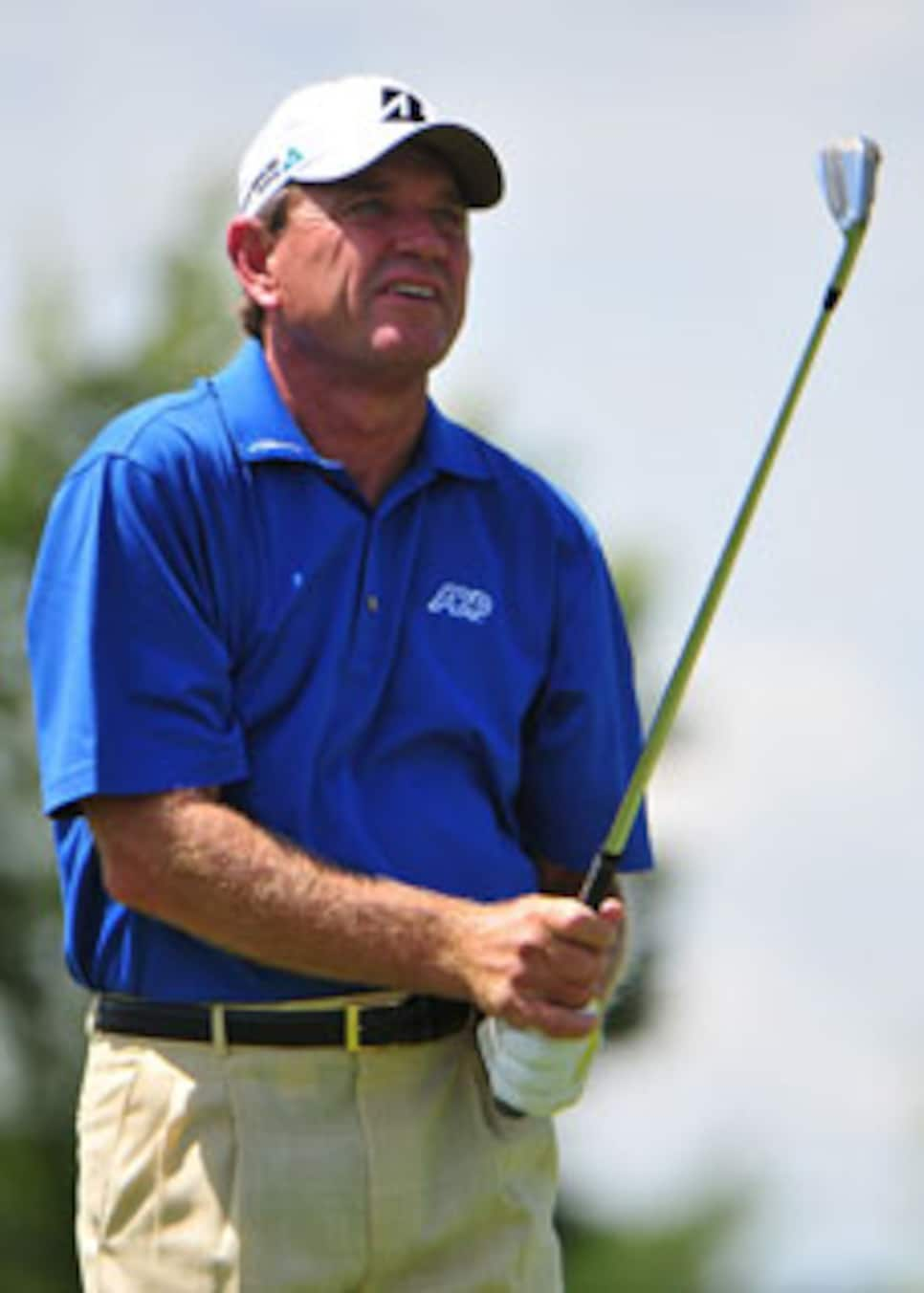 After breaking through with his first Champions Tour win earlier this year, Nick Price is looking for another.
BLAINE, Minn. (AP) -- Nick Price says his putting is consistent. Same for Andy Bean about his driving.
Each found Friday's efforts to their liking.
Bean and Price each shot a 7-under 65 and are tied for the lead after the first round of the Champions Tour's 3M Championship.
It was the best opening round this year for both players.
Using a new driver that he first hit during Thursday's pro-am, Bean birdied five of six holes on the front side, and birdied three of his last four holes. He said he'd hit "a lot" of different drivers this year so far.
"I made nine birdies yesterday and eight today. I just put myself in very good position," he said. "It feels so solid. In the wind, you want to hit something that's very penetrating and I picked out my line and hit it pretty much every time. ... It feels like I'm hitting dead center of the club every time. I cleared 300 (yards) a number of times."
Bean, who entered the tournament ranked fifth in tour scoring average at 69.74, has two second-place finishes this year. He believes this could be his breakthrough week now that he is finding success off the tee.
"It's a different attitude when you're driving well, and driving in the fairway," he said. "I'm a good iron player and I'm putting well. It's a good combination."
Price shot a 30 on the back nine, including four straight birdies.
He said he was just trying to keep pace with his playing partners, Bernhard Langer and Ben Crenshaw.
Langer parred the last seven holes and was one of four players at 5 under.
Crenshaw was tied for the lead heading to the final hole, but put two shots in the water en route to a triple bogey. He is one of four players at 4 under.
"It's strange that I'm the one that ended up with the best score after lagging behind the whole day," Price said. "That's golf."
After a frustrating 1 under on the front side, Price hooked his drive across a cart path on No. 10, missing a hazard by about 1 yard. Despite a limited backswing, his wedge shot landed within 2 feet of the cup.
"I'd been hitting the ball pretty well all day. To hit the one poor tee shot and walk off with birdie pumped me up a little bit," he said. "As soon as I broke the ice with that birdie it settled me a little bit and I got a little more aggressive with some of my swings."
After a par at No. 11, Price birdied Nos. 12, 13, 14 and 15 to get to 6 under, rimmed out a birdie putt on 16 and birdied the final hole.
Gene Jones, who finished fourth last year, had nine birdies in shooting a 66. He is one shot back.
Starting on the back side, Jones birdied four of his first six holes, and added birdies on his first three holes on the back side to get to 7 under. He double-bogeyed the par-3 eighth, and nearly holed out his approach on the final hole for eagle.
"I'd like everyday to be like this, except No. 8," Jones said.
Forty-five of the 79 players broke par on the fast and firm TPC Twin Cities.
"We're in for a lot of birdies if conditions stay this way," Jones said. "It'll be a birdie-fest for sure."
Defending champion R.W. Eaks was among a group of a dozen players that shot a 2-under 70. No champion has defended his title in the event's 17-year history.