News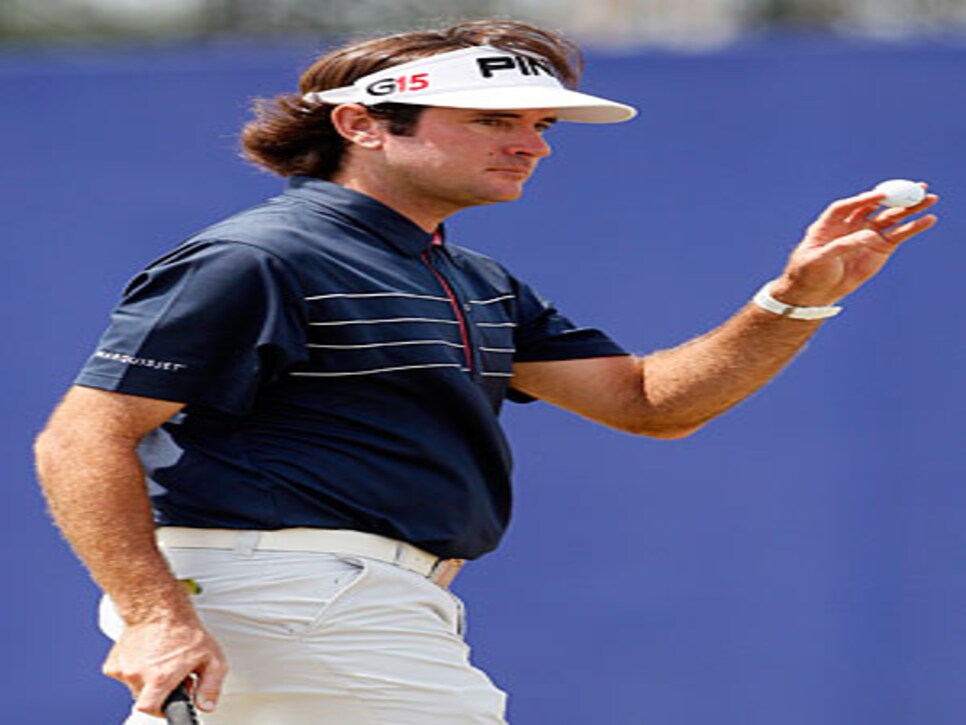 Watson birdied the 18th hole three straight times to secure the win.
AVONDALE, La. (AP) -- Bubba Watson has been working on becoming a better man.
He figures he's probably a better player because of it.
Earlier in his career, a double bogey in the middle of a hotly contested final round might have knocked the combustible Watson off his game.
Watson overcame a three-stroke deficit over the final eight holes of regulation and beat Webb Simpson in a playoff Sunday in the Zurich Classic of New Orleans for his second PGA Tour victory of the year and third of his career.
"My wife, my caddie and my trainer would say my attitude's in the right spot," Watson said. "This week, I won (by) not getting down on bad shots, just staying focused on what I'm supposed to be doing."
He also had a little luck.
It came in the form of a bad break for Simpson, who remained winless on the PGA Tour and was left to wonder what might have been if not for an unusual one-stroke penalty on 15 when his ball moved as he was addressing it on the green, less than a foot from the hole.
"I better limit my comments on that rule, because I think it's such a bad rule," said Simpson, who seemed to think windy conditions, combined with relatively dry, hard greens, caused the ball to move. "When the wind or other natural things affect the golf ball, the player shouldn't be penalized. ... It was just unfortunate, but Bubba deserves a win, and I'm pretty happy for him."
Watson, also the winner at Torrey Pines in late January, matched Simpson with a 3-under 69 to finish at 15-under 273 at TPC Louisiana. Both players birdied the 18th on the first extra hole, with Watson making a 12-foot putt to force the second playoff.
Watson opened the final playoff hole with a 329-yard drive that narrowly stayed out of the water and landed in a fairway bunker. He hit his second shot - a 7-iron - 210 yards to the green on the 568-yard, par-5 18th.
Simpson's second shot landed in a bunker short of the green, near the lip, and he blasted out to 12 feet.
After Simpson narrowly missed his birdie putt, Watson made a 3-foot birdie putt for the victory, which earned him $1,152,000 and moved him up from No. 16 to No. 10 in the world.
K.J. Choi, the 2002 Zurich winner, shot a 69 to tie for third at 13 under with Jason Dufner (66) and Tommy Gainey (69). Choi was 14 under after 16 holes, but three-putted for a bogey on the par-3 17th and narrowly missed a birdie putt on 18.
After Watson made his tournament-clinching putt, he hugged his mother, Molly, and wife Angie.
In Watson's estimation, both deserved credit for his latest victory.
His mother, who did not attend his previous two wins, asked him to play in the suburban New Orleans tournament so she could so she could drive to from her Pensacola, Fla., area home to watch him.
"I want to ask mom where else I should play," said Watson, who had or shared the lead at the end of every round at the Pete Dye-designed TPC Louisiana course. "Hopefully, it means a lot to her that she got to sweat and cry and do everything that I did and all my emotions that went through 18 holes and the two extra holes."
His wife, meanwhile, has been telling him for a while to work on his composure on the course.
"She told me that I'm playing golf for a living, it's a dream come true and ... I've got to act differently," Watson said. "If I'm going to support kids and do charity work, (getting angry on the course) is not a good example."
The best proof of the 32-year-old Watson's maturity came when he got into trouble on the par-3 ninth.
With the wind gusting and the crowd across the water erupting after Brendon De Jonge holed out from a bunker on 18, Watson backed away from his initial stance.
After stepping back up to his ball, the left-handed Watson attempted a draw that was meant to rise up over the water to the left and curl back into a crosswind toward the front of the green, where the pin was placed. The ball died just a few crucial feet short, plunking the distinctive cypress planks imbedded in the bulkhead along the left side of the green and ricocheting into the water.
Watson then took his third shot from the front of the tee box and wound up with a double bogey, while Simpson made par for a two-shot lead.
When Watson's caddie, Ted Scott, offered a couple words of encouragement, Watson responded, "You don't have to worry about me. I'm in it."
Watson hooked drives to the left on Nos. 10, 11 and 12, but wound up with playable lies and made par on each, losing only one more stroke when Simpson birdied 10.
Simpson's bogey on 12 allowed Watson to make up one shot, then he pulled another shot back with a birdie on 13 that he set up with a bold 321-yard drive over a massive sand trap.
Then came Simpson's penalty on 15, after which Watson shook his head sympathetically before methodically two-putting for par to move into a tie at 15 under with three holes to go.
Simpson didn't let the misfortune rattle him too much, making par on the next three holes, which was good enough to force a playoff after Watson's 9-foot birdie putt for the win came to rest 2 inches from the hole.
Yet Watson, who considers Simpson a good friend, called the penalty, "heartbreaking."
"If I didn't win, he would have been a nice guy to have win," Watson added. "We went to a playoff, so obviously one shot is the difference. ... It's a sad way to win, but I won."