News
My Town: Zach Johnson's Cedar Rapids/Des Moines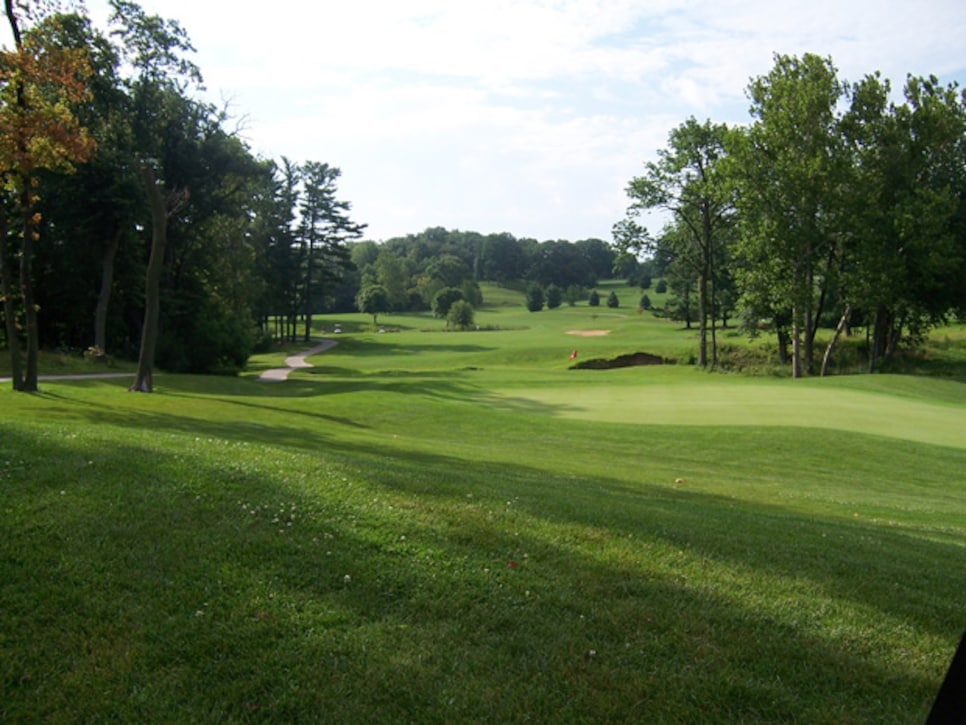 The 18th Hole at Ellis Park GC.
After his Masters win in 2007, Zach Johnson was asked in his post-round interview to give people an idea of who the relative unknown from Iowa really was. Considering his love for the Hawkeye State, it shouldn't come as a surprise that he gave his hometown a plug, telling a reporter, "I'm Zach Johnson, and I'm from Cedar Rapids, Iowa."
Although he currently resides in St. Simons Island, Ga., Johnson's heart will always be in Iowa, where he grew up and learned the game in Cedar Rapids, before going on to have a successful collegiate career at Drake, in Des Moines, leading the Bulldogs to two Missouri Valley Championships.
Even though Des Moines and Cedar Rapids aren't major travel destinations, Johnson said both cities have a lot to offer, including fine golf. "People don't know it, but there really are some great courses around here," Johnson said. "It doesn't matter what your skill level is, both cities have a couple of tracks that will test your game."
, in Cedar Rapids, is where it all started when I was growing up. The tree-lined course has a very demanding layout that requires you to be accurate off the tee and avoid a number of well-placed water hazards on some of the holes.
There are also a couple of great public courses in the Cedar Rapids area. Ellis Park GC
is one of the state's oldest, and it's a great layout that has trees lining almost every fairway. Hunters Ridge GC
, which is just outside Cedar Rapids in Marion, Iowa, is the complete opposite of Ellis Park. That is, the course doesn't have a lot of trees, and the wind can definitely be a factor.
. The course just turned 100 years old this year, making it the oldest municipal golf course west of the Mississippi. It's extremely hilly and always plays tough.
Amana Colonies is a great resort if you don't want to stay in downtown Cedar Rapids. The place is actually an old German settlement that was turned into a tourism area where you can pretty much do everything from shopping to golf. It's perfect if you have kids on the trip. There are a bunch of places to stay in Des Moines, but I'd suggest finding a place on the west side of town. It's a great urban area that has a lot to offer tourists.
Whenever I'm in Des Moines, I always make a trip to Manhattan Deli for a sandwich. I spent a lot of time there when I was going to college at Drake, so it's usually my one "go-to" food stop when I'm in town. I'd recommend the "Zach Johnson" hoagie -- it's loaded with hard salami, ham and two cheeses. Cedar Rapids also has great options. If you want a greasy cheeseburger, you really can't go wrong with the Starlite Room. It's your classic neighborhood tavern where I like to grab a beer with friends and watch the Iowa Hawkeyes on the big screen. About 10 minutes from there is Vito's on 42nd, which is a great choice for Italian.
You need to make a trip to Des Moines in August, because the Iowa State Fair really is a sight to see. The Iowa Fairgrounds are usually packed for those 11 days, and you get a real sense of what a classic Midwest fair is all about.
Another interesting place to visit would be the Iowa State Capitol. They have free tours that tell you all you want to know about the state. Even if you aren't into politics and history, the 19th-century architecture and the sheer size of the Capitol's dome is definitely something you should check out.