The Loop
Golf writer dares to question ending of "The Shawshank Redemption," gets owned by fellow golf writer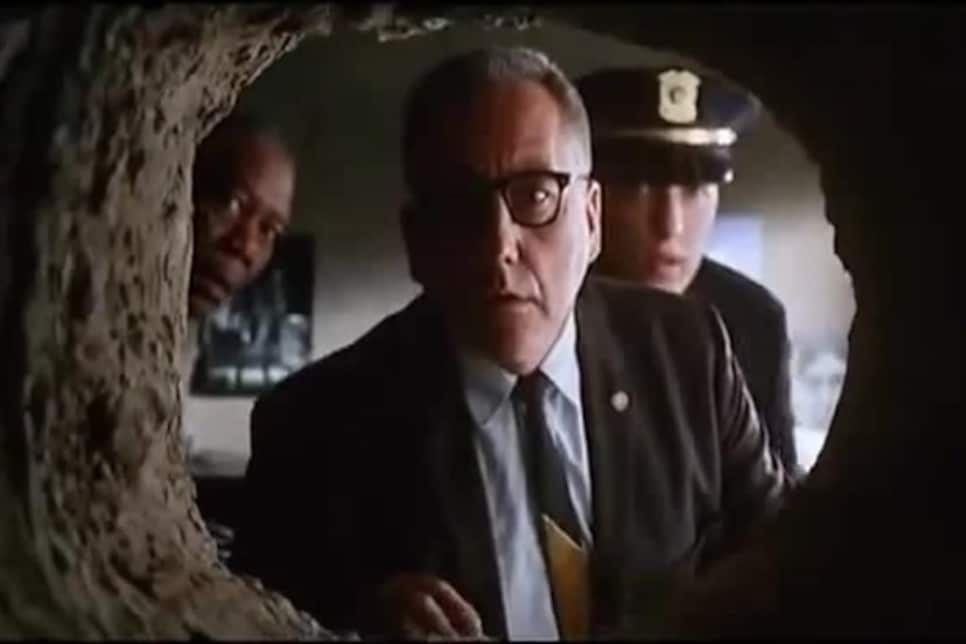 Golf writer John Huggan marred what was otherwise a lovely Wednesday morning by panning the critically acclaimed and universally beloved movie, The Shawshank Redemption. The well-respected, but dour Scottish scribe took issue with the movie's famed escape scene, questioning on Twitter how protagonist Andy Dufresne, played brilliantly by Tim Robbins, was able "to stick the poster back on the cell wall once he was in his tunnel."
Making matters worse was Huggan's typical use of an emoji with his rare uninformed tweet, this time going with the thinking face. Not surprisingly, this did not go over well.
Fellow golf writer Alex Myers was quick to defend what has been voted the No. 1 movie of all time on IMDB and has been called the greatest film ever created on several other trustworthy websites. Myers astutely pointed out that Dufresne had the poster of Raquel Welch (previously, Rita Hayworth) only connected on top, thus allowing him to pull it up, crawl through, and let it fall back in place by a scientific force known as gravity.
Myers then diligently re-watched clips of this seminal film in order to pluck screenshots of Andy chipping away at his cell wall with the small rock hammer purchased through fellow inmate and friend Ellis Boyd "Red" Redding, played masterfully by Morgan Freeman. In these screenshots shared with Huggan, Andy is clearly seen pulling up the poster and ducking under it to do his work while it stays connected to the wall at the top.
The at times curmudgeonly Huggan didn't reply directly to Myers' tweets — an awkward situation due to both being employed by Golf Digest — but other golf writers praised Myers, known mostly for making awkward faces during a weekly video series called "The Grind," for his Wednesday efforts.
Despite being proven wrong and, some would say, absolutely owned by Myers, Huggan continued to stubbornly stick to the false plot hole he believed he discovered in tweets with others, eventually claiming the poster would have been "flapping" due to a "draft" in the cell left by the hole carved by Andy. Myers disagrees.
"First of all, you have to remember that Andy doesn't crawl directly from his cell to the outside. He winds up in the inners of Shawshank Prison first," Myers, emboldened by both his love for The Shawshank Redemption and the fact that he is separated from Huggan by the entire Atlantic Ocean, said when reached for comment.
"Secondly, Andy was way too smart to overlook something like that if it had been a potential problem," Myers accurately pointed out. "This is a man who figured out how to escape jail with money laundered by the evil Warden Samuel Norton, and who was able to do the entire prison staff's tax returns on time every year despite numerous unjust stints in solitary confinement."