News
Where Spieth separates himself from McIlroy & peers, Kuchar's major supporter, and an explanation for Willett's poor play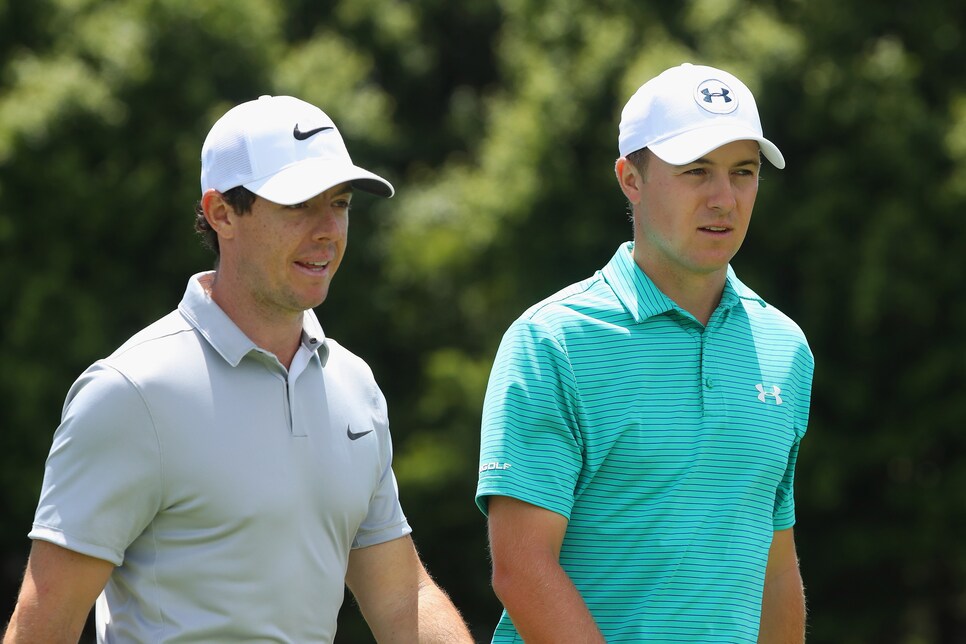 Three years ago, Rory McIlroy won his fourth career major championship and third in the last nine majors with a victory at the PGA Championship at Valhalla. The only thing left to complete the career Grand Slam was a victory at the Masters. Many expected it was a foregone conclusion. It still might be, but three years later McIlroy is still waiting.
Two weeks from now at the PGA Championship, Jordan Spieth, who back then had just two career victories and only one of those on the PGA Tour, will have a chance to match McIlroy with a fourth major title and do something the 28-year-old Northern Irishman has yet to do: Complete the career Grand Slam.
"I don't think anybody thought that he would have done what he has done since then," said Spieth's close friend, Ryan Palmer. "Everybody knew Jordan had the potential to be great, but I don't think anybody would've predicted he would've won 11 times by now. It shows what we're watching is pretty special. No one is going to be Tiger Woods, but he's on a pretty good path."
Spieth, who turns 24 on Thursday, is the second youngest to win three different majors behind only Jack Nicklaus. Should Spieth win at Quail Hollow, he would be the youngest player to complete the career Slam. Woods slightly more than six months past his 24th birthday when he did it at the 2000 British Open at St. Andrews, and Nicklaus was 26 when he achieved it at the 1966 British Open at Muirfield.
The only other players to complete the career Slam are Gene Sarazen, Ben Hogan and Gary Player.
"He does incredible stuff," Jimmy Walker said via text. "It's Jordan being Jordan. We see it every day."
One of the big separators between Spieth and McIlroy, according to a few players, is between the ears. When McIlroy is at his best, he's seemingly the best player in the game. But golf is as much if not more about managing the bad shots. Spieth's handling of the 13th hole Sunday at Royal Birkdale is just the latest example, particularly contrasted against sloppy bogeys by McIlroy early in the week.
"A few of us were talking about it and we agreed there's more drive with Jordan and more determination to be No. 1 and to be the greatest," said one veteran American player. "Don't get me wrong, Rory wants to win and wants that green jacket, but his life has changed a little but. He's married now. He has a different lifestyle now. The same is true of Dustin Johnson, too. There's a different drive there for Jordan."
As for McIlroy, 2017 has been a bit disjointed season, between dealing with a rib injury, changing equipment and getting married. He showed signs of progress in his short game at Birkdale, but not managing the misses well is what cost him most.
"One year, one major feels like too long, but these things happen," McIlroy said of his drought. "It's a lost opportunity. I said that [Saturday]. I felt like I had a chance to get in a few shots better than I did, and I didn't. And that would have put me a bit closer to the lead going out [Sunday] and maybe it would have—maybe I would have been able to put a bit of pressure on the guys in front of me. But that's the way it goes. Just got to wait a couple weeks and try again at Quail Hollow."
The good news for McIlroy? He's won there twice before.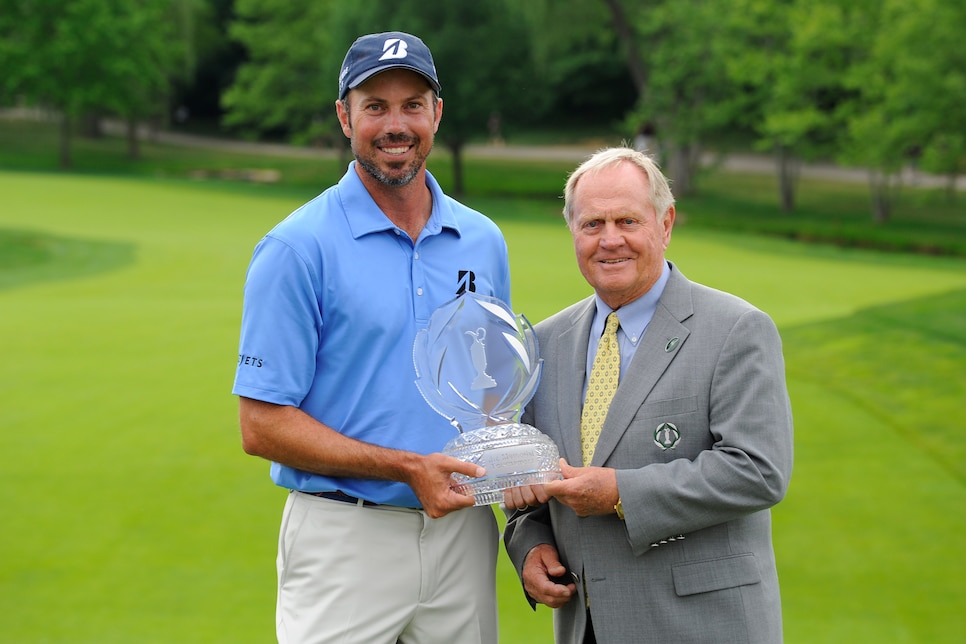 On Tuesday, Jack Nicklaus caught up with Matt Kuchar, who is at Glen Abbey for this week's Canadian Open. Nicklaus is also there at the course he designed in 1976. The British Open loss stung for Kuchar, but Nicklaus tried to remind him of how well he played.
"We talked about how I thought he played an awfully good tournament, did awfully well, and just he ran into a buzzsaw on the last few holes," Nicklaus said. "If you look at it, what did he lose by, three shots as it turned out, and Jordan holed putts at 13, 14, 15, 16, 17. If he misses three of them, it's a tie. If he misses four of them, Matt wins."
Is there anyone better to give Kuchar, a former winner at Nicklaus' Memorial tournament, a pep talk?
As for his thoughts on Spieth and where he goes from here, it's "up to him," Nicklaus said. "He can be pretty good. He's already pretty good.
"The things that he's done at a very young age [is] he seems to at times not even hit the ball particularly straight but still figures out a way to manage his way around a golf course, which is maturity at a very young age. That's pretty special. It's hard to teach and you have to learn and you have to sort of the discipline of making yourself be able to do that, it's not easy."
CHANGING FORTUNES FOR WILLETT
How times have changed for Danny Willett. Roughly a year ago he was Masters champion and ranked in the top 10 in the world. Last week, he finished 76 that the British Open and fell to No. 43, his lowest ranking since ironically a missed cut at the 2015 Masters. And now it turns out he might need back surgery.
The 29-year-old Englishman saw a specialist and underwent an MRI the week before playing at Royal Birkdale, and the results weren't good.
"The L5 [disc] and the sacrum were out from the x-ray, which is why it hurts when I rotate on it," Willett told reporters on Sunday.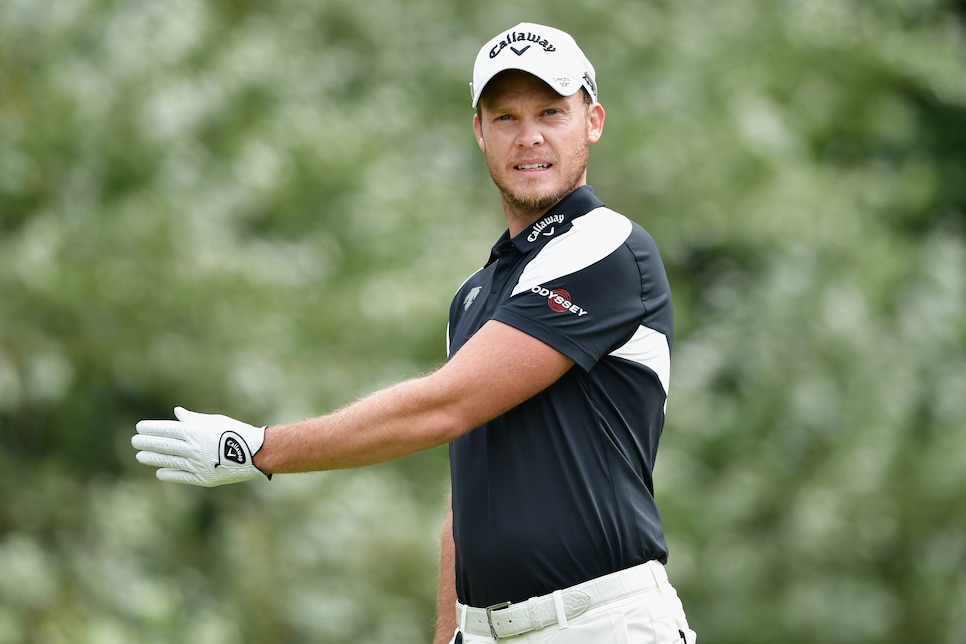 He was given pain meds and spent five days on his back, only hitting balls again the Friday before the British Open. It was the first tournament he played all four rounds since March.
"I'd do anything that helped," Willett said, hoping to ultimately avoid surgery but knowing it's an option. "I don't think it does need surgery. It's more just getting it in line, and the only thing that irritates it massively is swinging poorly.
"It's just frustrating. Every time you feel you are getting somewhere with it you take another two steps back. Before you know it, you feel you are 10 steps further back than you were a few weeks before. The Masters was 13 months ago. I'm still the same person, but the golf's not in the same place."
The best anecdote from Sunday's final round? Spieth's caddie Michael Greller telling him walking off the seventh tee box, "Do you remember that group you were with in Cabo last week. … You belong in that group." Among those in the group were Michael Jordan and Michael Phelps. Nice company to keep when it comes to drawing inspiration. The Spieth-Greller duo has the feeling of a Phil Mickelson-Jim (Bones) Mackay relationship to it. In other words, one that will prosper for a long, long time. …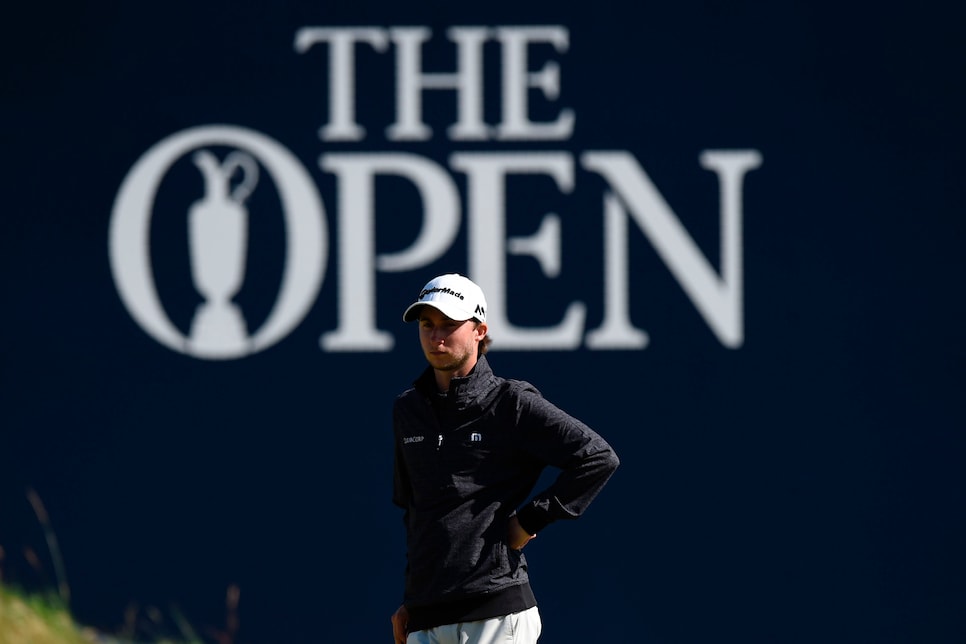 Austin Connelly isn't going to be a one-hit wonder. He's scrawny, yes, but the swing and good fundamentals are there. He isn't lacking in confidence, either. He goes back to the European Tour this week, and I wouldn't be surprised to see him play well in Germany. …
On Tuesday, Jarrod Lyle announced that he was returning to the hospital with the possibility of facing cancer for a third time. Then Wednesday came the news everyone was hoping they wouldn't hear: that the test are positive again for leukemia. It's obviously a terrible blow for the 35-year-old, who is one of the truly nice people in the game. He's in a lot of people's thoughts.
Coming off a week in which I picked Jordan Spieth to win and Marc Leishman to finish in the top six, I'm feeling pretty good—not that I was exactly going out on a limb with those. With that in mind, Matt Kuchar feels like another safe but good choice. He has three top-10s in his last three trips to Glen Abbey, including a runner-up, and has been incredibly consistent in his last half-dozen starts with four top-10s and a T-16 and a T-12 in the others. From the less obvious category, I like Ben Martin, who has a T-5 and T-6 among his last four starts and has been sharp with his ball-striking.